Podcast: Play in new window | Download | Embed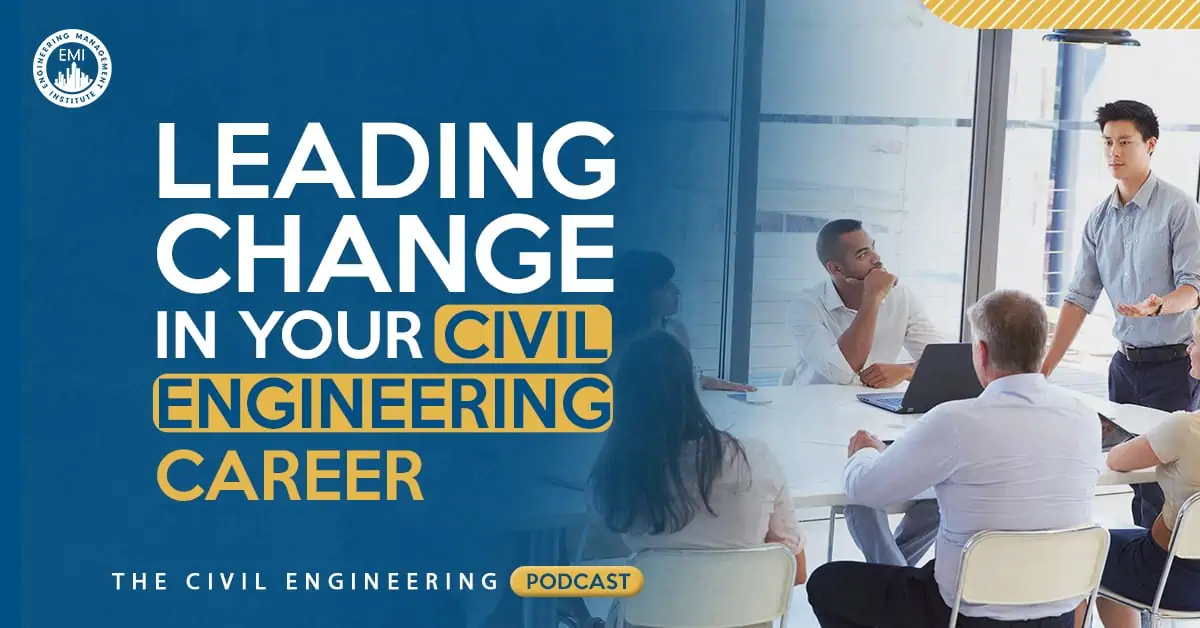 In episode 021 of The Civil Engineering Podcast, Jon Weinstein, President of Line-of-Sight Consulting, talks about leading change management, what it is and why it is important to understand it in the context of an engineer involved in projects as well as management and leadership of people.
Here are some key points discussed in this episode:
What is change management – Those things that managers or people do to help individuals and overall organization to get to the end result that's desired by the projects they perform.
As you look at making decisions to change the work environment for your employees or the process, spend some time having really good communication with them pulling apart the second and third order effects before implementing.
Things a civil engineer needs to know about change management:
Engage the client and be aware of the impact of the change on them.
The team needs to know that they are the ones leading the change within the organization or for the clients and must have basic skills and understanding to listen for concerns and how they may be addressed.
On career perspective, have greater appreciation for the people impacted the greatest from the change effort and for the people you will be managing.
Basics to know about organizational change:
Project managers:
Make sure that you understand it takes effort
Know what specific activities are needed to facilitate the change that is going to occur
Senior/executive level:
Create a sense of urgency
Model the behavior (process, attitude, use of new tools) that they are trying to achieve through the change effort
Make space for change

Sharing information with employees about change:
Have open and honest communication, and share the brutal facts whether positive or negative, and engage folks to participate in the conversation.
About Jon Weinstein:

Jon is a Project Management Professional and President of Line of Sight, a firm delivering organizational change, strategic planning, project management, and business process improvement services. He has 20+ years of experience in these areas, working with clients of varying sizes – from start-ups to Fortune 500 firms – and in a wide variety of sectors – including government, IT, insurance, healthcare, and transportation. Jon has authored articles and two books: "Achieving Project Management Success in the Federal Government" (Management Concepts: 2010) and the forthcoming "The Government Manager's Guide to Project Management" (Management Concepts: 2013 expected).
Sources/References:
http://engineeringmanagementinstitute.org/reading-list/
Jon Weinstein's website
Association of Change Management Professionals
Project Management Institute
More of a "how to" site by PMI
TECC 78: Leadership is Half the Story: How Followership is Critical to A Successful Engineering Career 
Books mentioned in this episode:
Please leave your comments or questions in the section below on how you approach organizational change in your civil engineering career.
Onwards,
Christian Knutson, PE, PMP
Engineering Management Institute