Podcast: Play in new window | Download | Embed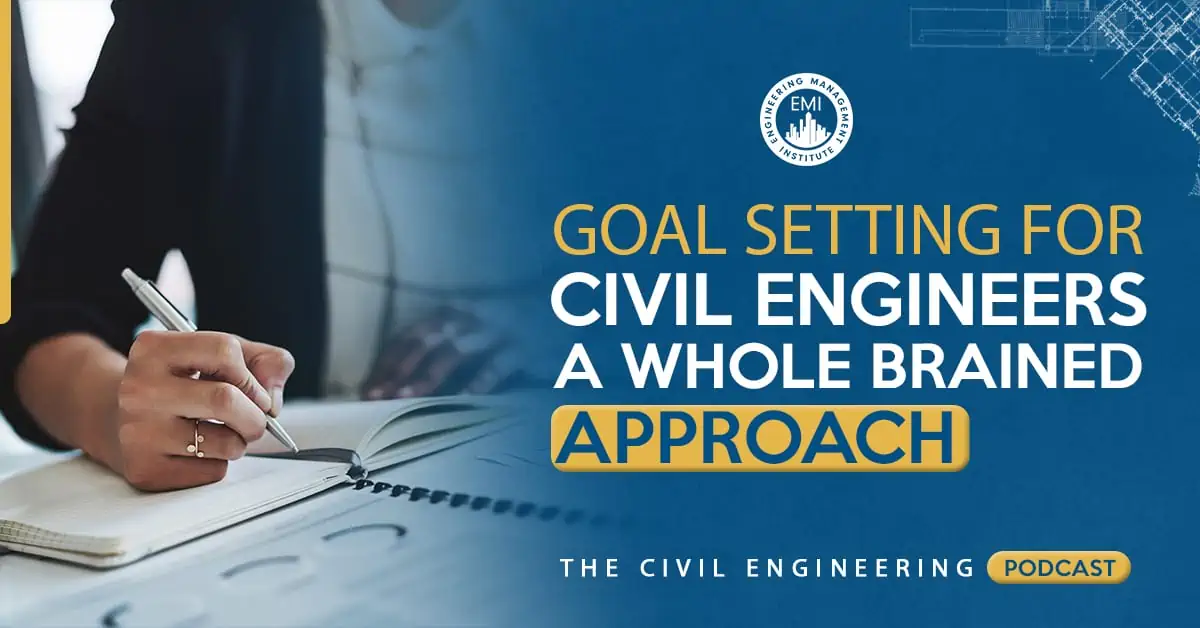 In episode 023 of The Civil Engineering Podcast, civil engineer and author Stu Walesh walks us through 5 points that every civil engineer should consider in setting clear, powerful goals and also provides us with some indications to help us see that we need goals or need to rejuvenate our current goals. Learn valuable goal setting tips for civil engineers.
Here Are Some Key Points Discussed in This Episode About Goal Setting for Civil Engineers – A Whole Brained Approach:
Indications that we need goals or rejuvenated goals:
If you are over five years into your civil engineering career, and you feel like you only have one year with five significant experiences versus having five years of significant experiences
You never tried anything new, which is the reason you get passed over at work
You are bored and/or lethargic
Five points to setting clear, powerful goals:
Point #1 – Your Mindset: Push yourself out of the victim mentality and have a mindset of "I can create my own future."
Point #2 – The Structure of a Goal: Use the SMART acronym in structuring a goal, but make sure you don't burn out or set too many goals or too many expectations.
Point #3 – Your Plan for Achieving Your Goal(s): Walesh shared how to use mind mapping to excite the interaction between conscious and subconscious mind.

Point #4 – Visualizing Your Plan: Use a flow diagram or flowchart for the steps you want to walk through.
Point #5 Overcoming Obstacles on the Path:
Common obstacles:
Biting off too much too quick – you need to break that goal into small parts and take them on one at a time.
Hanging out with the wrong people – you need to be careful with who you spend your time with or who you associate with because people that surround you have a tremendous impact on you especially early in your career.

Analysis/Paralysis – there's a point when you have to stop setting your goals and planning how you are going to achieve them; instead start the process of achieving them.
Other points Stu shared about goal setting:
Have a balance between success and significance; decide where your values are because that will determine where your goals will be.
Goals should be selectively shared with people that will help you to achieve them.
Everybody benefits when someone in an organization sets personal goals and achieves them.
Stu also shared how he uses a spreadsheet with goals, projects and action steps that he looks at everyday to measure his success in achieving his goals.
Learn the four C's – Competence, Communication, Creativity, Conscience
Sources/References:
engineeringmanagementinstitute.org/support
Stu Walesh Website
Books mentioned in this episode:
This episode is brought to you by PPI, the leader of civil engineering FE or PE exam preparations. Use promo code CIVIL for 20% discount at PPI2Pass.com/coach.
About Stu Walesh:

Stuart G. Walesh, Ph.D., P.E., Dist.M.ASCE, D.WRE writes, teaches, and provides advice about leadership, management, engineering, and education/training. Prior to beginning his independent venture 15 years ago, he worked in the public, private, and academic sectors serving as a project engineer and manager, department head, discipline manager, marketer, litigation investigator, professor, and engineering dean. Stu's technical specialty is water resources engineering.
Please leave your comments or questions in the section below on how you've started your goal setting process for a successful civil engineering career.
To your success,
Anthony Fasano, PE, LEED AP
Engineering Management Institute
Author of Engineer Your Own Success