Podcast: Play in new window | Download | Embed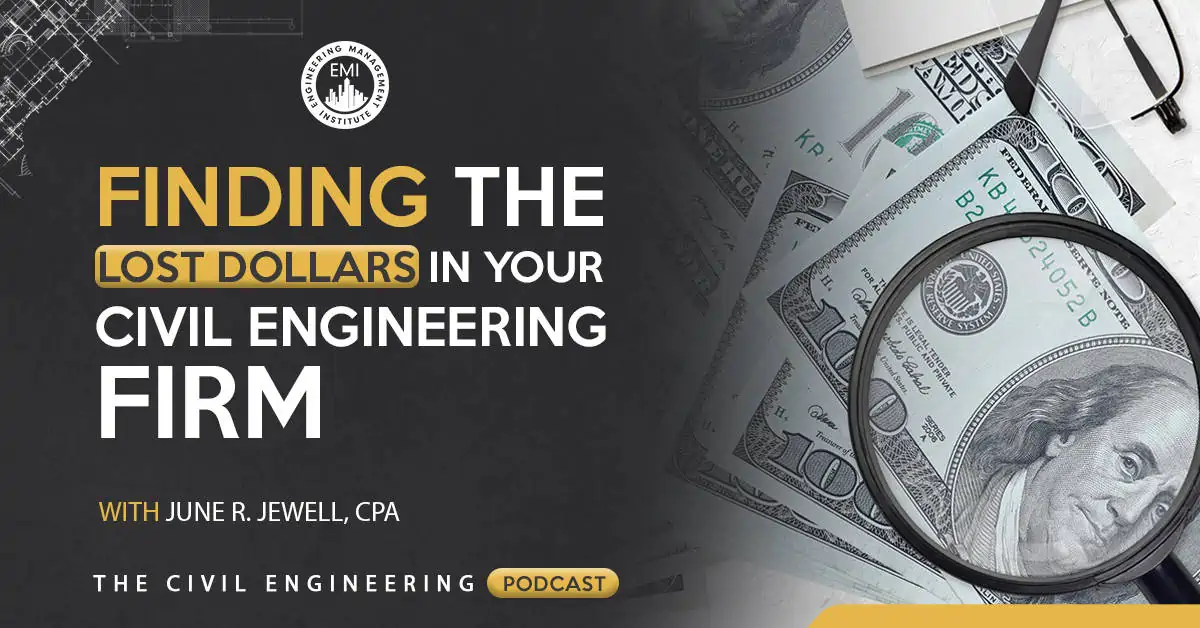 In episode 51 of The Civil Engineering Podcast, I interview June R. Jewell, CPA, a business management consultant to the Architecture, Engineering, and Construction (AEC) industry on finding the lost dollars in your Civil Engineering Firm. Some of the points June discusses will immediately help you to enhance your business development skills and increase profits.
Here are some of the questions I asked during the episode:
Tell us more about losing money on time and materials contracts.
What is the cost of lost opportunities?
How does an engineering proposal process bring along lost revenue?
What impact can estimating processes have on projects?
How does the cost of low utilization affect revenue and profits?
How does poor project management lose you money?
Tell us more about inefficient and non-integrated systems in your business?
Engineering Quotes




Here are some key points discussed in this episode:
Many engineers are more focused on their technical skills, the quality of their projects and the relationships with their clients and not focused on the money. Sometimes money is the last thing that gets paid attention to when working on a project and by the time you get to the end of the project you find that it wasn't as profitable as you would hope it would be.
Time and materials contracts are one where you bill your client for every hour that you work. Make sure that your billing rates are covering your costs of the project when you are billing clients hourly as a lot of money can get lost on time and materials contracts.
The firms that share more financial data and help their managers to understand business and accounting concepts and financial terminology have better project profitability and their employees do a better job of managing the project.
Improving your decision-making process on which project to go after and also by having a no-go process in place, will reduce the number of lost dollars on a project.
Look at how you track your qualifications data and how you share the actual process of the project.
If you do a poor job on your engineering proposal cost estimate, you are going to have a bad project with lots of problems occurring during the project. The key to a good estimate is asking a lot of questions and understanding your clients' requirements and expectations.
Scope creep is when the actual work that you do on a project exceeds what was agreed to in your contract outlined. There is always going to be scope creep during a project and how to react to it is very important.
When you have a project budget, project managers have to keep their eye on every aspect of it to ensure not losing unnecessary money.
The more you can do to tie all of your databases together, the more your employee proficiency will get improved.
Identify who your good clients are. Bad clients drain your resources and can potentially be causing you to lose money on your profit margin of your project.
More details in this episode
About June R. Jewell, CPA:
June R. Jewell, CPA, is a business management consultant to the Architecture, Engineering, and Construction (AEC) industry and author of the best-selling book, Find The Lost Dollars: 6 Steps to Increase Profits in Architecture, Engineering, and Environmental Firms. For over 25 years she ran a successful business and Deltek consulting practice and is now focused on working with AEC firm leaders to help them improve their processes and systems, and give them the tools they need to be able to hold their employees and managers accountable to increase profitability. June is CEO of AEC Business Solutions, offering business assessment tools and business management training programs designed to help AEC firms make more money on projects. You can learn more about June and her company at www.AECBusiness.com
Sources/References:
AEC Business Solutions
TCEP 048: Seller-Doer Series – How to Generate Leads as a Civil Engineer
The Seller-Doer Survey
Seller-Doer Academy for Civil Engineers
 This episode is brought to you by PPI, the leader of civil engineering FE or PE exam preparations. Use promo code CIVIL for 20% discount at PPI2Pass.com/coach.
Books mentioned in this episode:
Find The Lost Dollars: 6 Steps to Increase Profits in Architecture, Engineering, and Environmental Firms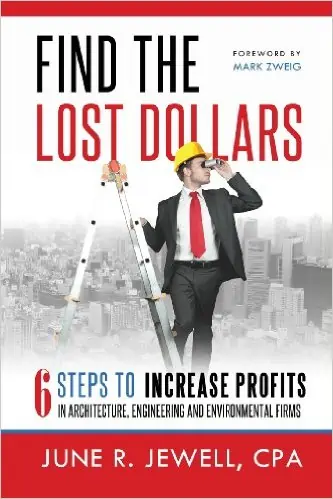 Mastering the Rockefeller Habits: What You Must Do to Increase the Value of Your Growing Firm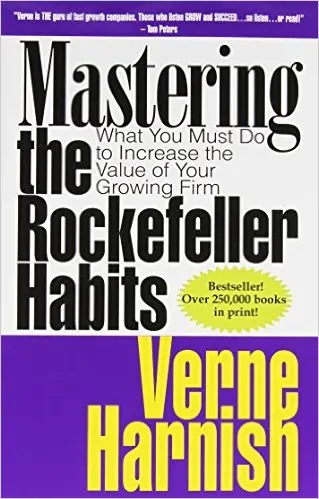 Please leave your comments or questions in the section below on finding the lost dollars in your civil engineering firm.
To your success,
Anthony Fasano, PE, LEED AP
Engineering Management Institute
Author of Engineer Your Own Success