Podcast: Play in new window | Download | Embed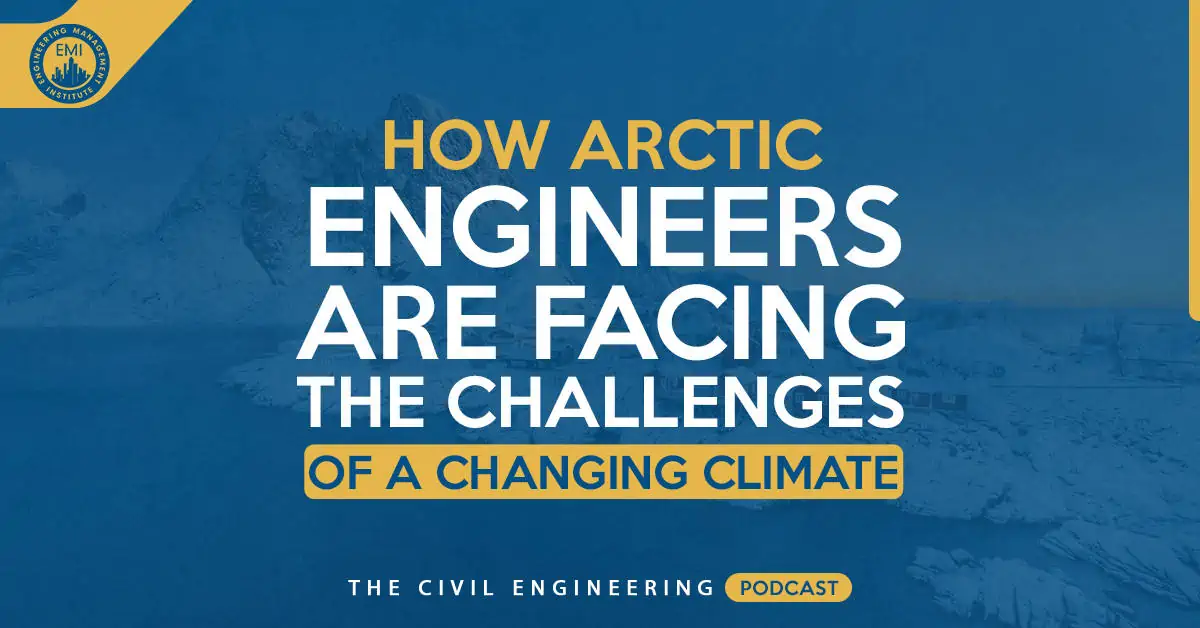 In episode 52 of The Civil Engineering Podcast, Christian Knutson interviews Dr. Orson Smith, P.E. on how arctic engineers are facing the challenges of a changing climate. In this conversation, you're going to learn about what arctic engineering is, and you'll get a glimpse at some of the challenges engineers face in designing horizontal and vertical structures in cold regions.  They also talk about the impact of climate change and how it affects our jobs as civil engineers for designing infrastructure and buildings for a 50-plus year service life.
Here are some of the questions asked on Arctic Engineering:
How long has arctic engineering as a specific academic discipline existed in civil engineering?
What makes arctic engineering unique as a discipline?  What is the demand for this level of expertise and in which industries?
What are the major issues you need to worry about as an arctic engineer in light of climate change?
What effects do more frequent freeze-thaw cycles have on built infrastructure, and are there mitigation measures that can be designed to address this?
Are there any aspects of cold regions engineering that should be considered in designs in the lower-48, or more moderate climates?
What do you see as the most vexing civil engineering challenge in the coming ten to twenty years in the Arctic, and how might it be solved?
Engineering Quote:


Here are some key points discussed in this episode:
Arctic Engineering is recognized by both the American Society of Civil Engineers and the American Society of Mechanical Engineers in organizational elements that develop guidelines for their membership to practice risks.
Heat transfer is an important fundamental principle that should be mastered in cold regions engineering.
Climate change may be increasing, but it's been occurring for hundreds of years at a lesser rate.
There is more energy from waves, which is the primary cause of coastal erosion, as the force that brings and effects a retreating shoreline.
Global circulation models are the foremost tool for predicting the future climate.
Everyone has an obligation to address climate change in designing engineering works.
It is hard to invest in infrastructure when the economy of the world is wavering up and down.
More details in this episode…
About Dr. Orson Smith, P.E. :
Dr. Orson Smith, P.E. is a professor emeritus of Civil Engineering at University of Alaska Anchorage and a Professional Engineer in Alaska.  He's a past Department Chair (1/2006-5/2010) of the civil engineering department, as well as Interim Dean, and he's highly sought-after expert in Arctic engineering and coastal protection in cold regions. His research interests focus on: coastal, port, harbor, ocean, and arctic engineering; renewable energy; and climate change impacts on engineering works.  Dr. Smith has served on the ASCE's Technical Council on Cold Regions Engineering, and was a member of the Task Committee on Adaptation to Climate Change…he also was the 2015 Elbert Rice Memorial Lecture Award Winner for Cold Regions.
Sources/References:           
Adapting Infrastructure and Civil Engineering practice to a changing
Arctic Engineering in Alaska
US Army Corps of Engineering
COLD REGIONS ENGINEERING DIVISION
Alaska town to vanish by 2017
Journal of Cold Regions Engineering
This episode is brought to you by PPI, the leader of civil engineering FE or PE exam preparations. Use promo code CIVIL for 20% discount at PPI2Pass.com/coach.
Please leave your comments or questions in the section below on how arctic engineers are facing the challenges of a changing climate.
To your success,
Anthony Fasano, PE, LEED AP
Engineering Management Institute
Author of Engineer Your Own Success