Podcast: Play in new window | Download | Embed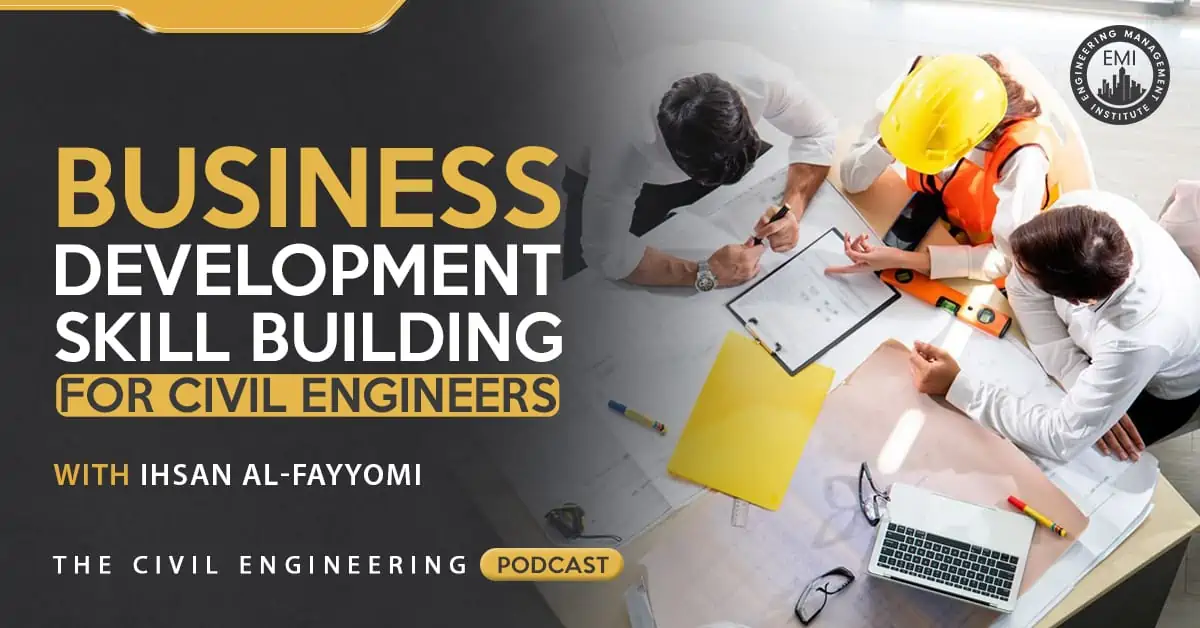 In episode 92 of The Civil Engineering Podcast, I am taking you with me to visit T&M Associates headquarters in Middletown NJ, where we are going to sit down with Ihsan Al-Fayyomi to talk about business development skill building for civil engineers.
Here are some of the questions I ask Ihsan:
Can you talk about how you became involved in expanding your company geographically?
What was your mindset like when you started growing the company?
Is smart decision making something you personally focus on?
What is your overall philosophy on building relationships?
How do you build trust?
Tell us about having difficult conversations.
What is your management style?
Engineering Quotes:


Here are some key points discussed on business development skill building:
Everything starts with a plan and a vision and you have to believe in that plan and vision.
When trying to grow your company you have to understand that setbacks are actually opportunities and that you have to overcome challenges. Sometimes it's hard to do the right thing, but you just have to do it.
A key component to building a company is to ensure that you have the right people working in the right seats.
Avoid risky projects and be very smart about the projects you pursue so that you can get to where you want to be.
In business, you must separate emotions from everyday decision making, because when emotions walk in, logic walks out.
To build relationships, there must be trust from both sides. Trust cannot be built overnight, it takes time.
Listening to your clients' needs and understanding their drivers is extremely important when trying to build relationships. We need to be smart in understanding what the client is trying to tell us. When you understand your client, you will succeed.
Clients understands that problems can happen, but they do not like surprises. They appreciate honesty when problems arise. The biggest mistake you can make is to be dishonest or try to hide the problem.
If you want to improve in business development skill building, try to go to meetings with your supervisors whenever you can and listen to what people are saying.
A key component to success is to change before you have to change. Think about how you can broaden your horizons and where you can push yourself outside of your comfort zone. The fear you get when you are comfortable to make the jump, is not real. The opportunities are there and the only person you need to push is yourself.
More details in this episode…
About Ihsan Al-Fayyomi
Ihsan serves as Senior Vice President of T&M Associates Inc. and has nearly 30 years experience in Environmental Consulting. Ihsan has strong relationships with regulatory agencies and has helped clients with strategic planning to reduce environmental costs and minimize short and long term risk; often participating in regulatory negotiations on his clients' behalf. Ihsan holds a BS in Civil Engineering from Western Kentucky University, and he has helped to build up T&M's Ohio operations.
Sources/References:
Engineering Management Accelerator Workshop (Online) | 5 PDHs
Ihsan Al-Fayyomi's LinkedIn Profile
T & M Associates
This episode is brought to you by PPI, the leader of civil engineering FE or PE exam preparations. Use promo code TCE8 for a 20 % discount at ppi2pass.com
Books Mentioned in this Episode:
Please leave your comments or questions in the section below on business development skill building for engineers.
To your success,
Anthony Fasano, PE, LEED AP
Engineering Management Institute
Author of Engineer Your Own Success