Podcast: Play in new window | Download | Embed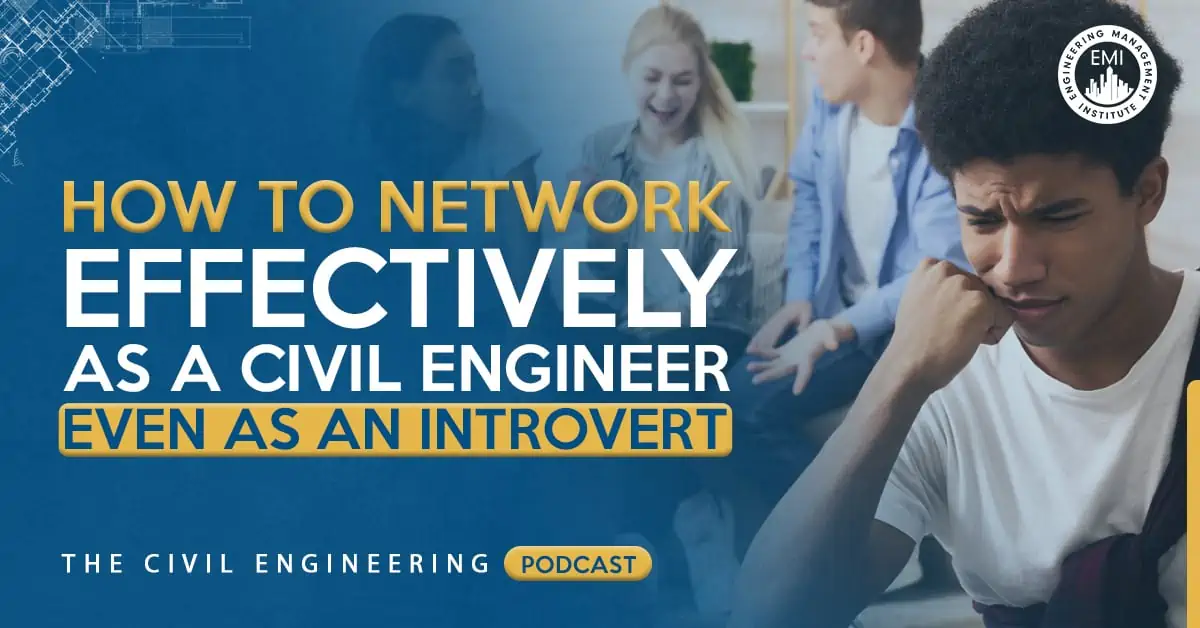 In episode 136 of The Civil Engineering Podcast, I am going to give you three actions that you can use to network effectively and build relationships. These networking tips will help you improve your relationship-building skills and give your civil engineering career a jumpstart, whether you are an introvert or an extrovert.

Here Are Some Key Points Discussed in This Episode About Networking:
According to the dictionary, the word "introvert" refers to a shy person. Many engineers are labeled as introverts because they are analytical, technical, and deal with details.

As engineers progress in their careers, their managers often expect them to build relationships and bring in new business to the firm. When you can't do that, it can become a barrier to advancement in your career.

Networking should be thought of as building relationships. If you take on that mindset, it will be easier to become a successful networker and excel in your career.
Here Are Three Specifics Actions You Can Take to Network Effectively:
1. Start Building Deeper Relationships With People You Already Know

Whether you are an introvert or not, engineers are often fearful of the idea of networking because they often think about networking as the idea of having to go out and talk with people who they don't know.

To warm yourself up to networking, identify contacts who you already know but don't get to talk with that much. By focusing on the people who you already know, you will be more comfortable reaching out to them, which will allow you to practice your networking skills.

You can start by making a list of five to ten people you know by name, or have met once or twice, but whom you haven't had the chance to get to know beyond an introduction. Think of one action you can take to start to get to know them better. It may be attending an upcoming holiday function you know they'll be at, or it could even be a simple email or phone call wishing them a successful new year. This approach will be easier than reaching out to people you've never had contact with, and should start to make relationship-building easier overall.
2. Join Toastmasters International to Improve Your Public-Speaking Skills

Improving your public speaking skills directly correlates to your confidence, which in turn correlates to your ability to network effectively.

While most people join 

Toastmasters

 to become better public speakers, the greater reality is that it hugely improves their confidence, which in my opinion is the most important aspect of being a good networker.
3. Utilize Pre-Determined Conversation Starters When You Go to Networking Events
Take a piece of paper and sketch out five to 10 conversation starters. It can be something as simple as: "Tell me about your current job position."

Preparing these conversation starters beforehand will provide you with the confidence you need to start the conversation effectively.
Sources/References:
Ask Anthony: How Do I Learn to Network, Especially If I Am an Introvert?
Contact Anthony Fasano
Toastmasters International

This episode is brought to you by Maser Consulting P.A., a privately owned, multi-discipline, consulting and engineering design firm with a unique balance of public and private sector experience. Established in 1984 by Richard M. Maser, PE, PP, CME, Chairman & Chief Executive Officer, the firm has an expert staff of licensed engineers, planners, surveyors, landscape architects, and environmental scientists with offices strategically located nationwide. Click here to learn more about Maser Consulting P.A. today.
Please leave your comments or questions in the section below on the things you do to ensure you network effectively as a civil engineering professional.
To your success,
Anthony Fasano, PE, LEED AP
Engineering Management Institute
Author of Engineer Your Own Success