Podcast: Play in new window | Download | Embed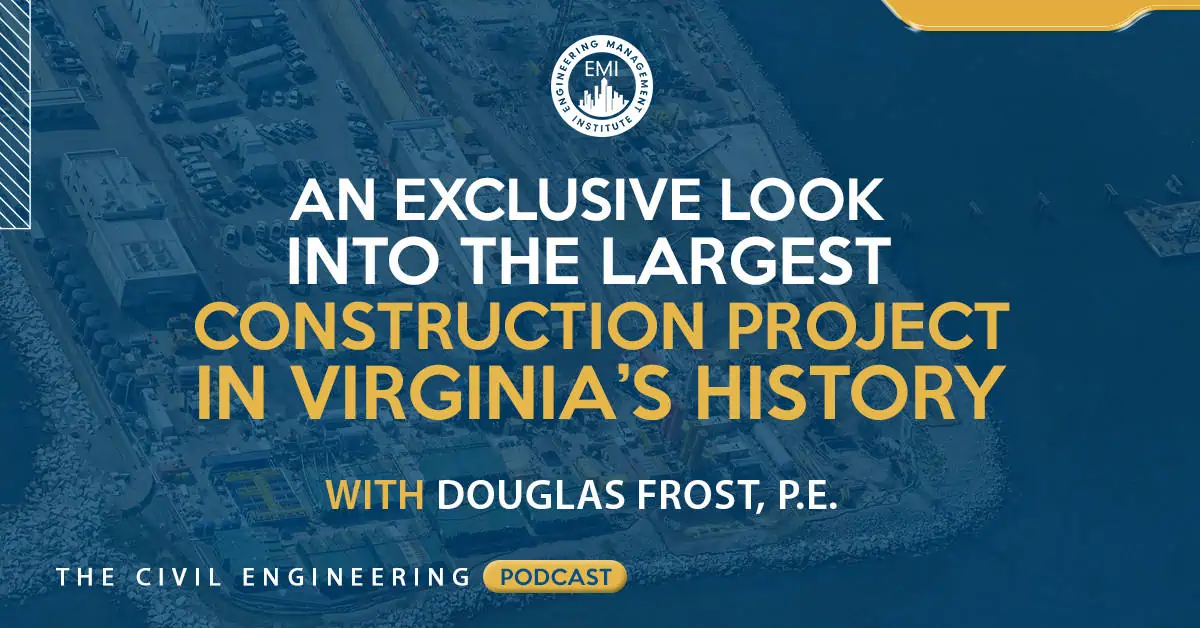 In this episode, I talk to Douglas Frost, P.E., a Senior Vice President at Dewberry. Douglas currently serves as the Quality Assurance Manager for the Hampton Roads Bridge-Tunnel Expansion, and in this episode I talk to him about this project, which is the largest construction project in Virginia's history. He also talks about Dewberry's involvement in the project and discusses some interesting aspects around the project.  He even offers an amazing piece of career advice that was given to him by Mr. Sidney Dewberry!
Engineering Quotes:


Here Are Some of the Questions I Ask Douglas:
What is the goal of the Hampton Roads Bridge-Tunnel Expansion, and what do they hope to achieve by this project?
How does someone get involved in such large projects, like the largest construction project in Virginia's history?
What is Dewberry's expertise in the transportation/infrastructure space, specifically on QAQC for transportation projects?
Which technology and equipment or new/special procedures/processes are being used during this project?
What is Dewberry's role in this project?
Has the COVID-19 pandemic been helpful or hurtful to the project?
What are some of the safety risks of this project?
When working with unique machines and technology, like on this project, do you and your team need to be educated on them?
Do you have any advice for civil engineers out there who are planning to get involved with large projects like this one?
Here Are Some Key Points Discussed in This Episode About Working on Large Construction Projects:
The purpose of the Hampton Roads Bridge-Tunnel Expansion project is to relieve major transportation congestion problems. This project is also aimed at improving safety for the traveling public by constructing the roadways to be sensitive to the needs of the roadway users and vehicles.
Getting involved in the largest construction project in Virginia's history is an exciting experience. You get to work on unique projects that bring in cutting-edge technology that has hardly been used before. You can get to see every aspect of the project being rolled out, which is a great opportunity to learn unique methods and technologies.
Dewberry has been in the design and construction inspection business for more than 50 years. They have worked on multiple large transportation design projects in the DC Metro area and throughout the East Coast. Some of these projects are the Dulles Metro, Montgomery County interconnector highway, but the Hampton Roads Bridge-Tunnel Expansion project is by far the largest construction project they have worked on. They are also currently working on the expansion of the I64, where they are doing the quality control under a local contractor. Because of Dewberry's strength in transportation design, they get to design the projects and then watch, and inspect, their construction. This ensures that the designer's intent is what is being constructed.
The Hampton Roads Bridge-Tunnel Expansion project has an enormous budget of close to $4 billion, and should take approximately five years to complete. The tunnel boring machine itself costs $110 million and is being constructed in Germany. It is a design-build project, so the designers are designing as fast as the contractor wants to construct it.
This is only the fourth time in the USA that they have employed a tunnel boring concept to drill the tunnel. This boring machine has a 46-foot diameter, which makes it stand almost as tall as a four-story building, and the entire assembly of the boring machine is the length of a football field. It consists of many different parts, such as numerous hydraulics and soil screw jacks. It will take approximately a year for this boring machine to bore the tunnel from the North Island to the South Island. Thereafter it needs to be disassembled and reassembled in order to be turned around to make the tunnel from the South Island to the North Island. This entire process will take a little over two years to complete.
Before the boring can start, slurry walls must be constructed. These are concrete walls that go down to depths of 190 feet and are 5 feet wide and 10 feet long. To construct these walls, 5 feet x 10 feet x 190 feet holes need to be excavated and then filled with concrete. It takes approximately 800 cubic feet of concrete to fill one of the holes.
Dewberry is contracted to provide quality assurance for the entire five-year project. Quality control consists of testing all the materials used to complete the project. Dewberry is at a higher level than the quality controller. Their role is to document things that are not quite right, which are called non-conformances. By doing this, if something goes wrong at a later stage, you can go back to the documents to find if there is something that might have caused the problem.
The pandemic has helped in terms of there being a lot less traffic to control. This means that the contractor's work schedule was not impeded, and fewer construction deaths have happened due to accidents. It also has its drawbacks, like trying to have an online meeting with 15 people.
Safety on the largest construction project in Virginia's history is vitally important. There are safety classes that need to be completed by everyone who is working on the project. You get a safety badge for completing the course, which entitles you to work on the project. There are safety professionals on-site who constantly inspect things like the rigging on the equipment and that everyone is following the proper procedures. The most dangerous part of the construction site is the places where people are working close to the moving traffic.
Working with unique machines and technologies takes a team effort. There are numerous specialty subcontractors who the general contractor is employing to work on this project. You rely on these subcontractors to educate your team on how they conduct their business, how they do their installation, their equipment, and capabilities, how they monitor the efficiency of the equipment, and so forth. The inspector team needs to understand the work in detail to know what to look for.
If you are planning to get involved with large projects, remember that it is a team that builds these large projects, and not a particular entity. You need to look for jobs in the area that you would like to work in. There will be a good chance that you are accepted if you have the right skills for the position.
More Details in This Episode…
About Douglas Frost, P.E.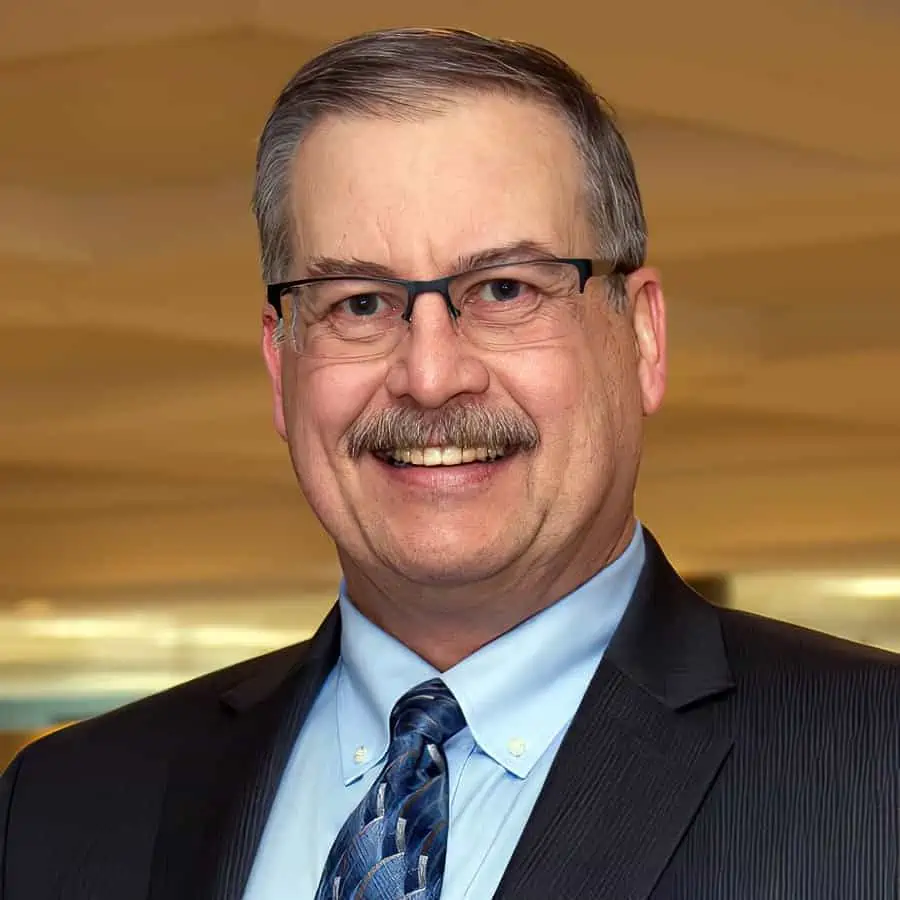 Douglas Frost, P.E., has spent his entire career leading teams in the delivery of inspection, engineering, construction, and scientific-related professional services. Throughout his career, Mr. Frost has executed and managed quality-demanding services that involve the application of materials tests, taking of precision measurements, design drawings, specifications, and cost estimates. He has experience in developing, administering, and executing Quality Assurance Surveillance Plans (QASPs) and adhering to ISO 9002 quality standards at each organizational level, from data collection activities and laboratory/pilot program testing and analysis, through design engineering, to large-scale project management. Mr. Frost currently serves as the Quality Assurance Manager for the Hampton Roads Bridge-Tunnel Expansion, which is the largest construction project in Virginia's history.
"There are 3 things you must do to be successful in a civil engineering business. The first part is you must get the work. The second part is you must do the work. The third part is you must get paid for the work." ~ Sydney Dewberry
Books Mentioned in This Episode:
Participative Management: Employee-Management Cooperation : A Practical Approach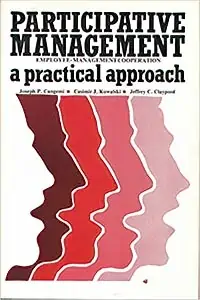 Sources/References:
HRTB Expansion
Connect with Douglas Frost, P.E., on LinkedIn
Gems Camp
Engineering Leadership People Skills Course
This Episode Is Brought to You by the American Concrete Institute

Are you a member of The American Concrete Institute? ACI is a worldwide community of 30,000 professionals, educators, and students in more than 100 countries. It is the premier, global community dedicated to the best use of concrete.
Starting on January 1 this year, ACI launched new member benefits. ACI members now have free access — through annual subscriptions — to all ACI University live webinars, free access to 260+ on-demand courses, and unlimited access to the Institute's practices (including all ACI guides and reports) and symposium volumes.
ACI members push the concrete industry further, adapting to new technology and investing in their careers, and are dedicated to improving concrete design, materials, and construction. You do not have to be an ACI member to work in the concrete industry, but if you want to exceed expectations in it, there is no better place to be. Whether you are a student just starting, or have years under your belt, ACI membership ensures that no matter what changes the world brings, you will be prepared to thrive, and your life's work will last for generations. Right now, ACI is offering a $30 discount on new Individual and Young Professional Memberships — student memberships are free! Join us today at concrete.org/PODCAST30.
Please leave your comments or questions in the section below on working on large construction projects.
To your success,
Anthony Fasano, P.E., LEED AP
Engineering Management Institute
Author of Engineer Your Own Success