Podcast: Play in new window | Download | Embed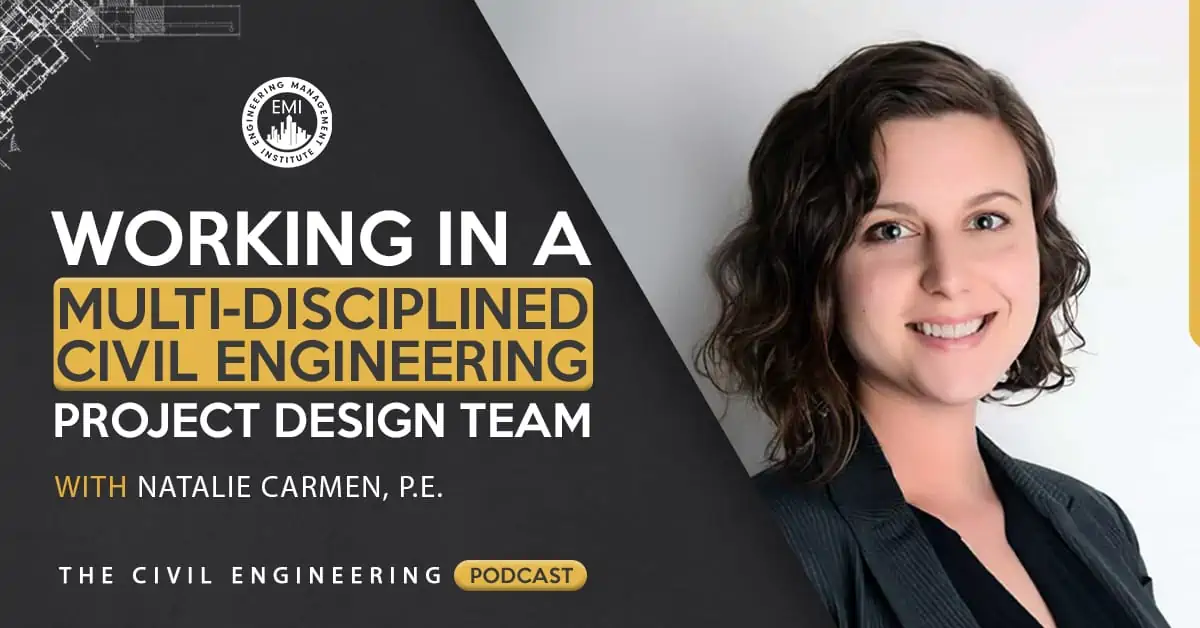 Today is International Women in Engineering Day, and to celebrate the amazing work that women engineers around the world do, we talk to Natalie Carmen, P.E., as part of our Women in Civil Engineering Series. Natalie is a civil engineering project manager with the design, engineering, and planning firm Stewart, and talks about her experience of working in a multi-disciplined civil engineering project design team, and more specifically, about her involvement in the Riverfront Park project, a new, seven-acre destination park on the Wilmington, NC, riverfront.
Engineering Quotes:

Here Are Some of the Questions I Ask Natalie Carmen, P.E.:
You played a key role in the development of the Riverton Park project. What was your role in the project?
Tell me about the Waterfront Edge Design Guidelines, or WEDG certification. What is it and what is its significance?
What are some of the unique features of the project that contributed to the eco-friendly design?
What other elements of the project was Stewart involved in?
Were there any trade-offs that needed to be made by any of the many different discipline fields because of the eco-friendly element in the project?
What advantages does Stewart's interdisciplinary nature provide for projects such as this one?
What was meaningful to you on this project?
Do you have any advice for civil engineers who are planning to get involved in a project with an ecological significance such as this one?
Here Are Some Key Points Discussed in This Episode About Working in a Multi-Disciplined Civil Engineering Project Design Team:
Natalie was involved in the early concept development of the Riverfront Park in Wilmington, NC, and worked closely with the architects on the storm water systems. She later worked on the construction and administration phase of the project, early in the pandemic.
WEDG (Waterfront Edge Design Guides) are relatively new guidelines, and the Riverfront Park is the first civil engineering project to have this verification outside of the New York area. The guidelines value things like public input, the ecological footprint of the project, and the impact it will have on the community.
There are seven state-regulated stormwater control measures. They consist of five permeable pavement systems and two filtration systems. The overall park was paired with these additional measures that are not state regulated but are providing hydrologic treatment for the park.
A project like this can be an incredibly involved project for a company to take on. It involves geotechnical engineers, structural engineers, civil engineers, and landscape architects working together to get the project done.
There is a big benefit to having an effective communication strategy between the disciplines working on a project like this. They need to continually work together and make changes to any part of the project to accommodate the different aspects of the project.
Having a multi-discipline firm benefits the project by having a one-team approach to problem-solving. It gives you the freedom to bring your own expertise to the table while knowing you will be heard and respected. You know where someone's expertise ends so that you can bring in another team member. It is very beneficial having experts only a phone call away to ping ideas off of and ensure the solutions are in line with the metrics you are considering.
You learn many different things working on a large-scale project. Having a collaborative approach is priceless and should be promoted in all projects. Having good communication with contractors prior to construction is greatly beneficial to the project. It is also great to keep the design team involved throughout the project to ensure the design intent is realized.
If you are thinking of getting involved with projects that have ecological significances, find the right people you can partner with and who can give you information about it. Start off by getting involved in local ecological or sustainable projects in your area. Getting connected with the people involved will build your network, which will ultimately lead to more projects. Get educated on this and read the latest articles published that are in line with your, and other, professions. It will enable you to speak other team member's language and understand what they are bringing to the table.
More Details in This Episode…
About Natalie Carmen, P.E.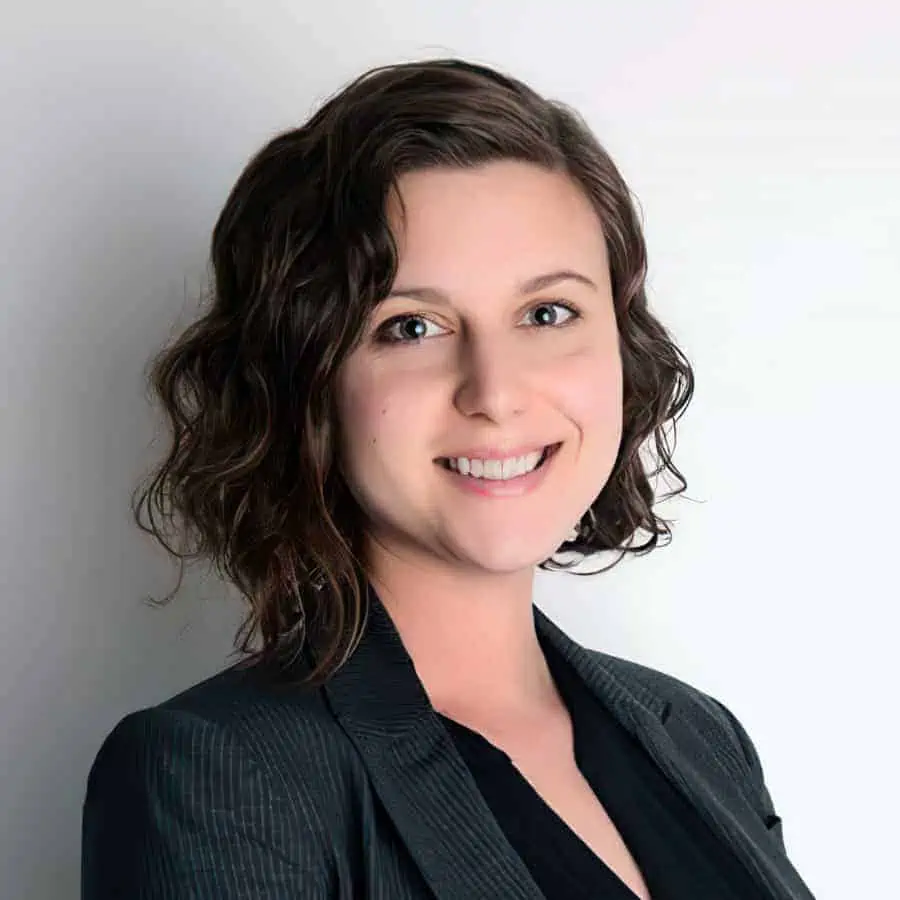 As a civil engineer, Natalie has built on her background in landscape architecture and biological and agricultural engineering, bringing a perspective to design solutions that pairs form and function. Her advanced knowledge of civil engineering concepts, principles, theories, and methods allows for her to plan, design, and engineer site and land development projects. Natalie's portfolio includes grading, erosion control, phasing, environmental, stormwater, water, wastewater, site design, zoning analysis, and roadway plans. Her skill set is fueled by a passion to improve water quality and human lives by designing solutions that will serve future generations.
Books Mentioned in This Episode:
Burnout: The Secret to Unlocking the Stress Cycle
Sources/References:
Stewart Inc.
Riverfront Park
Civil and Structural Engineering Magazine Article: Wilmington's Riverfront Park
Connect with Natalie Carmen, P.E., on LinkedIn
This Episode Is Brought to You by Menard Group USA

Do you have projects where you are faced with building on soft or lose ground? Does it seem like all the good sites are taken and you are always building on poor soils that are a challenge for conventional foundation approaches? Menard may be able to help!
As a specialty ground improvement contractor, Menard works nationally and internationally providing design-build ground improvement solutions at sites with problematic soils.
Menard's techniques include controlled modulus columns, wick drains, earthquake drains, stone columns, dynamic compaction, rapid impact compaction, and soil mixing. Typical projects include warehouses, buildings, material storage piles, processing areas, embankments, roadways, port facilities, storage tanks, containment structures, and platforms.
In many cases, ground improvement is less costly than traditional approaches such as removal and replacement or piling systems. Menard works closely with civil, structural, and geotechnical engineers to minimize foundation costs for wide ranges of soil conditions, structure types, and loading conditions. To learn more about Menard Group USA, or for help on your next project, please visit www.menardgroupusa.com
We would love to hear any questions you might have or stories you can share about working in a multi-disciplined civil engineering project design team.
Please leave your comments, feedback, or questions in the section below.
To your success,
Christian Knutson, CEng, P.E., PgMP, FICE, F.SAME
Engineering Management Institute