Podcast: Play in new window | Download | Embed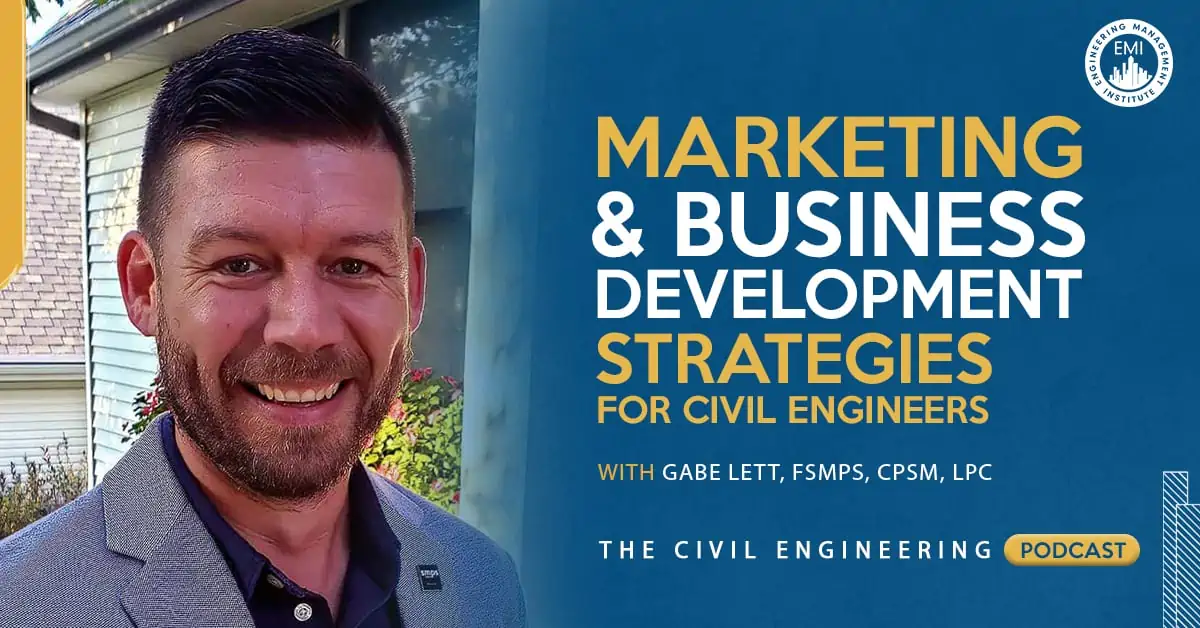 In this 'episode, I talk to Gabe Lett, FSMPS, CPSM, LPC, author of THE AEC PROFESSIONAL'S GUIDEBOOK, and a marketing guru in the AEC industry that helps civil engineers find the right clients and projects for the maximum mutual benefit. In the episode, we talk about marketing and business development for civil engineers and why civil engineers should partner with their marketing professionals.
Engineering Quotes:


Here Are Some of the Questions I Ask Gabe about Marketing and Business Development:
Can you tell us about The AEC Professional's Guidebook and how it will be helpful to civil engineers?
The civil engineering profession does not celebrate and promote itself to the level it should, based on the value civil engineers create for our quality of life. What can be done about it, both from the marketing and civil engineering industry?
How important do you deem coaching and training for engineers when it comes to sales in engineering?
Why do you think that great marketing is the link between technical success and business success?
Why is it so important for civil engineers to partner with their marketing professionals, and how can this help to avoid commoditization?
Do you have any final advice for civil engineers out there?
Here Are Some Key Points Discussed in This Episode About Marketing and Business Development for Civil Engineers:
This Guidebook consists of seventy lessons for building a strong career. It focuses on six areas in your career which are marketing and business development, project management, professional development, leadership, and writing. Each lesson has an actionable challenge that you can do daily in your career.
Even though engineers like to work with objects or things, they will soon realize that their business is also a people business. Everything you do in your business is revolving around people and their needs. Understanding how to listen better, what is motivating people's decisions, and their behaviors can help engineers to deal with people and make their projects happen.
There is a gap between what the public understands what civil engineers do and how they bring value and quality to the public's everyday lives. Marketers are in a prime position to bridge this gap. They can do this by helping the civil engineering profession focus more on the results that come from their work rather than the process of how the work gets done. Marketers are storytellers, and they can tell the story about the results that civil engineering work produces and how they impact the public's everyday life. These results are the highways, water supply, electricity supply, and wastewater, to mention a few.
Civil engineering firms employ non-technical marketers to bring in business but must understand that technical people and engineers are the ones who will bring the deal across the finish line to the point of a signed contract. It is not the correct path because the person finishing the contract is someone the client has not met yet. Professional business developers, who are not engineers, should be professional door openers. Once the door is open, it is up to the technical professional to walk through the door and close the deal. Getting sales training is important for any engineer who has client-facing responsibilities. Sales training does not mean trying to get new sales for the company. It means doing the necessary research to arm yourself with the correct information that the client is needing. Business development is about answering the question that the client has before they have asked it, or solving a problem they did not know they had.
In business development, the best projects that you get are word-of-mouth projects. You automatically have some credibility because you were referred by someone else. When you talk to them, they are already a warm, or even hot lead, because they heard a good testimonial from one of your previous clients.
Many civil engineering company leaders still have the old belief that if the company continues to produce good work, then the phone will continue to ring with new projects. This approach is not sustainable anymore. Technical success must be part of the company's marketing strategy, but it alone is not enough to keep the trend lines of revenue and profit moving forward. Business success means growth and stability for your business and clients. When marketing is used to link your firm's technical achievements and skills to the people that need them, it creates an opportunity to create a good business success outcome.
Commoditization is the process of continually making something the same and undifferentiated. When things become undifferentiated, they become cheap. People pay for your engineering because they believe it is a necessary end to their means. The big picture of marketing is a partnership with engineers to help you understand what is differentiating you in the marketplace. Marketers must answer the client's question of what the difference is between hiring your firm or another firm. If the client cannot answer this question, you have a commoditization of engineering, which will be cheap.
As a civil engineer, you must trust yourself and your ability to do great engineering. Also, trust the marketers working for you to squeeze out more business than you think is available. It is where civil engineers and marketers can come together and benefit each other in our careers. Recognize that a marketer's expertise affords them to position you and your staff perfectly so that you can have maximum career satisfaction and business success. Let your marketers know where you want your firm to go, and they will help you get there.
More Details in This Episode…

About Gabe Lett, FSMPS, CPSM, LPC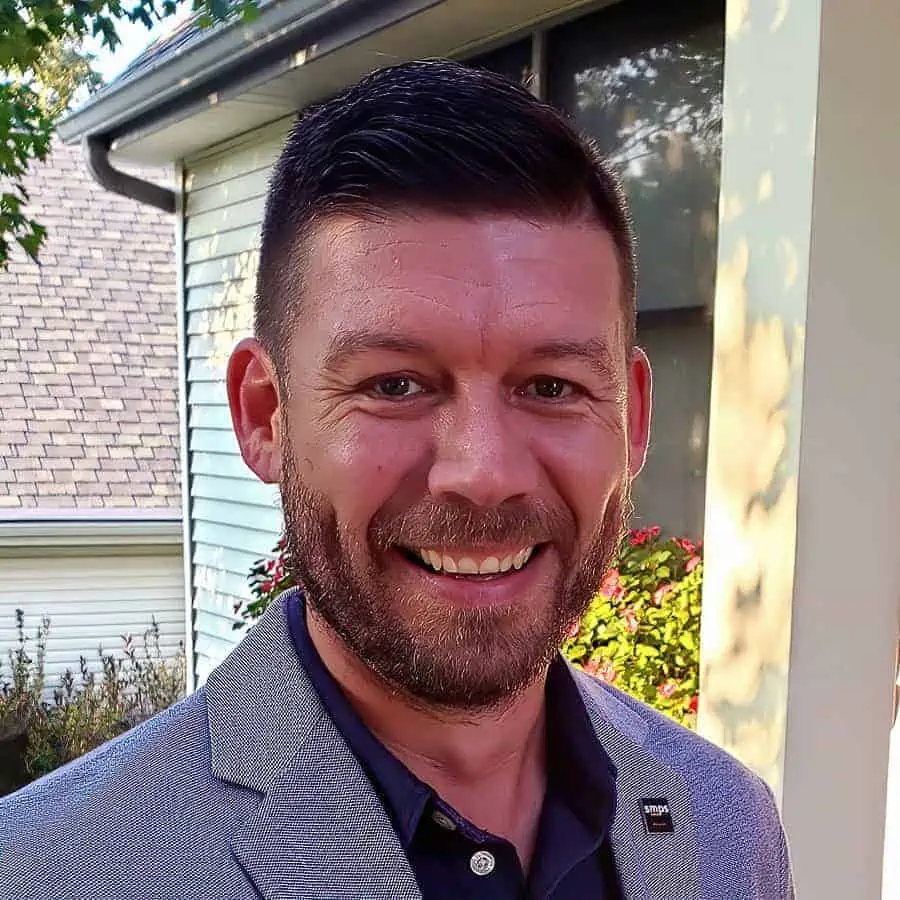 Gabe is a people person. Making friends and connecting with people for mutual benefit is what he loves. Being with people and learning about them energizes him. He uses marketing and business development to benefit his employer, his professional network, and his friends. Gabe has served three civil engineering firms, utilizing these traits in people skills to help build the business. He brings several key benefits to employers, clients, and his network. Gabe is a self-starter and likes to initiate new thinking about solving problems. He also loves working in teams and encouraging others to be their best.
Books Mentioned in This Episode:
The AEC Professional's Guidebook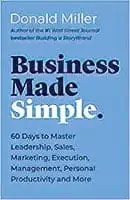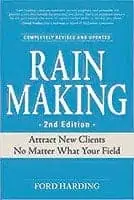 Sources/References:
The AEC Professional's Guidebook Website
Connect with Gabe Lett, FSMPS, CPSM, LPC, on LinkedIn
This Episode is Brought to You by PPI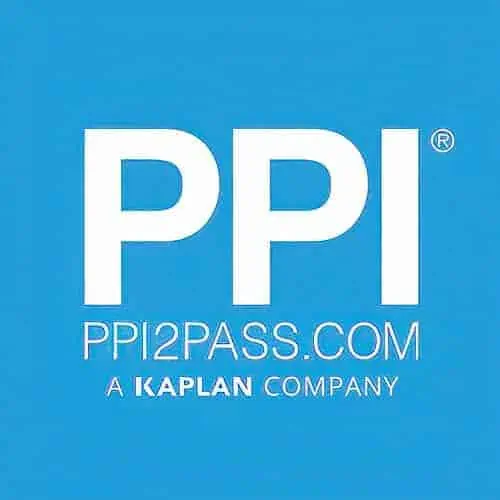 PPI's reputation/history sets them apart. PPI has helped engineers achieve their licensing goals since 1975.  Their courses and review materials are based on decades of experience.
They schedule their courses over 2-3 months to ensure you can properly retain information and allow enough time for homework. They ensure students don't have to "cram" for their exams.
Their courses come with EVERYTHING you need. They offer robust programs, with access to lectures, forums, Learning Hub, books, slides, etc.
Their programs place a big emphasis on homework. They believe that practicing as much as possible is crucial to exam success.
PPI's instructors are very highly rated on student surveys. They are extremely attentive and knowledgeable.
Check out PPI today at ppi2pass.com to see all the options available for FE and PE exam prep.
We would love to hear any questions you might have or stories you can share on marketing and business development for civil engineers.
Please leave your comments, feedback, or questions in the section below.
To your success,
Anthony Fasano, PE, LEED AP
Engineering Management Institute
Author of Engineer Your Own Success