Podcast: Play in new window | Download | Embed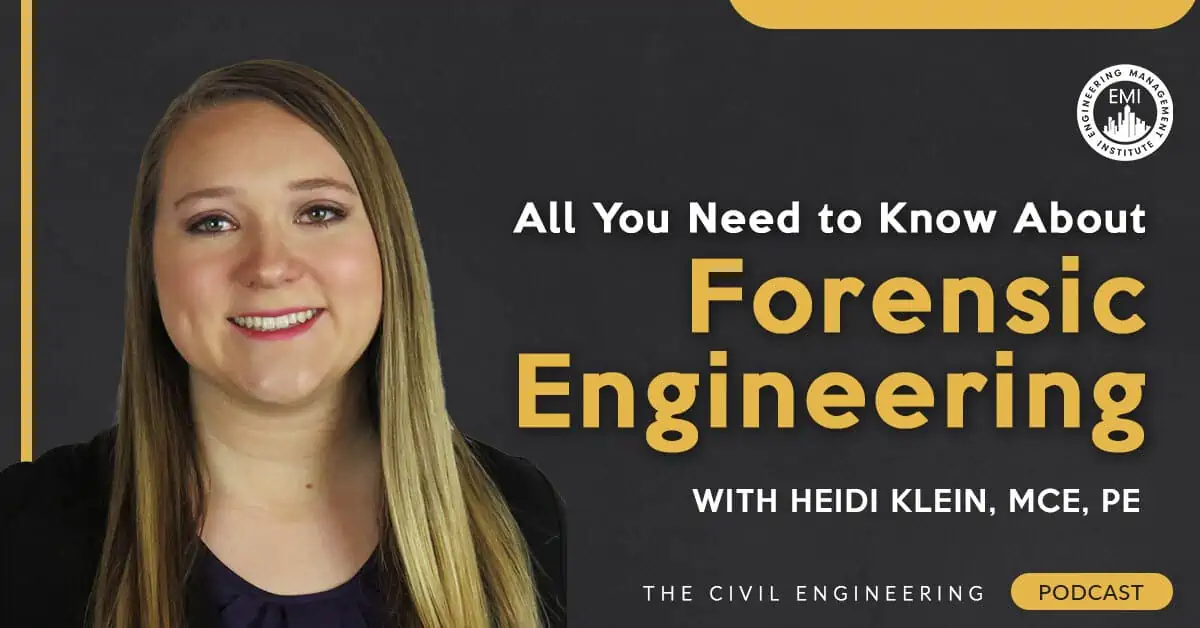 In this episode of The Civil Engineering Podcast, I talk to Heidi Klein, MCE, PE, a Project Manager of Forensics at Vertex, about forensic engineering, what it is, the kind of work it includes, and the roles forensic engineers play when working on a case.
Engineering Quotes:
Here Are Some of the Questions I Ask Heidi:
What is forensic engineering and when would someone contact a forensic engineer?
What kind of evidence do forensic engineers collect?
Do forensic engineers need to testify in court?
What does a career in forensic engineering look like?
How can civil engineers in the construction industry help to make investigations easier for forensic engineers?
How do you deal with performance-based design investigations?
What advice can you provide to engineers considering a career in forensic engineering?
Here Are Some Key Points Discussed in This Episode About Forensic Engineering:
The National Academy of Forensic Engineers defines its trade as the "application of the art and science of engineering in matters which are in, or may possibly relate to, the jurisprudence system, inclusive of alternative dispute resolution."
Whenever there are big construction failures you will contact a forensic engineer to investigate the cause of the failure. Forensic engineers also work on simple things, like investigating the cause of a leak, or a wall that collapsed, and can either get hired by either the plaintiff or the defense party.
Forensic engineers perform destructive testing to determine as an example how a structure was built and what caused the failure. The evidence found through these tests will be placed in a bag for further testing at a lab. The biggest form of evidence forensic engineers collect is photographs.
Only a handful of forensic engineers do testimonies in court. In most cases, there are only one or two main testifiers, and the rest of the engineers would just help with the investigation. You also don't need credentials after your name to be an expert in a litigation case. You just need to prove that you know something different than the jury might know.
Every single day in forensic engineering is different. You might have to travel a lot as a forensic engineer and there is a lot of research that you must do in order to draft your reports.
Civil engineers should design to the code and try to design and integrate projects upfront as it makes the construction goes a lot smoother. The biggest cause of failure is usually where trades intersect. It is of utmost importance that all engineers, architects, and contractors design and work together well from the start of a project and follow the codes and standards.
Every jurisdiction adopts its own code, so every city has its own code. A contractor may be building in one city and then the next week they build in another where there are different requirements. May times contractors don't realize this, but because they sign off on the permit saying that they know the standards. It all comes down to the standard of practice versus standard of care and what a contractor should or should not have done.
More details in this episode…
About Heidi Klein, MCE, PE
Heidi Klein is a Project Manager of Forensics in the Denver, CO office. She received her Bachelor of Science in Civil Engineering from the Colorado School of Mines and her Master of Civil Engineering (Structural) from Johns Hopkins University. Heidi is a licensed professional engineer in Colorado, Iowa, Mississippi, Texas, and Wyoming and has provided expert testimony in forensic engineering, building envelopes, and roofing. She has additional certifications as a Haag Certified Inspector for Residential, Commercial, and Wind, a Haag Certified Reviewer, a Certified Residential Thermographer, a Certified Level 1 Thermographer, a member of the Cal OES Safety Assessment Program, and a Certified Inspector from the Exterior Design Institute. Prior to joining Vertex, Heidi's experience included forensic engineering related to property claims (hail, wind, fire, hurricane, flood, etc.), construction defect, premise liability such as trip/fall and personal injury cases, seller's disclosure disputes, and third-party construction observations.
Sources/References:
Seller Doer Accelerator – Business Development Skills Course
Engineering Leadership Accelerator – People Skills Course Level II
Project Management Accelerator – PM Skills Course
The Civil Engineering CEO
American Society of Civil Engineers
National Society of Professional Engineers
National Women in Roofing
Connect with Heidi Klein on LinkedIn
This Episode Is Brought to You by PPI
PPI has helped engineers achieve their licensing goals since 1975. Passing the FE and PE exams can open doors to career advancement and new opportunities. Check out PPI's wide range of prep options, including Live Online courses, OnDemand courses, and digital study tools, to help prepare you to pass your licensing exam. Check out PPI today at ppi2pass.com to see all the options available for FE and PE exam prep.
Please leave your comments or questions in the section below on forensic engineering.
To your success,
Anthony Fasano, P.E., LEED AP
Engineering Management Institute
Author of Engineer Your Own Success