Podcast: Play in new window | Download | Embed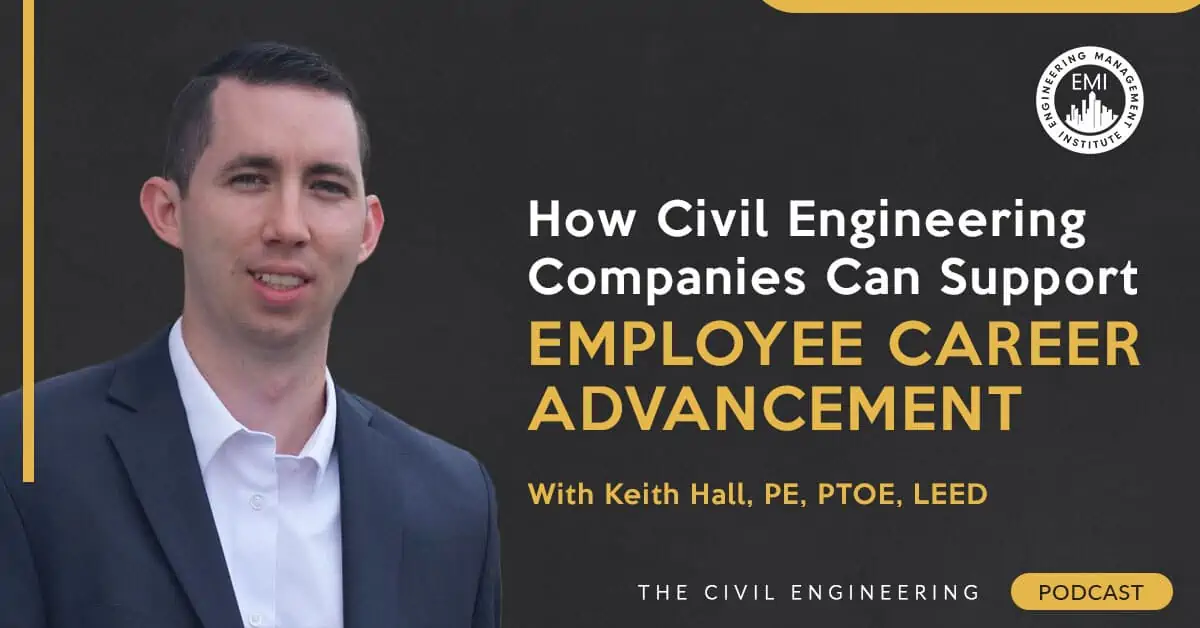 In this episode, I talk to Keith Hall, P.E., PTOE, LEED-AP, the Principal Associate and Traffic Engineering Department Manager with Colliers Engineering & Design about how civil engineering firms can encourage and support employee career advancement at their firms.
Engineering Quotes:


Here Are Some of the Questions I Ask Keith:
What are the various credentials/certifications that you achieved throughout your career and how do they benefit your engineering career?
How do you decide on which credentials/certifications to get?
Why is continuing education and development important for engineers?
How do you or Colliers, as a whole, encourage the development of your employees at your firm?
How does a company benefit by enrolling its staff in continuing education and development programs?
What are some of the ways engineering organizations can improve employee development at their firms?
How can mentorship help employees climb the ladder of business success?
Here Are Some Key Points Discussed in This Episode About Supporting Employee Career Advancement:
Getting credentials/certifications can help you to achieve a standard of practice and demonstrate your knowledge to your firm and clients. Getting other non-technical certificates can also help you provide additional resources to the people in your firm. Having well-rounded licenses and a demonstration of practice in those areas holds a lot of weight to your clients. Getting required certifications will allow you to fill certain roles in particular projects or be a department manager.
When deciding which credentials/certifications you should get, look at which ones will most benefit your career and the company you work for at that time. You can further your credentials/certificates later when you see a new need to advance in your career.
Continuing education and development is foundational to how engineers evolve, become quality engineers, and give back to society. It is a great way to stay up to date with new technologies and innovative solutions that are continually evolving. It allows you to broaden your horizons in fields that were not in your college curriculum. The development of soft skills will always benefit you because it is something that is not extensively taught at the college level and is fundamental in becoming a well-rounded engineer.
Having the development of your employees as a core value in your firm will encourage them to further themselves in their careers. Ensure that your employees have access to courses and certifications and encourage your employees to take part in them. Providing opportunities and benefits for your employees to bolster their resume and credentials, will, in turn, further your firm's credentials.
By supporting employee career advancement in your firm, you enable them to provide quality service and products to your clients. Having individuals who have a wide array of diverse skill sets promotes innovation in providing the best way to promote services and solutions to your clients that best meets their needs.
Engineering organizations can improve employee development by establishing a resource and roadmap that serves as a mechanism to encourage the obtaining of professional licenses, certifications, and professional development. Ensure that there are internal resources that help guide your employees along the way. Promoting communication among your employees who are going through the same processes will help them obtain their certification.
Mentoring is important in employee development as it is an informal-formal relationship. It gives your employees a good view of what the future can hold for them. It provides an opportunity to have conversations outside of your regular sphere of influence. A mentor can provide their mentee with support, advice, and information about the firm and industry. It must be viewed as a learning experience for both the mentors and mentees.
More Details in This Episode…

About Keith Hall, P.E., PTOE, LEED-AP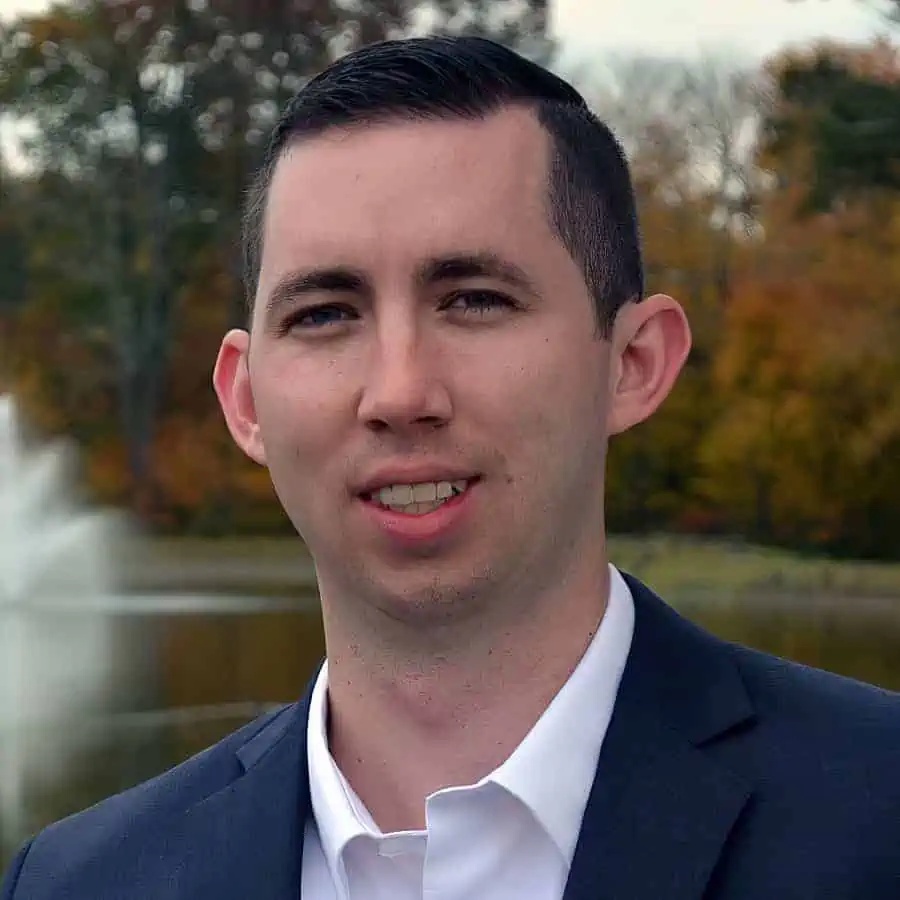 Keith Hall, P.E., PTOE, LEED-AP is a Principal Associate and Traffic Engineering Department Manager with Colliers Engineering & Design in their Hamilton, NJ, office.
Mr. Hall's experience spans 13 years working on various traffic and transportation projects for both private clients and public agencies. He specializes in all aspects of traffic engineering, including intersection capacity analysis, traffic signal design, signal electrical plan design, traffic signal timings, pavement markings, signing, traffic control, roadside safety, roadway lighting, and pedestrian accessibility. He is also a leader in Intelligent Transportation Systems (ITS) and the Transportation Technologies arena, having led many systems engineering and design projects that featured Advanced Transportation Management Systems (ATMS), Adaptive Traffic Signal Systems, Smart City Applications, and various other cutting-edge technologies.
Mr. Hall has taken an active role in designing transportation facilities to accommodate all modes. While earning his bachelor's degree, he concentrated on urban street design with an emphasis on pedestrian treatments, traffic calming, public transit, bicycle facilities, and roundabouts. Mr. Hall obtained unique experience while participating in an international study abroad in the Netherlands, entitled Design for Sustainable Urban Transportation: European and U.S. Perspectives. This program focused on Dutch transportation planning and design in a country that enjoys the world's finest bikeway system and an excellent public transportation network. Through field investigations, exercises, and daily life, Mr. Hall documented how Dutch planning and design has worked in practice in several cities, concentrating on sites where lessons are the most transferable to the United States.
Mr. Hall currently serves on the Board of Directors for the Intelligent Transportation Society of New Jersey. He sits as the current Chair of the Institute of Transportation Engineers (ITE) Sustainability Committee and Chair of ITE's Leadership ITE Steering Committee (alumni of the 2016 class of Leadership ITE), an international program that identifies and develops the next generation of transportation leadership. Mr. Hall is also active in the transportation industry as a speaker/moderator for numerous conferences/seminars, co-authored publications, and is an active participant on ITE's Professional Development Committee and newly formed Equity Committee.
Books Mentioned in This Episode:
5 Levels of Leadership: Proven Steps to Maximize Your Potential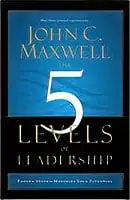 Sources/References:
Colliers Engineering and Design
Connect with Keith Hall, P.E., PTOE, LEED-AP, on LinkedIn
This Episode Is Brought to You by Colliers Engineering & Design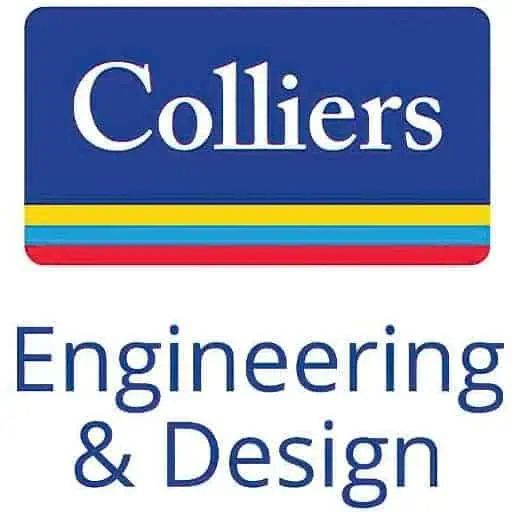 Colliers Engineering & Design is a multidiscipline engineering firm with over 1,800 employees in 63 offices nationwide — and growing fast! Colliers Engineering & Design maintains an internal culture that is nurtured through the promotion of integrity, collaboration, and socialization. Their employees enjoy hybrid work environments, continuous career advancement, health and wellness offerings, and programs and projects that have a positive impact on society. Colliers Engineering & Design stays on the cutting-edge of technology, and their entrepreneurial approach to expansion provides personal and professional development opportunities across the firm. Leadership's dedication to the well-being of their employees and their families is demonstrated throughout the wide range of benefits and programs available to them. For more information, visit the career page on their website at colliersengineering.com.
We would love to hear any questions you might have or stories you can share on how civil engineering companies can support employee career advancement.
Please leave your comments, feedback, or questions in the section below.
To your success,
Anthony Fasano, P.E., LEED AP
Engineering Management Institute
Author of Engineer Your Own Success