Podcast: Play in new window | Download | Embed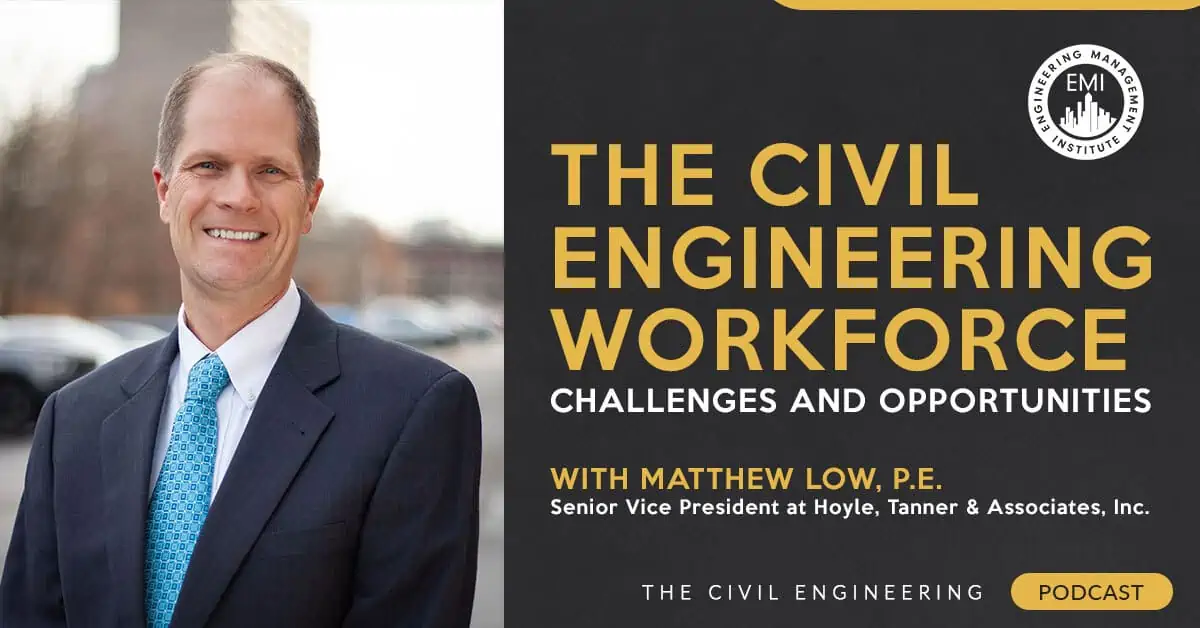 In this episode, I talk to Matthew Low, P.E., Senior Vice President at Hoyle, Tanner & Associates, Inc., about challenges and opportunities in the civil engineering workforce, and how engineers can overcome these challenges to excel in their careers.
Engineering Quotes:


Here Are Some of the Questions I Ask Matthew:
What does career progression in the civil engineering workforce look like?
What impact will the Infrastructure Investment and Jobs Act (IIJA) had on the civil engineering industry?
What are some of the changes you have seen in the industry and the impact they had on civil engineers?
What are some of the challenges engineers are facing in the workforce, and what are some of the things your company did to attract entry-level engineers?
Here Are Some Key Points Discussed in This Episode About The Civil Engineering Workforce: 
Engineers must discuss their interests and passions with their managers and supervisors. It will help in getting the best position for you when it is time for them to progress in their careers.
There are many ways to progress in your career. Don't say you want a certain position when you want to have a different career path. Remember that the technical path is just as valuable as the managerial path in an engineering organization.
People placed in the wrong positions can become frustrated and leave your firm when they could have had a very successful career in another part of your company. Let the people in your company know that there are many other ways to continue progressing in your company. Give your people the opportunity to try other positions to see if they like them or not.
The IIJA bill will cause changes to happen in the civil engineering industry. Civil engineers want to solve problems and it takes money to do that. The higher inflation rate is taking a larger chunk out of the funding so not all the projects will be able to be completed.
To prepare your company for the bill, focus on training your entry-level staff to get them up to speed. Ensure to eliminate your backlog in staffing. Having good intern programs can help your company to get more long-term staff.
Engineering companies should embrace the changes that the pandemic has brought to the way work is now done. Take on the mindset of "success from anywhere" when it comes to remote work. The dedication of your team will make remote work a success. Remote work also expands your company's hiring ability geographically.
To attract more entry-level engineers, focus on your company's strong points and what makes your company different from other companies. Let them know how working for your company will benefit them. Motivate your entry-level staff to get more people coming right out of school to work for your company and get your company involved in capstone programs in universities.
More Details in This Episode…
About Matthew Low, P.E.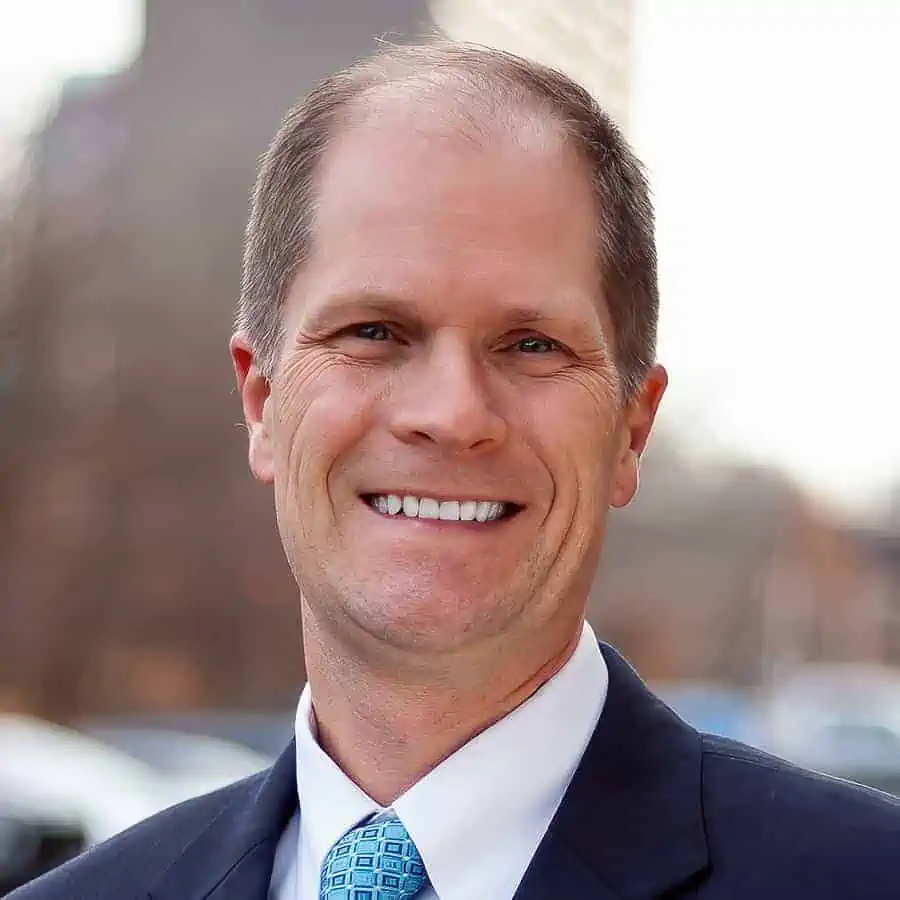 Matt's 30-year career includes over 23 years at Hoyle Tanner where he has been the Director of Engineering Operations (COO) since 2015. In this position, he has direct responsibility for the firm's engineering and business development activities and oversight of over 80 technical and business development professionals for efficiency, effectiveness, and quality. He is a member of the Board of Directors, coordinates training, and remains a direct link to many of the firm's clients. Since 2015 the firm has significantly increased its net income percentage, nearly doubled its backlog, and steadily improved other Key Performance Indicators (KPIs) related to overall firm effectiveness and project management. Before 2015, Matt's career progressed from engineer to project manager to Bridge Division Manager. His technical experience focused on transportation, bridge, and structural engineering projects. He is a professional engineer in six states and earned a Bachelor of Science degree in Civil Engineering from the University of New Hampshire in 1992 and is nearing completion of a Master of Business Administration degree from Southern New Hampshire University.
Matt is a strong proponent of giving back to the civil engineering industry including active participation in professional societies. He is a member and past-President of both the Structural Engineers of New Hampshire (SENH) and New Hampshire Society of Professional Engineers (NHSPE), an active member of the American Consulting Engineers Council (ACEC), the American Public Works Association (APWA) and is Adjunct Faculty for the University of New Hampshire Civil Engineering Department. He was honored as the New Hampshire Young Engineer of the Year in 2002 and the New Hampshire Engineer of the Year in 2019 as well as being named to the New Hampshire 40 Under Forty in 2006. He is an active member of the Manchester, New Hampshire community where he lives with his wife, Kimberly, and enjoys being part of his band, The Regular Gents, who perform throughout southern New Hampshire and northern Massachusetts.
Books Mentioned in This Episode: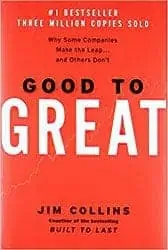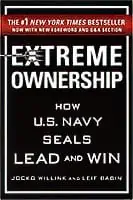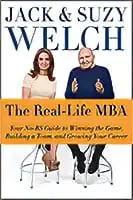 Sources/References:
Hoyle, Tanner & Associates, Inc.
Infrastructure Investment and Jobs Act
Connect with Matthew Low, P.E., on LinkedIn
This Episode is Brought to You by Colliers Engineering & Design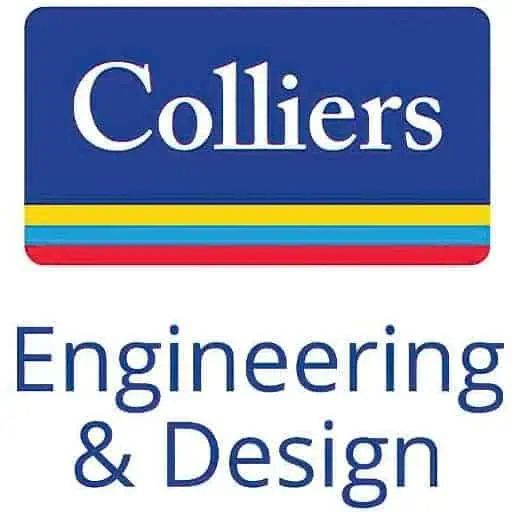 Colliers Engineering & Design is a multidiscipline engineering firm with over 1,800 employees in 63 offices nationwide — and growing fast! Colliers Engineering & Design maintains an internal culture that is nurtured through the promotion of integrity, collaboration, and socialization. Their employees enjoy hybrid work environments, continuous career advancement, health and wellness offerings, and programs and projects that have a positive impact on society. Colliers Engineering & Design stays on the cutting edge of technology, and their entrepreneurial approach to expansion provides personal and professional development opportunities across the firm. Leadership's dedication to the well-being of their employees and their families is demonstrated throughout the wide range of benefits and programs available to them. For more information, visit the career page on their website at colliersengineering.com.
We would love to hear any questions you might have or stories you can share on challenges you've experienced in the civil engineering workforce.
Please leave your comments, feedback, or questions in the section below.
To your success,
Anthony Fasano, PE, LEED AP
Engineering Management Institute
Author of Engineer Your Own Success