Podcast: Play in new window | Download | Embed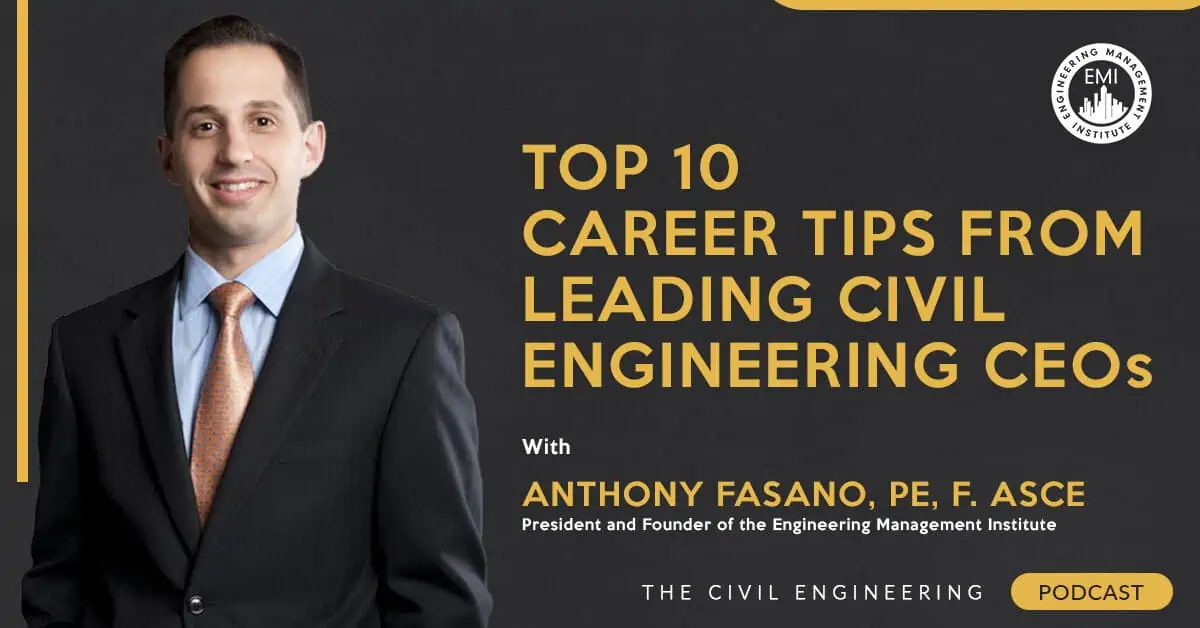 In this episode, I provide you with the top 10 takeaways and career tips from our first 10 episodes on The Civil Engineering CEO show. It is a video show that features CEOs from leading civil engineering firms, and because they shared such insightful information, we thought it would be great to recap some of those key pieces of advice and share them with you here.
Engineering Quotes:

Here Are the Top 10 Career Tips from Leading Civil Engineering CEOs:

1. Always Be Thinking About How You Can Increase Your Value to Your Company
In episode number 1, I talked to Kevin L. Haney, P.E., the President and Chief Executive Officer for Colliers Engineering & Design (formerly Maser Consulting). Kevin recommended that all civil engineers should always be thinking about how they can increase their value to their company — your value is essentially all you have in your career. How valuable are you?
Here is something he said that stood out to me:
"You can't equate your value to the organization to your title in the organization. A title means nothing. Somebody's value to an organization is based upon the duties you perform, the skill sets you have, and the ability to not only impact the bottom line but grow other people. That's the value."
So I ask you, what value do you offer to your firm and how can you increase it?
2. Encourage Diversity and Inclusion in Your Engineering Teams
Our second takeaway, which is from episode 2, is where I spoke with Dave DeLizza, P.E., President and Chief Executive Officer of Pennoni. Dave talked about how important diversity and inclusion are to a company, but more than that, how important they are to engineering teams.
Dave talked about how if your engineering team lacks diversity, its perspective and vision will be limited. Is your team's vision limited? How can you change that?
3. Civil Engineering Cannot Be Automated
Our third takeaway is from episode 3 where I talked to Aine O'Dwyer, Principal and CEO of Enovate Engineering, about why navigating change in the civil engineering industry is so important. We talked specifically about The Infrastructure Investment and Jobs Act, which is going to bring more complex infrastructure projects to civil engineers in the years to come. Many people feel that software and AI will be critical to executing these projects, and while that is true to some degree, Aine reminded us that civil engineering is a people's profession.
Regardless of the software available, you will need to interact with people, lead people, and influence people. How are you preparing yourself to do that?
4. Servant Leadership Is Powerful in Engineering
Moving on to our fourth takeaway, which is from episode 4, I chatted with Uri Eliahu, President and CEO at ENGEO, about how they utilize servant leadership and what it is like to work in a company that employs it.
He said:
"As leaders, our job is to serve, and we measure our successes by the growth and successes of the people we serve."
I agree with Uri's philosophy of leaders serving the people they lead. You have to care about those you lead, and you have to make sure that they are clear on and achieve their career goals. How are you doing that?
5. Building Trust in the Workplace Is Critical to Company Growth
Takeaway 5 is from episode 5, where I talked to Iris Leia Lorelle, P.E., CEO at Capital Engineering and Consulting, about the importance of building trust in the workplace and how it means everything when building a company.
Iris said:
"I've always strongly believed that a company can't grow without people working in it who have the skills to delegate. Being able to delegate takes the ability to trust."
If you don't trust your team members, you won't be able to delegate work to them, and therefore as a leader, you won't get to work on the higher-level tasks that you need to focus on to grow the firm. How can you build trust within your team AND firm?
6. Staying Calm When Things Get Hectic Is an Action Great Leaders Take
For the sixth takeaway, which is from episode 6, I spoke with Jim Salvito, President and CEO of MNS Engineers. The last few years have presented many challenges for the civil engineering industry that showed no signs of slowdown throughout the COVID-19 pandemic. We asked Jim how he remained a calming voice for his employees through all of the ups and downs.
Jim said the following:
"When a situation arises that could be an emotional reaction trigger, I just take time. I sit back and I don't react — I'll think about the various parameters of that situation and what the response should be in a way that's going to come across as the best decision for our organization. And I'll have some thoughts that I'll convey because of that action and decision."
How do you react in stressful situations? What approach can you take to stay calm, as your team will feed off of your reaction?
7. Help Your Team to Move on From Mistakes
Takeaway 7 is from episode 7, where I spoke with Ron Wathen, P.E., President at QK (formerly Quad Knopf), about the importance of keeping a company connected and how engineering leaders and managers can keep their team connected and ensure the emotional well-being of their employees.
Ron said that one of the most important things you can do as a leader is to help your team when they make a mistake. Help them work through it, help them learn from it, and then help them MOVE ON. They need to know that everyone makes mistakes and that you eventually have to move on and not keep some kind of baggage as a result. If you can do this, you will build trust with your team, and they will be comfortable working with you.
8. Prioritize BOTH Your Clients and Employees
Takeaway number 8 is from the episode where I chatted with Johanna Gessner, CEO and co-founder at Gessner Engineering, LLC, about how she takes a high-impact approach to build a successful firm — by focusing on what matters most.
Johanna talked about how as a firm leader, focusing on the client and employee experience are two critical components of building a successful civil engineering firm. I like to call them your two clients: your employees and your customers. And I think this is important because when a firm's leadership puts the customer above the employee, things usually don't work out well.
Are you prioritizing your employees just as you are your customers?
9. Develop and Communicate a Core Philosophy
Our ninth takeaway is from our most recent episode, where I talked to Matt Hoying, P.E., President and Project Manager at Choice One Engineering, about succession planning and how you can plan for the next generation of civil engineering leaders at your firm.
Matt talked about how every company should have a mission, vision, and values that they are communicating with their employees, which is critical for growing your firm long term. In most firms, the employees cannot even tell you what the company's vision or mission is. Can your employees?
At EMI, we operate around our core values: Give, Guide, and Grow. We give our all, we guide each other, and we grow together. Make it easy for your team members to rally around a core philosophy.
10. There Is One Common Denominator in Leadership
Lastly, I give you one more takeaway that is my own takeaway from conducting these interviews. While there is no equation for being a great leader in civil engineering, there does seem to be one common denominator: People.
Civil engineers who are great leaders can relate with, influence, inspire, and lead people, NOT just projects. How can you improve your ability to lead people?
More Details in This Episode…
Sources/References:
Civil Engineering CEO
Email Angelique
Infrastructure Investment and Jobs Act
CEO 001: The 2 Most Important Skills for Civil Engineers
CEO 002: Challenges and Opportunities for Civil Engineers in 2022
CEO 003: How to Navigate Changes in the Civil Engineering World
CEO 004: Servant Leadership: The Key to Building a Successful Civil Engineering Firm
CEO 005: The Importance of Trust When Building an Engineering Firm
CEO 006: The Hybrid Workplace for Civil Engineering Firms
CEO 007: How to Keep a Civil Engineering Team (and Firm) Connected in a Hybrid Environment
CEO 008: Growing a Civil Engineering Firm | With a Focus on Client and Employee Experience
CEO 009: Succession Planning: Transitioning to the Next Generation of Engineering Leaders
This Episode Is Brought to You by PPI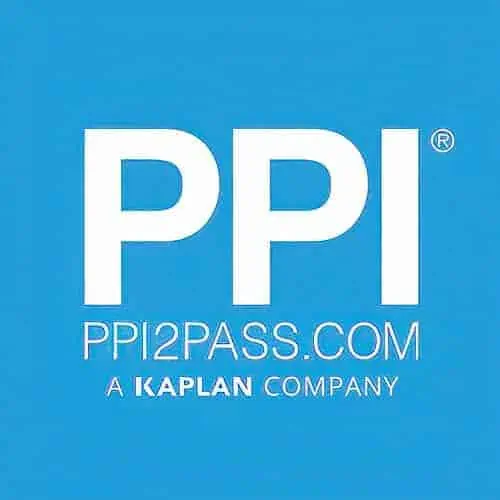 PPI has helped engineers achieve their licensing goals since 1975. Passing the FE and PE exams can open doors to career advancement and new opportunities. Check out PPI's wide range of prep options, including Live Online courses, OnDemand courses, and digital study tools to help prepare you to pass your licensing exam. Check out PPI today at ppi2pass.com to see all the options available for FE and PE exam prep.
We would love to hear any questions you might have or stories you can share on career tips you have gotten from leading civil engineering CEOs.
Please leave your comments, feedback, or questions in the section below.
To your success,
Anthony Fasano, P.E., LEED AP
Engineering Management Institute
Author of Engineer Your Own Success