Podcast: Play in new window | Download | Embed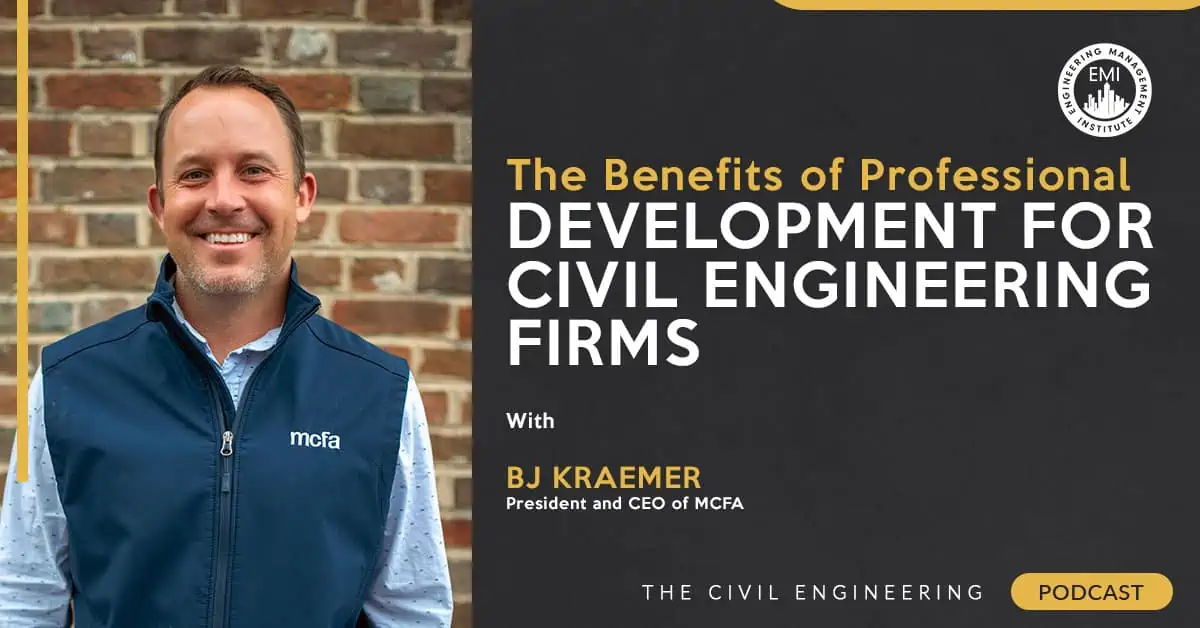 In this episode, I talk to BJ Kraemer, the President and CEO of MCFA, and host of the podcast Inspiring People & Places Podcast, about how he leverages his leadership abilities of the veteran community to enhance project delivery, build successful project teams, and implement professional development at his firm.
Engineering Quotes:


Here Are Some of the Questions I Ask BJ:
Why do you think it is important to train employees and to ensure they are satisfied in their jobs?
What leadership lessons have you learned in building a company (delegating, elevating, and empowering team members)?
How do you believe core values drive culture and "ideal" hires and clients?
Why would you say veterans would be a good fit for the engineering and construction industry?
Here Are Some Key Points Discussed in This Episode About the Benefits of Professional Development for Civil Engineering Firms:
Professional development for civil engineering firms is an obligation between the employer and employee, and it must be seen as a partnership. As a company, developing your staff must be a strategy to ensure it is the best place for them to build their career. To do this, you must know what their personal needs and professional desires are and build a roadmap or plan around those two things. You must be intentional about it, communicate it with your employees, and build your processes around it. Investing in your people is the thing to do. Training does not work if the managers and leaders are not bought into the topics or do not use them on the job. If you do not take any action with the training that is received, then it just becomes knowledge in your head. If you figure out how to apply it daily, it becomes valuable, and where wisdom comes from.
When you are building a company and all the systems are not in place, delegation is difficult to do. It can confuse the staff because nobody knows what is expected of them and what their responsibilities are. When delegating tasks, always leave room for more clarity, guidance, and the definition of success for the project or task. Allow two-way communication to verify what is being delegated. When you get good at delegating, you can then elevate yourself to better use of your time.
To get the best core values for your company, take the five best employees and ask them what makes them unique to the company. Select the best answers they gave you that can be implemented throughout your company and make them the core values that your team uses in everything they do. Rewarding and recognizing staff members when they excel at applying the core values of your company will motivate other staff members to apply the core values more rigorously.
Veterans bring a unique skill set with them to the engineering industry, but they are not getting jobs, or they are joining big businesses that are very transactional. Veterans now have many opportunities to create missions and meaning and use their leadership skills in the AEC industry. Our teams and the industry need more leadership and people management training. The DOD to AEC initiative is about providing a talent strategy while increasing the leadership and people management acumen of the AEC industry. Veterans are a great employee base who bring a ton of training in the leadership and management side with them.
More Details in This Episode…

About BJ Kraemer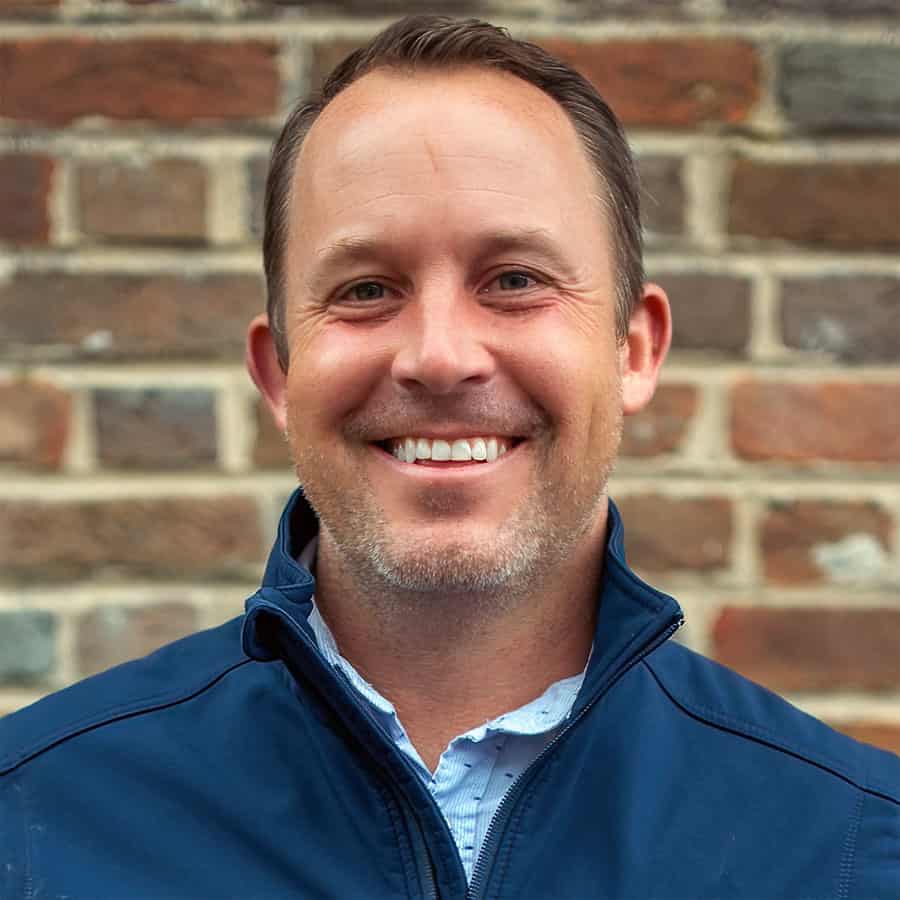 BJ Kraemer is a visionary leader focused on building businesses and inspiring people (clients and employees) through positive and entrepreneurial culture and value creation. He is a former Active-Duty Engineer officer with extensive leadership experience in both combat engineering operations and large-scale Government and Military Construction Programs. BJ brings over 15 years of leadership, program management, business development, and strategy consulting experience to engineering, construction, infrastructure, and real estate development initiatives.
As the President and CEO of MCFA, he is the driving force behind a 40-employee service-disabled, veteran-owned small business specializing in project development and program leadership in the architecture, engineering, and construction industries. MCFA supports private and public clients with real estate/real property, campus/facility management, infrastructure, and capital projects. From long-term vision and strategic planning to construction management and owner's representation, MCFA partners with and advises owners throughout the entire project lifecycle.
BJ continues to serve as a Lieutenant Colonel in the Army Reserves, where he is Adjunct Faculty in the Systems Engineering Department at the U.S. Military Academy at West Point. He has a BS in Systems Engineering from the U.S. Military Academy, and an M.S. in Engineering Management from Missouri S&T. BJ is the founder of the Friendly Strife Foundation, where he is involved in community activities supporting veteran initiatives and youth sports. BJ resides in Haddonfield, NJ, with his wife, Natalie, and their three children, Avery, Trey, and Emerson.
Books Mentioned in This Episode:
Sources/References:
MCFA Global
Inspiring People & Places Podcast
EOS – Entrepreneurial Operating System
Connect with BJ Kraemer on LinkedIn
This Episode Is Brought to You by Keller

Keller develops innovative, practical, and cost-effective solutions to geotechnical challenges, including deep foundations, ground improvement, groundwater control, liquefaction mitigation, releveling structures, slope stabilization, support of excavation, underpinning, and instrumentation and monitoring. Keller is the largest geotechnical specialty contractor in the world with over 60 offices throughout the U.S. and Canada. For more information, visit keller-na.com.
We would love to hear any questions you might have or stories you can share on how professional development has benefit your civil engineering firm.
Please leave your comments, feedback, or questions in the section below.
To your success,
Anthony Fasano, P.E., LEED AP
Engineering Management Institute
Author of Engineer Your Own Success