Podcast: Play in new window | Download | Embed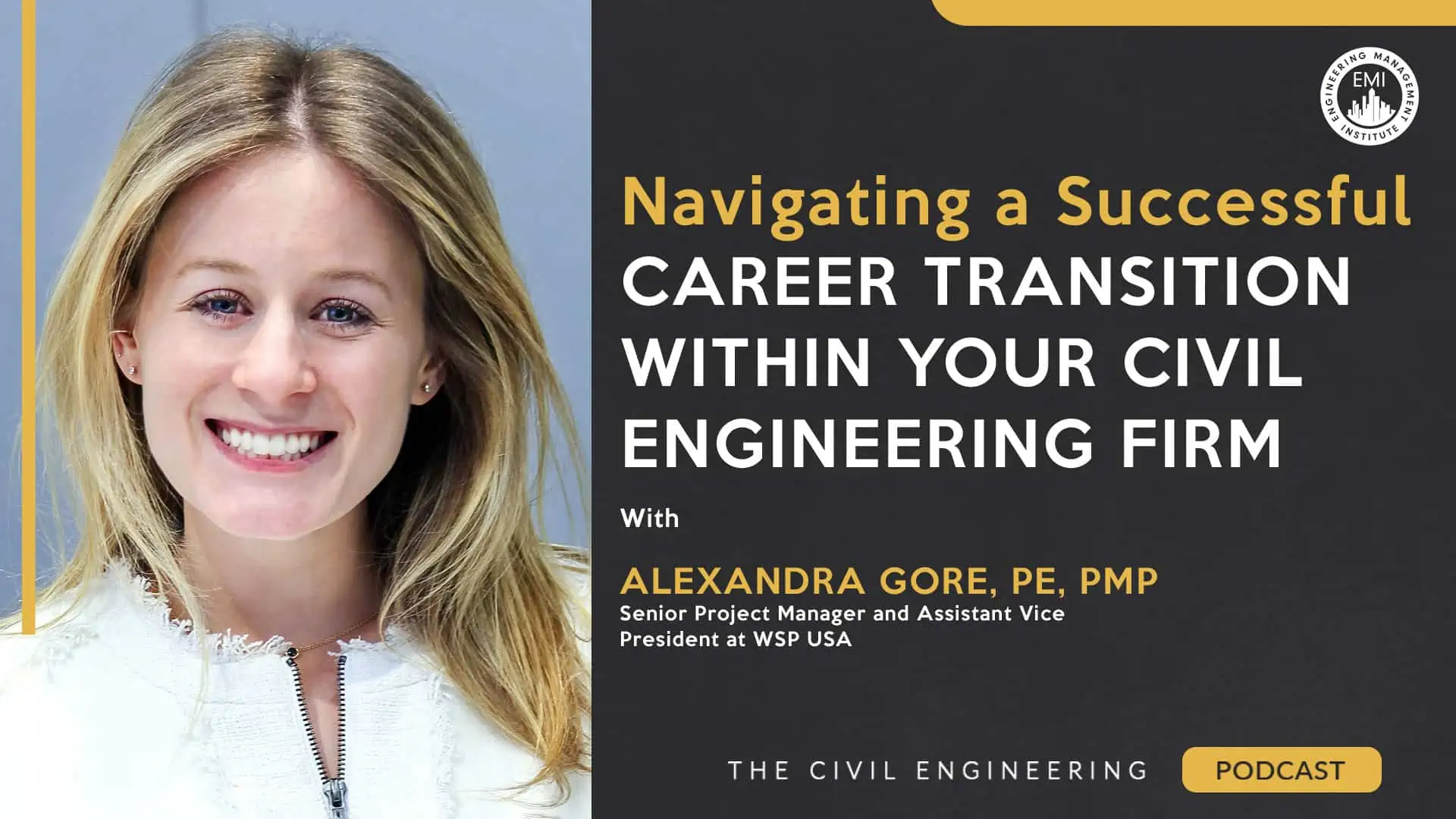 In this episode, I talk to Alexandra Gore, P.E., PMP, a senior project manager and Assistant Vice President at WSP USA, about how she made a career transition within her company, some of the challenges she faced during the transition, and how she overcame them.
***View the video version of this episode here.
Engineering Quotes:


Here Are Some of the Questions I Ask Alexandra:
What made you decide to transition to a different sector within your company?
How did you approach that transition in terms of preparing for your new role?
Did you have a mentor to help you in this transition?
What were some of the challenges you faced during the transition period and how did you overcome those challenges?
With leading so many teams, how do you ensure you remain productive and focused on the right things?
What tips can you share with the listeners to ensure a smooth transition within their firm?
Here Are Some Key Points Discussed in This Episode About Navigating a Successful Career Transition Within Your Civil Engineering Firm:
One of the first steps in transitioning within your company is knowing that you want a change. Speak to your colleagues about what background they have and what they can do to help you to know more about which options you have within your company.
A career transition within your company could sound scary. But it can be a much safer option because if you have a good relationship with your team, you will have a support system, and you could have the opportunity to come back if the experience is not as satisfactory as you expected.
Feel confident to take the risk. Your company respects and supports you and will let you make the change.
Conversely, the transitioning process can be a real patience test of your ego. In this case, Alexandra went from a transportation role to an energy role, where she still had to learn new things.
The Champlain Hudson Power Express project, which will bring clean energy to New Yorkers, was the biggest hurdle to Alexandra in her new role. It was an opportunity to prove herself even though it took a lot of her time to understand the process. You can't build the process if you don't understand it.
Be honest and show your vulnerability about what you want to accomplish. Be honest with your mentors and managers because they can guide you in your transition process, and help you to go to the right place.
Another critical point is to listen a lot. Being confident with the skill set you bring from one team to another is essential, but that doesn't mean that you know everything. It is crucial to meet everybody on the team, understand what they are trying to accomplish, and understand the role they play and what they need help with. Remember to listen carefully before you dive in head-first.
Anybody can learn how to be a multiplier for their team. Your role doesn't matter — you can be a junior engineer, middle manager, program manager, or anyone in between. If you can develop skill sets to help your teammates positively multiply their impact, it will make you a strong leader.
Make sure you master step one before you go to step two to be reliable to your managers.
More Details in This Episode…

About Alexandra Gore, PE, PMP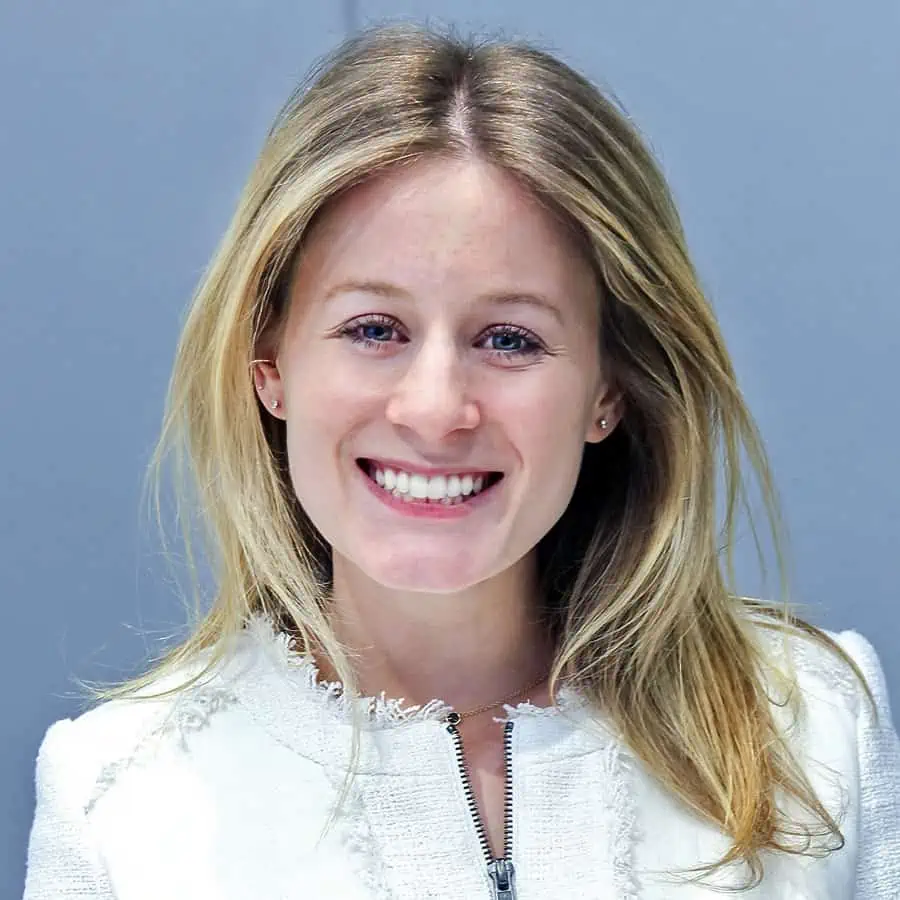 Alexandra is a senior project manager based in the Project Delivery team working on cross-disciplinary projects across WSP USA's Energy, Advisory Services, and Transportation & Infrastructure end markets. Alexandra is an accomplished project manager and professional engineer who is passionate about transportation, mobility, energy, and the technology that fuels it all. After a decade of focusing on transportation engineering and planning, Alexandra transitioned to the Energy team within WSP USA in the spring of 2022 with the goals of increasing her project management skill set and learning as much as possible about decarbonization and renewable energy distribution. She is constantly striving to expand the breadth of her consulting experience with a decade in the industry, including five years of leading high-performing, cross-disciplinary engineering teams for public and private sector clients.
Books Mentioned in This Episode:
Multipliers: How the Best Leaders Make Everyone Smarter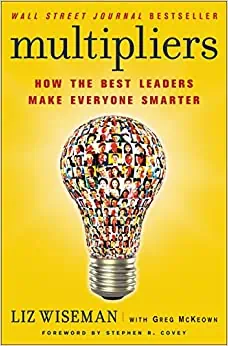 Sources/References:
Connect with Alexandra Gore on LinkedIn
WSP US
Champlain Hudson Power Express
This Episode Is Brought to You By Deltek

Better software means better projects. Deltek is the leading global provider of enterprise software and information solutions for project-based businesses. More than 30,000 organizations and millions of users in over 80 countries around the world rely on Deltek for superior levels of project intelligence, management, and collaboration. Our industry-focused expertise powers project success by helping firms achieve performance that maximizes productivity and revenue. Visit deltek.com to learn more.
We would love to hear any questions you might have or stories you can share on how you navigate a successful career transition within your civil engineering firm.
Please leave your comments, feedback, or questions in the section below.
To your success,
Anthony Fasano, P.E., LEED AP
Engineering Management Institute
Author of Engineer Your Own Success