Podcast: Play in new window | Download | Embed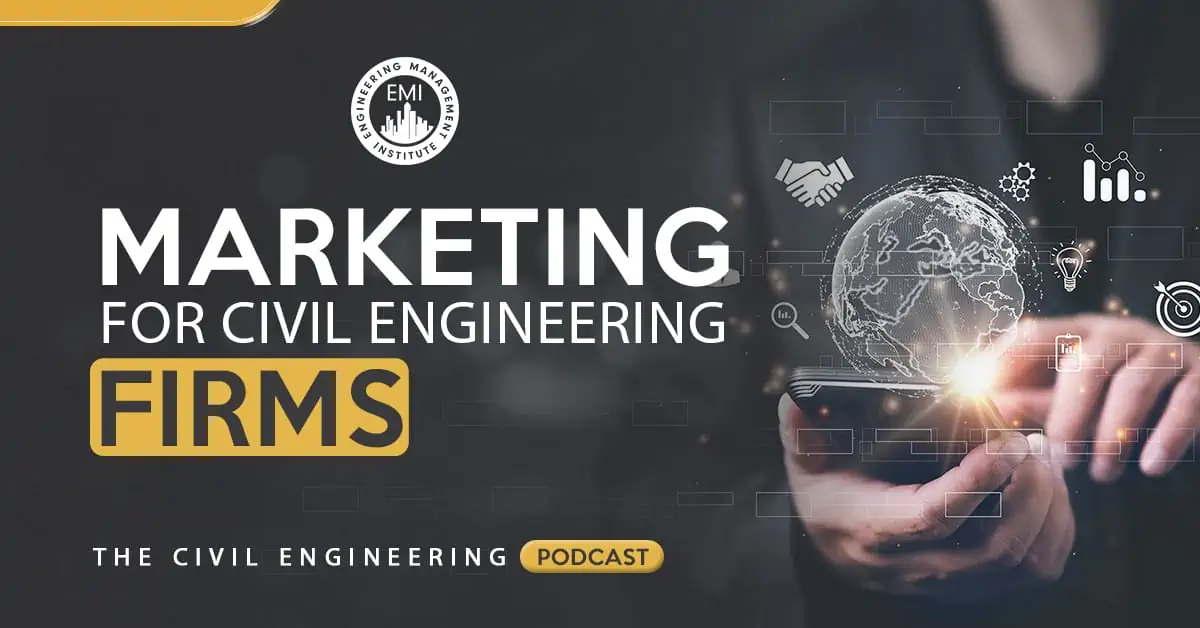 In episode 32 of The Civil Engineering Podcast, I interview Alexi Lambert, who has leadership and management experience as a U.S. Naval Officer, about Marketing for Civil Engineering Firms. She was enlisted in the Navy as an E5 (2010) as a university student and commissioned as an Ensign in the U.S. Navy (2013) and promoted to Lieutenant Junior Grade (2015).
Here are some of the questions I ask Alexi:
What tools do engineers use for their primary research for their jobs?
What are the common mistakes that engineering firms make when marketing themselves online?
How can engineers create content for their blogs?
What metrics are marketers for engineering firms typically measured on?
What is the key to getting civil engineering firms ranked for top searches in Google?
Quotes to think about:




Here Are the Key Points Discussed About Marketing for Civil Engineering Firms:

Inbound Marketing and Marketing in general is all focused towards helping businesses grow.
The old ways of marketing are gone. Marketing is now in the buyer's hand and not in the seller's hand anymore.
The top three sources where engineers are finding their information for their jobs are:

Supplier websites
Search Engines
Trade Applications, print and online

The number one reason why online efforts end up failing is because there were not enough of an online marketing strategy. Not coming up with an effective marketing strategy and a way to execute and implement things as well as integrating everything is one of the ways that people and industries have failed in their online marketing strategies.
60% of engineering firms are not writing or posting blog articles.
Over 70 % of the websites are not optimized for mobile devices. If you're website is not easily viewed on a mobile device, google will lower your ranking so that when someone searches for something, your website will most likely not come up because you are not giving users a good enough experience.
There are different tools to use like marketing automation software such as HubSpot that helps you find out what content people are searching for.
What engineering marketers have to do is to identify, create and publish the most valuable content that will drive traffic to their websites. This content has to be published consistently and has to be optimized for mobile users. Once that traffic comes to their websites, they need to have an effective process for converting that traffic into leads.
Interviewing your clients/customers and finding out what they want and building content around that is very good market research.
The 3 metrics that marketers for civil engineering firms are typically measured on is:

Lead generation
Traffic to your sites
Generating a sales pipeline

A few recommendations from Alexi on what marketing automation software civil engineering firms should be taking advantage of now more than ever:

HubSpot ties everything together from pre sales to sales, to marketing.
Bazooka for content and creation for topics.
Linkedin Sales Navigator is great for targeting the type of people you want to be talking to and reaching out to.
SEO has 3 components that it's ranked on by google:
The volume and the quality of the content on an ongoing basis
Quality and volume of the links of other websites in social media linking to your website.
How your website is coded – Is your website mobile friendly?
More details in this episode…
About Alexi Lambert:
Alexi Managed $18.4 Million in civil engineering construction projects; up to 33 projects simultaneously. She is Ranked #1 Ensign of Naval Facilities Engineering Command Southwest for 2015 evaluation and received the best Seabee Award out of battalion over Field Training Exercise (FTX) Mission. She also received a Global War on Terrorism medal.
Alexi is the Battalion Commander at Officer Candidate School (OCS) for the United States Navy and received an Engineer In Training (EIT) certification after passing the Civil Engineering Fundamentals Exam in Florida. She is a member of U.S. Navy Women's Leadership Network, American Society of Engineers, and Engineers Without Borders. Alexi is a proven leader and performer with a track record of consistent success who thrives in a collaborative and dynamic environment. Her strengths include civil engineering, planning, coordination, project management, team leadership, and communications. Her experience also includes extensive background in personal fitness training, event coordination, and service projects in foreign countries.
You can learn more from Alexi at her Company website or Linked In.
Sources/References:
TCEP 013: Advice on Business Development and Building a Business and Career from a Civil Engineering CEO – The Civil Engineering Podcast
http://www.bigreddog.com/
Hubspot
Alexi's Linked In
Xcellimark
Linked in Sales Navigator
Bazooka
This episode is brought to you by PPI, the leader of civil engineering FE or PE exam preparations. Use promo code CIVIL for 20% discount at PPI2Pass.com/coach.
Please leave your comments or questions in the section below on
To your success,
Anthony Fasano, PE, LEED AP
Engineering Management Institute
Author of Engineer Your Own Success