Podcast: Play in new window | Download | Embed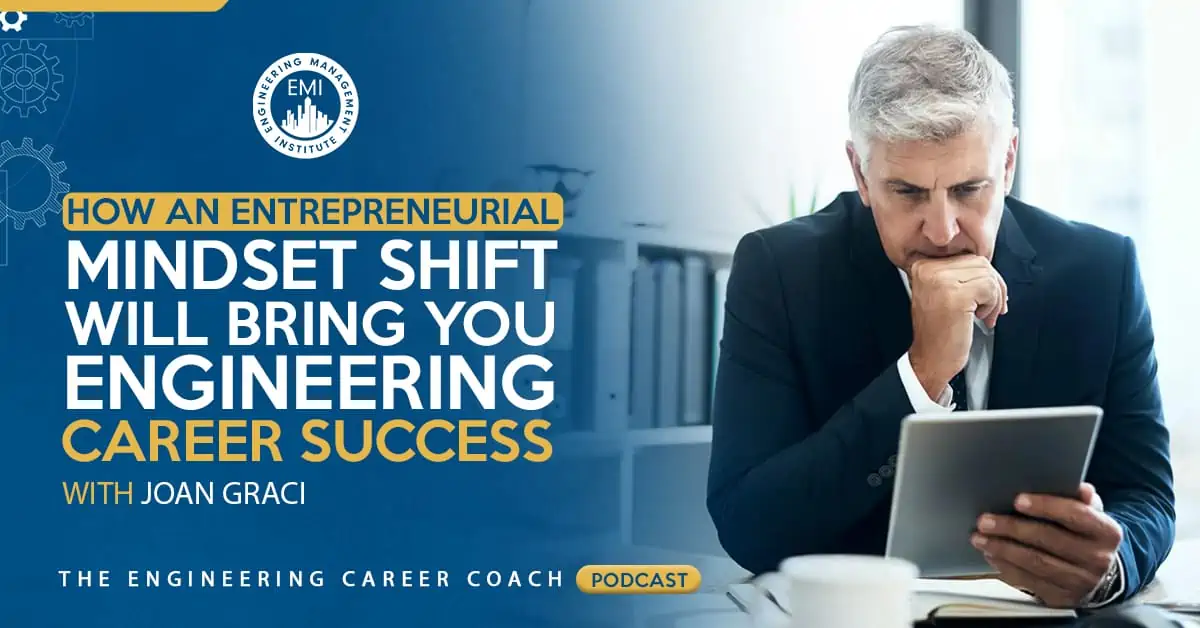 In this episode, Chris Knutson, PE interviews Joan Graci, a career strategist, success coach, and business growth expert, and they discuss the importance of knowing what you want from a company you might work for and viewing that relationship from the perspective of an entrepreneur. They also dive into the importance of engineering firms strategic plans spelling out deliberately the talent the firm needs to be successful in executing and winning more work. And of course how a shift in entrepreneurial mindset can bring success to your engineering career.
Engineering Success quotes:




Here Are the Key Points Discussed About How an Entrepreneurial Mindset Shift Will Bring You Engineering Career Success:

Today's employers are looking for an engineer in the workforce that is representative of a strategic mindset (a self-empowered mindset).
Employers are looking for engineers whose careers have not happened to them but they happen to their career.
The whole status quo mindset is going to be a career killer for engineers and other professionals.
It's up to us as engineers to enhance our toolbox in ways that are going to be personally rewarding but also can contribute to the general health, wellbeing, and advancement of our engineering companies.
Engineering companies are looking for engineers more as partners and engineers have to look at themselves more like partners.
Don't confuse tenure with you being a contributor to the organization.
Fear is what stops us so much for making the necessary steps towards empowerment and the best way to alleviate fear is through knowledge, through power, and through enhancing our skill sets in any way possible.
Not having a strong talent brand and treating employees with deserving recognition is a recipe for disaster.
Understand how your talent strategy aligns with your business strategy.
For entry-level engineers:

Every move you make as an undergraduate needs to be purposeful and strategic
Enhance your ability to prove to your employer that you can move the company to the next level of growth
Get real life skills
Demonstrate how you are going to bring value (articulate how your experience can support the company's objectives)

Its up to you to tell your narrative that is cohesive and shows you're consistent in enhancement and advancement.
Know the importance of building your network of value. (LinkedIn)
Always have a fallback/exit plan. (Plan A, B, C and Z)
We are all independent contractors.
Think of how you posture yourself in such a way to make yourself unique.
More details in this episode…
In the Take Action Today segment of the show, Joan gives one key action you should undertake to enhance your ability to create an entrepreneurial mindset in order to create more engineering career opportunities for yourself and business opportunities for your company. 
About Joan Graci
Joan Graci is the heart and soul of APA Solutions a human capital services and solutions company.  She's spent the past three decades helping growth companies identify, retain, and develop talent as well as helping job seekers improve their outlook or opportunities.  She is the also the founder of Career Reform – which helps job seekers build sustainable careers – and  has recently published her first book, No More Bad Advice.
Whether she's traveling as a keynote speaker, attending another neuroscience course to better understand employer-employee dynamics, or writing for The Buffalo News, Joan's passion remains the same: to get employers and working and nonworking professionals speaking the same language.
"One important key to success is self-confidence. An important key to self-confidence is preparation." – Arthur Ashe
Books mentioned in this session include:

Resources and links mentioned in this session include:
Indeed.com
APASolutions.com
CareerReform.com – career portal
This episode is brought to you by PPI, the leader of FE, PE, or SE exam preparations. Use promo code COACH for 20% discount at PPI2Pass.com/coach.
What are the steps should you take to enhance your ability and bring value to your company?
We would love to hear any questions you might have or stories you might share on how this episode have helped you change your mindset and move your career to the next level.
Please leave your comments, feedback or questions in the section below.
To your success,
Anthony Fasano, PE, LEED AP
Engineering Management Institute
Author of Engineer Your Own Success