Podcast: Play in new window | Download | Embed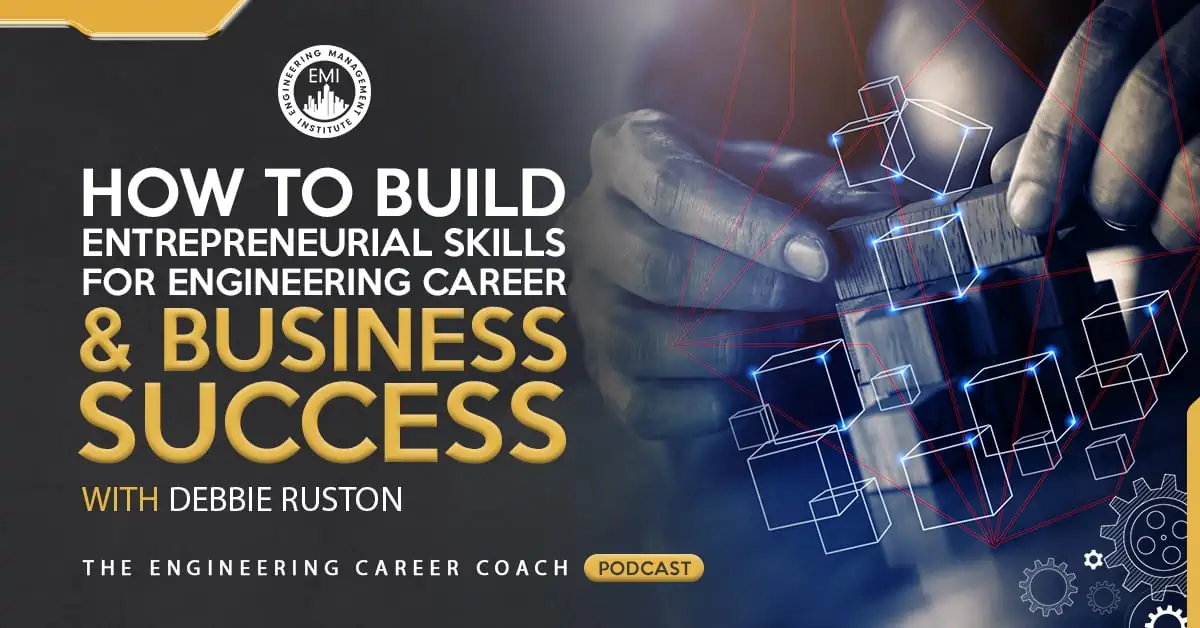 In this episode, Chris Knutson, PE interviews an entrepreneurial educator and success coach Debbie Ruston about identifying, developing, and integrating entrepreneurial skills into one's engineering career.
Engineering Success quotes:




Here are the key points from this episode:
Think past the natural skills that you have and start to develop other skills that can support you in furthering your career.
Major hurdles/blocks that keep someone from reaching their potential:

Fear
Limiting beliefs
Giving in to circumstances (victim mindset)

Know no limits (story of Oz Sanchez).
Do not be a victim of your circumstance, be solution-oriented, find ways around these things and go forward anyway.
Mindset shift for the major blocks:

Courage (from fear)
Creator (from victim)
Expanding your Comfort Zone (from limiting beliefs)

Success is not created with the absence of fear, limiting beliefs, or past conditioning but recognizing that it's part of the process.
Develop the mindset of an entrepreneur to create more success in all aspects of your engineering career and life.
Study and implement knowledge on a continual basis daily. The magic is in immersing in knowledge to reprogram yourself for success.
Life and work is not mutually exclusive.
Learn to strengthen these entrepreneurial traits and apply to all aspects of life.
Think for ourselves and make better decisions and not just follow the herds.
We have to be able to look outside of the box and find answers.
Definition of entrepreneur- people who take on a leadership role and personal responsibility for anything that they are involved in.
Traits of an entrepreneur include an employee that goes beyond the call of duty, takes on a personal level of leadership, responsibility, decision making, commitment, getting things done, all of these things to do what it takes to perform at their maximum potential.
Committed employees takes on high level of leadership, treating the work as if it is for their own company, making powerful decisions, and getting things done.
People may not want to have their own business, but they are acting like an entrepreneur.
How engineering company owners can foster entrepreneurship for their employees

Recognize what is important for this generation:

they want to learn and grow
be part of something meaningful
flexible work schedule
be able to work from home
tech savvy – utilize technology and be able to do their work in a way that they are trained and comfortable to do their work

We can't micromanage people, we have to allow them to be the leaders they are.
Surround yourselves with highly qualified people, don't put them in a box, allow them to take on higher levels of responsibility. 
More in this episode…
In the Take Action Today segment of the show, Debbie shares one piece of advice that can help engineers regardless of where they are in their career to develop and embody the entrepreneurial mindset in their engineering career.
About Debbie Ruston
Debbie is a successful entrepreneur and trainer and since 1986 has been helping people discover their limitations and overcome them.  She is one of the top 51 human potential influencers and her Entrepreneurial Leadership curriculum has just been awarded a Leadership 500 Excellence award through a prominent HR organization.  She works with individuals and corporations alike to unlock human potential.
Connect with Debbie in LinkedIn
E-mail Debbie Ruston
"The secret of success in life is for a man to be ready for his opportunity when it comes." – Benjamin Disraeli
Resources and links mentioned in this session include:
The Engineering Mastermind
TECC Ep 035: 4 Steps for Taking Your Idea and Making It a Reality in Your Engineering Career
Debbie Ruston's websites: http://www.thesuccesseducator.biz/  | http://www.educationathome.ca/
Succeeding By Using Intuition
Step 1: Plan. Step 2: Act.   
How did you overcome the major hurdles to build your entrepreneurial skills?
We would love to hear any questions you might have or stories you might share on how this episode have helped you used your entrepreneurial skills to move your career forward.
Please leave your comments, feedback or questions in the section below.
To your success,
Anthony Fasano, PE, LEED AP
Engineering Management Institute
Author of Engineer Your Own Success