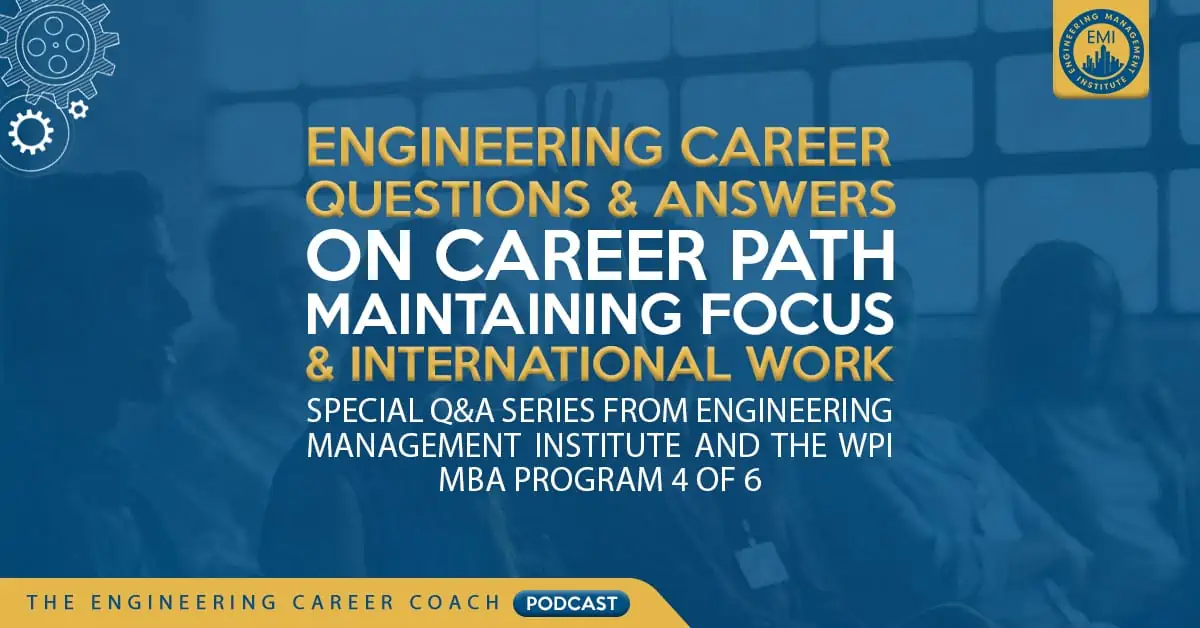 This podcast is the fourth of six special Q&A Series which airs every first Friday of the month in addition to our regular episodes through May 2016. My co-host Chris Knutson, PE and I answer more questions from our listeners asking for engineering career advice.


Here Is the Summary of the Special Q&A We've Discussed in This Session:
Question:
I have some interest in computer science, but I am wondering if minoring in computer science would be taking a completely different path than Chemical Engineering. – Zane from Alabama
Answer:
Doing something else other than engineering can help you use your right brain and be exposed to other ideas

Communication or business courses can add to your technical engineering knowledge

Learn and understand contracts and law

Expand the number of opportunities that you could have in your career

Consider what kind of work is most enjoyable for you
Question:
When I encounter a difficult piece of a homework or exam problem, how do I keep calm and maintain concentration on the problem? – Ron from Washington
Answer:
Use whatever you can to keep you focused like the following:
Eliminate distractions

Try the concept of Two Minutes

Do physical training before you start work

Go for a walk and get some fresh air
Question:
What exams do I have to take as a foreigner graduated to get USA license? – Mark from New Jersey
Answer:
Contact your state board for engineering and land survey and ask them how they evaluate that or what their requirements are (different processes for different states).  You can also visit NCEES.org.
Question:
I'm interested in potentially signing on with a multinational corporation, is this a bad idea to pursue as a potentially fresh EIT upon graduation, or is it better to stick around the US and earn a PE before looking elsewhere in the world? – Joe from College Park, Texas
Answer:
Get experience and your professional engineering license right away and then build up from there

If the company doesn't have US engineers that have PE license whom you can have as references, it will be a challenge for you when you apply for the PE exam
Question:
Would it benefit me to find an engineering job and then apply to graduate school? – Edwin from Denver
Answer:
Yes, find an engineering job before going to graduate engineering school because it involves a lot of money and time

Find opportunities you can create with this graduate degree

Make sure you know what you will be doing at the back end of this career
"Some people want it to happen, some wish it would happen, others make it happen." – Michael Jordan
In the Take Action Today segment of the show, we give you some tips that can help you make these important career decisions.
Resources and links mentioned in this session include:
Society of American Military Engineers
The Engineering Mastermind
This Q & A Series is brought to you by WPI's Foisie School of Business which is ranked #1 part-time MBA degree in the Northeast according to Business week since 2007. For more information visit business.wpi.edu or call 508-831-4665.
What is your ultimate career goal?
We would love to hear any questions you might have or stories you might share on how this episode have helped you in your career decisions.
Please leave your comments, feedback or questions in the section below.
To your success,
Anthony Fasano, PE, LEED AP
Engineering Management Institute
Author of Engineer Your Own Success