Podcast: Play in new window | Download | Embed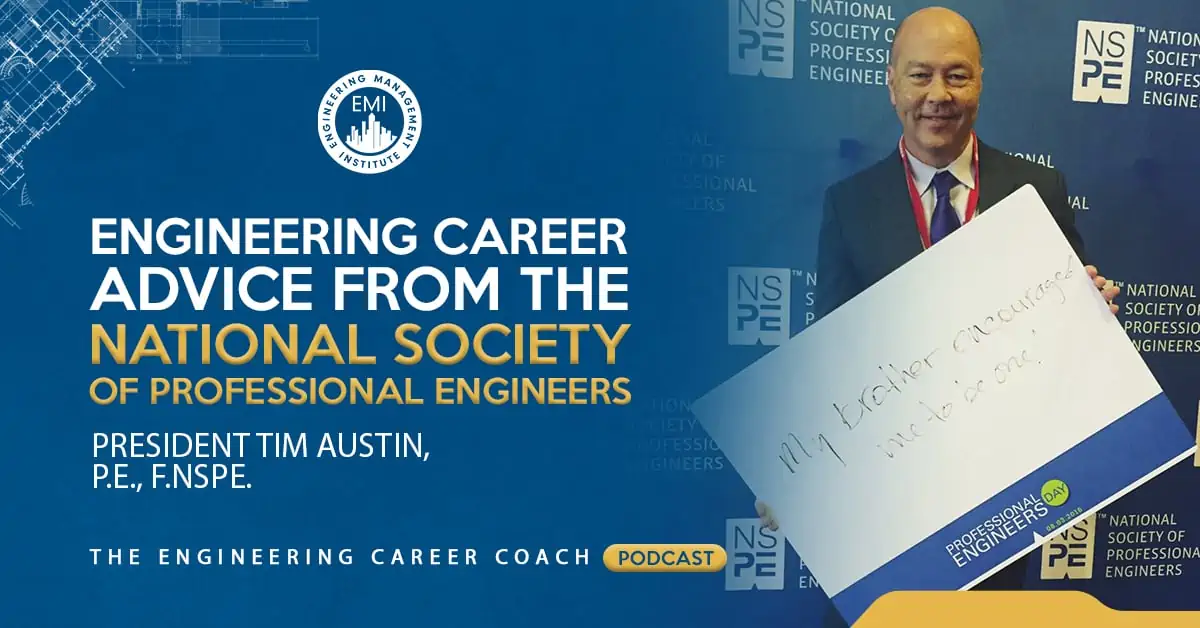 In this episode, I interview Tim Austin, P.E., F.NSPE., current President of the National Society of Professional Engineers about engineering career building as well as some of the biggest challenges the engineering profession is facing today and what NSPE is doing to help Engineers overcome those challenges.
Engineering Success quotes:



Here are the key points about NSPE:
NSPE (National Society of Professional Engineers) was established in 1934 and was initially founded to promote licensed professional engineers.
NSPE is committed to the future of the engineering profession and helps to protect engineers from unqualified practitioners and stand up against unethical practices and inadequate compensation.
Protection of the public health, safety, and welfare is a very important factor in engineering.
NSPE focuses on how they can improve educational standards and ethical practice for engineers.
Interpersonal skills requires some investment, time and opportunity to develop.
Engineering is a continual learning curve. What can seem very simple for many of us; can be significant in risk if we as engineers do not pay attention to it.
The more we learn, the more it helps build our depth and knowledge of the practice of engineering.
Solving people problems is often the most difficult task for engineers and being a part of an association like NSPE, can really help you to gather information from different people as an engineer to help you do your job better.
Engineering Leadership Tips:
Respect everyone for their opinion whether you agree with them or not.
Self-evaluation – Any leader has to look inward to themselves, examine their motivation and make sure that what they are trying to accomplish is the right thing to do, not for themselves, but for the organization.
Leaders have to be somehow political in order to learn to work with all kinds of people.
Be decisive and do not take your eye of your goals.
More in this episode…
In the Take Action of Today's segment of the show, I give you a few reasons why it is important to get your engineering license.
"The bottom line is, when people are crystal clear about the most important priorities of the organization and team they work with and prioritized their work around those top priorities, not only are they many times more productive, they discover they have the time they need to have a whole life." – Stephen Covey
About Tim Austin
Tim Austin, P.E., F.NSPE. is a Professional Engineer with the firm of Kaw Valley Engineering, Inc. His diverse work experience has provided him with a unique perspective of the engineering and construction industries and has been an experienced and accomplished manager in both the public and private sectors.
Tim brings exceptional interpersonal skills to the engineering profession. He is skilled in team management and works to bring value to the process. He is skilled in public relations, interacting with the media, the public, elected officials, and other public or quasi-public boards/bodies on a variety of topics. Currently, he is the President for the National Society of Professional Engineers. He is a past president of the Kansas Society of Professional Engineers and a past board member of the NSPE. He is a past board member of the Wichita Area Builders Association and currently serves on both the legislative and developers committees. In addition, he is immediate past chairman of the Wichita Art and Design Council which he chaired for 4 years.

Resources and links mentioned in this session include:
How Engineers will save the World – Tedx Talk by Anthony Fasano
The National Society of Professional Engineers
This episode is brought to you by PPI, the leader of FE, PE, or SE exam preparations. Use promo code COACH for 20% discount at PPI2Pass.com/coach. 
How can NSPE have an impact on the Engineering profession?
We would love to hear any questions you might have or stories you might share on the importance of the lawful and ethical practice of engineering.
Please leave your comments, feedback or questions in the section below.
To your success,
Anthony Fasano, PE, LEED AP
Engineering Management Institute
Author of Engineer Your Own Success