Podcast: Play in new window | Download | Embed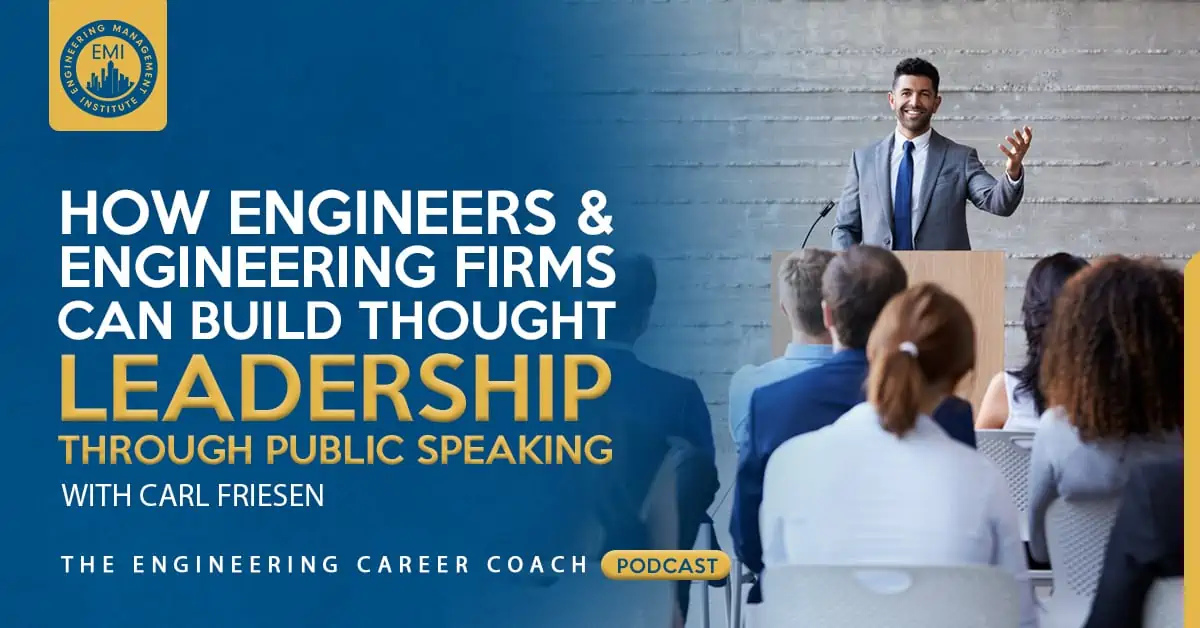 In this episode, Anthony Knutson, PE interviews Carl Friesen, a professional who likes helping engineering professionals and firms build their profile as thought-leaders.  Friesen talks specifically about how to build your expertise and thought leadership through public speaking.
Engineering Success quotes:


Here Are the Key Points Discussed About How Engineers and Engineering Firms Can Build Thought Leadership Through Public Speaking:
Public speaking is important as it gives you a chance to connect personally with potential clients and gives them the opportunity to get to know you as a person.
A great way to find venues to speak at would be to look for places where your prospective clients hang out. Think of the industries and professions they belong to, and then use Google to help you. Also think of what associations you know of and aim for the ones with members that match your target demographic.
To decide on a topic that will make your presentation attractive you need to think about the problems your crowd is facing and focus your presentation around those issues.
When you approach an engineering association for speaking opportunities you have to approach the right person.
The secret for approaching a meeting organizer is designing a query letter which consist out of 4 points:
What the topic is about.
Why should people in the audience care/why it really matters.
Outline of the presentation.
List credibility/expertise.
If you don't have a name and you're not known to the people you are trying to present yourself to, sometimes just plain old persistence and a bit of imagination really helps to go a long way.
In order to maximize benefits from your speech with social media, look for the platforms your audience are using and engage with that particular platforms.
Instead of the first word in a conversation being an "I", make it a "You".
You can learn more about Carl Friesen on his website.
More in this episode…
In the Take Action Today segment of the show, Friesen gives an actionable piece of advice on how you can start moving towards becoming a speaker on your engineering topic of interest.
About Carl Friesen
Carl Friesen has been working with engineers and other technical professionals for about 15 years now helping them build their professional profile through creating thought leadership content. To do this, he uses his background in journalism to find the "story" behind the facts, and my MBA in marketing to present those ideas effectively. He has worked with a wide range of engineering firms including Hatch, AECOM and Golder Associates, helping clients on six continents. He founded Thought Leadership Resources to help business professionals learn how they can build their professional profile, so that they can get more of the work that they love to do, and earn what they're worth. Carl work and live in Toronto, Canada.
"A speaker should approach his preparation not by what he wants to say, but by what he wants to learn."― Todd Stocker
Books mentioned in this session include:
Your firm's expertise edge: How professional firms can use their thought-leaders' expertise to grow
Win More Work: How to Write Winning A/E/C Proposals

Resources and links mentioned in this session include:
Toastmasters
Free gift from Carl
Carl's website
The Engineering Mastermind
Eventbrite
Meetup
This episode is brought to you by PPI, the leader of FE, PE, or SE exam preparations. Use promo code COACH for 20% discount at PPI2Pass.com/coach. 
Does an Engineer need to be good at public speaking? We would love to hear your answer to this question, please post in the comment box below….
To your success,
Anthony Fasano, PE, LEED AP
Engineering Management Institute
Author of Engineer Your Own Success