Podcast: Play in new window | Download | Embed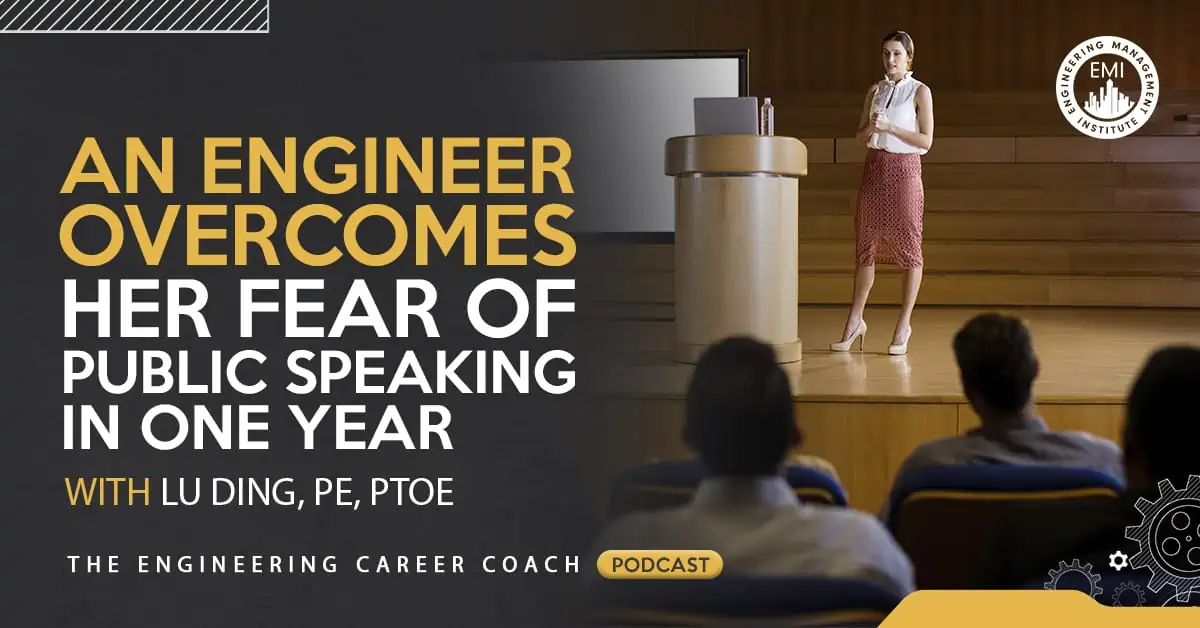 In this episode, I talk about Lu Ding, PE, PTOE, an Engineer who overcame her fear of public speaking in one year.  I specifically discuss her ECSx talk at the Engineering Career Summit in New Orleans this past May. You will also here Lu's talk in this episode and you can watch it at the bottom of this post.
Engineering Success quotes:




Here are the key points from the episode:
Think about how you can challenge yourself a little bit more as an engineer.
You need to put yourself in more situations as an engineer where you can develop your speaking skills.
By speaking in public, you will start building your confidence, communicate better and create opportunities that are life changing.
Being quiet is not the best strategy for engineers, as they need to communicate with other people.
If you could only improve one thing in your engineering career, it should be to work on your public speaking skills.
Push yourself forward by doing something that makes yourself uncomfortable.
The one thing that makes you uncomfortable in your career or in your life, might very well be your biggest opportunity for growth as an engineer.
More in this episode…
In the Take Action Today segment of the show, I challenge engineers to broaden their horizons.
About Lu Ding
Lu Ding has been a civil engineering consultant for 10+ years. She has always found great satisfactions in her work. The part she enjoys most is that she is adding value to her community. Her projects range from school buildings to hospitals, roadways to traffic signals. They are tangible reminders that she is adding value to this world and that is how she makes her mark.
The only way to discover the limits of the possible is to go beyond them into the impossible – Arthur C Clarke
Resources and links mentioned in this session include:
The Engineering Mastermind
TECC 118: How Engineers and Engineering Firms can Build Thought Leadership through Public Speaking
Lu Ding's LinkedIn

Video of Lu Ding's Talk
What is the one thing that makes you uncomfortable in your engineering career?  Please answer this question in the comments below.
Please leave your comments, feedback or questions in the section below.
To your success,
Anthony Fasano, PE, LEED AP
Engineering Management Institute
Author of Engineer Your Own Success