Podcast: Play in new window | Download | Embed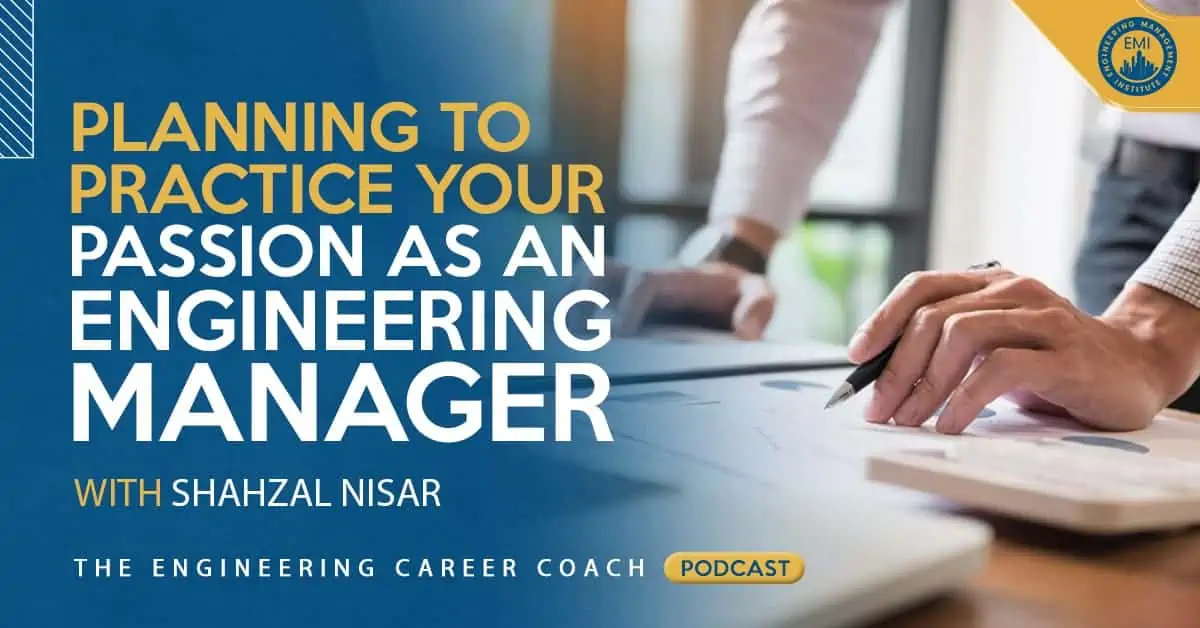 In this episode, Anthony Fasano, PE interviews Shahzal, a structural engineer trainee and listener of The Engineering Career Coach Podcast , and helps him discover his passion and offers guidance on the path to follow to pursue his passion as an engineering manager.
Engineering Success Quotes:




Here are the main points to practice your passion as an engineering manager:

You should focus on one of the things you love to do, so that you can succeed and grow in that specific field.
Ask yourself where you see yourself in 5 years and how your passion influences that.
To be an effective engineering manager or leader as an engineer, you must understand the technical side of the job.
As long as you know how long it will take you to become an engineering manager, you can plan and take all the steps you need to get there.
Just because you are passionate about management doesn't mean you will be destroyed into an engineering manager right away. You can work toward it. Develop a 3-5 year plan for you to reach the engineering manager position. Components of the plan may include the following:

Continue to develop your technical skills;
Continue to drive appraisals;
Have a conversation with your employee about the fact that you want to become an engineering manager in this time period;
Find out from your engineering firm what else you think you need to do to achieve this goal;
Take a serious look at credentials. Consider getting a degree in management or a professional project manager (PMP) certification.

If you are passionate and want to achieve a certain position, there is nevertheless a light switch you are going to turn on. If you know what you would like to achieve and recognize it now, then you should create a personal plan to take the necessary steps to achieve it.
More in this episode…
In the Take Action Today segment of the episode, I'll give you some practical advice on how you too can find your passion as an engineer.
 About Shahzal Nisar
Shahzal Nisar is a structural engineer by training and works at AECOM in Ontario, Canada. He graduated from the University of Waterloo in April 2016. Fresh out of school, he is trying to figure out his career path. You can connect with Shahzal through LinkedIn.
When you have a passion for something, you do not only tend to be better at it, but you also try harder. -Vera Wang
Resources and links mentioned in this session include:
Screw Finding your passion
Shahzal's LinkedIn account
This episode is brought to you by PPI, the leader in FE, PE or SE exam preparations . Use promo code COACH to get a 20% discount on PPI2Pass.com/coach . 
 How can you find your passion in your engineering career?
We would love to hear any questions you may have or stories you can share about finding your passion in your engineering career.
Please leave your comments, feedback or questions in the section below.
For your success,
Anthony Fasano, PE,
LEED AP Engineering Management Institute
Author of Engineer Your Own Success