Podcast: Play in new window | Download | Embed
TECC 150: Identifying and Avoiding Stagnation in your Engineering Career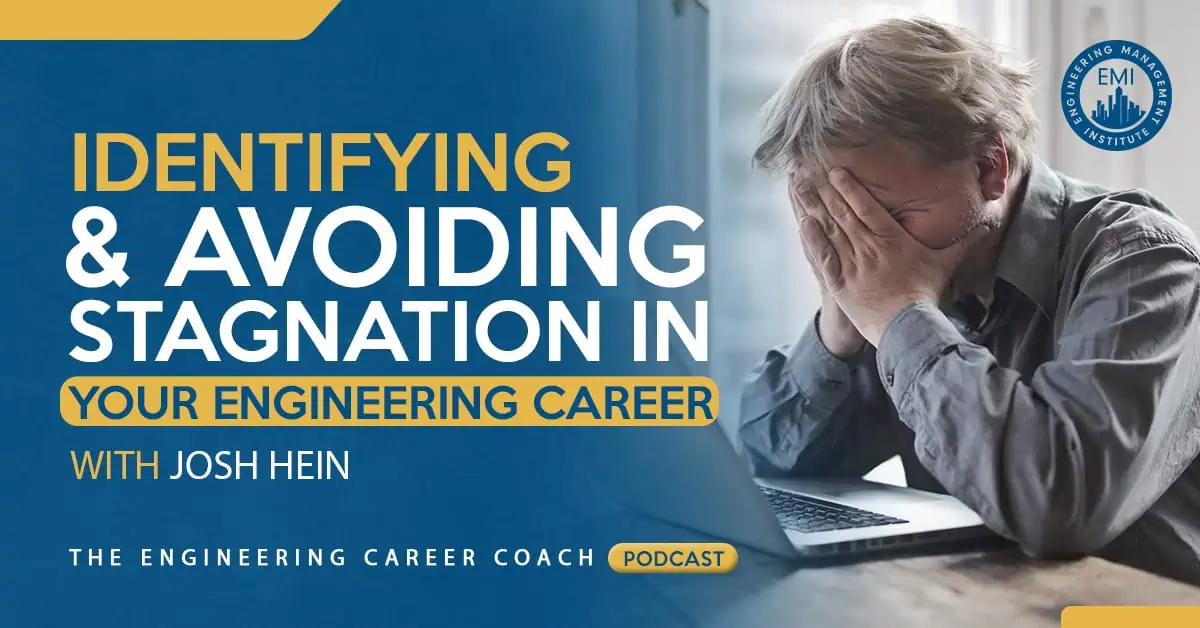 Image by wirestock on Freepik
In this episode, I talk to Josh Hein about identifying and avoiding stagnation in your engineering career. Josh tells us about the process he went through to move from a smaller engineering company to a bigger one.
Engineering Quotes:




Here are the key points discussed on identifying and avoiding stagnation in your engineering career:
The action of realizing that the atmosphere that you are in is not supportive of the growth that you want is a critical one. Try to keep a good beat, at all times, on whether or not you are in a good position to grow.
Your younger years as an engineer are important to your overall growth in your career.
When you have a LinkedIn profile, it is important to make sure your profile is looking sharp and to check in on your profile regularly. LinkedIn offers you unbelievable opportunities to reach amazing people and create opportunities in your career.
When an engineering company has a good structure in place, it tells you that they are organized and that there are milestones in place that can help you to increase your potential for growth and avoid stagnation in your career.
If you notice that you are not in a position that can yield success in your career, don't be afraid to look for something else.
When you are in a job interview, be straight out blunt and ask what the potential for growth is within the company.
More in this episode…
In the Take Action Today segment of the show, I will give you a few pointers on how you can make sure your LinkedIn profile is looking sharp.
About Josh Hein
Josh is a sustaining engineer for Generac in the Home Standby Division where he works with production to troubleshoot and solve any issues that arise during the build process.
"I am not a product of my circumstances. I am a product of my decisions." – Stephen Covey
Resources and links mentioned in this session include:
TECC 51: The Engineering Career Coach Podcast – Global Networking From LinkedIn and Beyond
TCEP 31: How to Use LinkedIn® Effectively as a Civil Engineer
This episode is brought to you by PPI, the leader of FE, PE, or SE exam preparations. Use promo code COACH for 20% discount at PPI2Pass.com/coach.
How can I ensure that I am avoiding stagnation in my engineering career?
We would love to hear any questions you might have or stories you might share on identifying and avoiding stagnation in your engineering career.
Please leave your comments, feedback or questions in the section below.
To your success,
Anthony Fasano, PE, LEED AP
Engineering Management Institute
Author of Engineer Your Own Success