Podcast: Play in new window | Download | Embed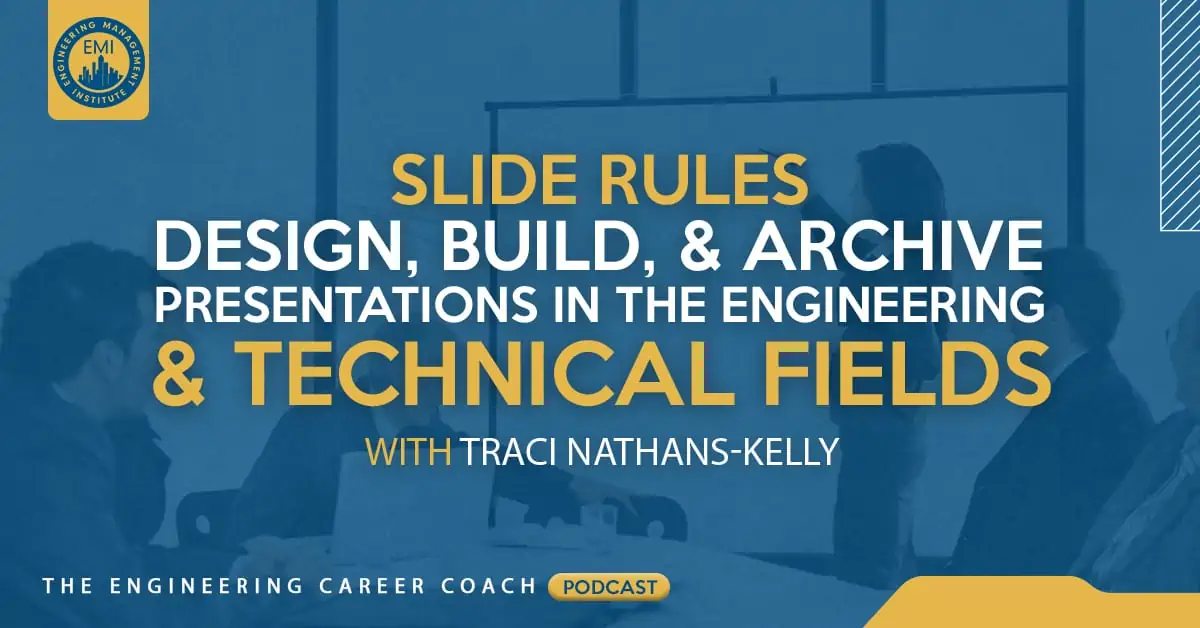 In this episode, I talk with author Traci Nathans-Kelly who gives very specific strategies on how you can dramatically improve your technical presentations.  The information discussed is from her book called Slide Rules: Design, Build, and Archive Presentations in the Engineering and Technical Fields. Slide Rules is a first-rate guide for practicing engineers, scientists, and technical specialists as well as anyone wishing to develop useful, engaging, and informative technical presentations in order to become an expert communicator.  Traci co-authored the book with Christine G. Nicometo.
Engineering Quotes:



Here are the key points discussed in the episode:
All of the examples in

Slide Rules

show you how to tailor your slides specifically so that your audience doesn't fall asleep, but they do get the key point of the presentation.
If you want to change something in your career, change your presentation skills.
It's really hard to give talks on engineering topics, because you have to convey complicated ideas.
Give yourself enough time to prepare for your presentations.
If your slides contain too many words and are very busy or too complex, it might put everybody to sleep. Instead, use simplified and streamlined techniques while keeping all of the information there at the same time.
It's easier to speak with slides that are well laid out, as the speech and the slides go hand in hand.
Presentations are the low hanging fruit in your career.  In other words, improving them can have a huge impact on your success.
If you want to become an expert in your field, you're going to need to speak on your topic and maybe even give seminars within your own firm.
You don't have to lose functionality of your slide deck in order to make the live talk a better thing for your audience.
Just reading from your slides while giving a presentation makes you look very unprofessional, and gives off the vibe that you have not properly prepared for the meeting.
Slides are part of the technical documentation workflow that is expected by companies.
Slides should be organized to empower the speaker to be the expert in the room. Use your slides to help your audience visualize and listen to you, instead of them just focusing on your slides.
At the top of your presentation slides, consider making the title a short, interesting sentence. Use visuals in the center of your slide and write all of your written information in the notes pane.
More in this episode…
In the Take Action Today segment of the show, we will give you a few actionable items that you can take and start using immediately in your career.
About Traci Nathans-Kelly

Traci Nathans-Kelly currently teaches Engineering Communication at Cornell University. She, along with her project partner, Christine Nicometo, have over two decades combined experience training practicing engineers and students alike. They have contracted with organizations as diverse as Boeing and 3M, and they have trained employees from firms as diverse as Google, GE, Harley Davidson, John Deere, Sirius, Ocean Spray, Avon, the US Department of Defense, and all branches of the US military. Today, Traci Nathans-Kelly is here to chat about how to retool your presentations for engineering endeavors.
The entertainment is in the presentation. John McTiernan
Resources and links mentioned in this session include:
Traci Nathans-Kelly's LinkedIn Account
The Engineering Mastermind
Technical Arts Consulting
Traci Nathans-Kelly's Website
Assertion-Evidence (AE) approach
This episode is brought to you by PPI, the leader of FE, PE, or SE exam preparations. Use promo code TECC8 for 20% discount at ppi2pass.com
Books Mentioned in this episode:
What questions do you have about Slide Rules?
We would love to hear any questions you might have or stories you might share on designing, building, and archiving presentations in the engineering and technical fields
Please leave your comments, feedback or questions in the section below.
To your success,
Anthony Fasano, PE, LEED AP
Engineering Management Institute
Author of Engineer Your Own Success