Podcast: Play in new window | Download | Embed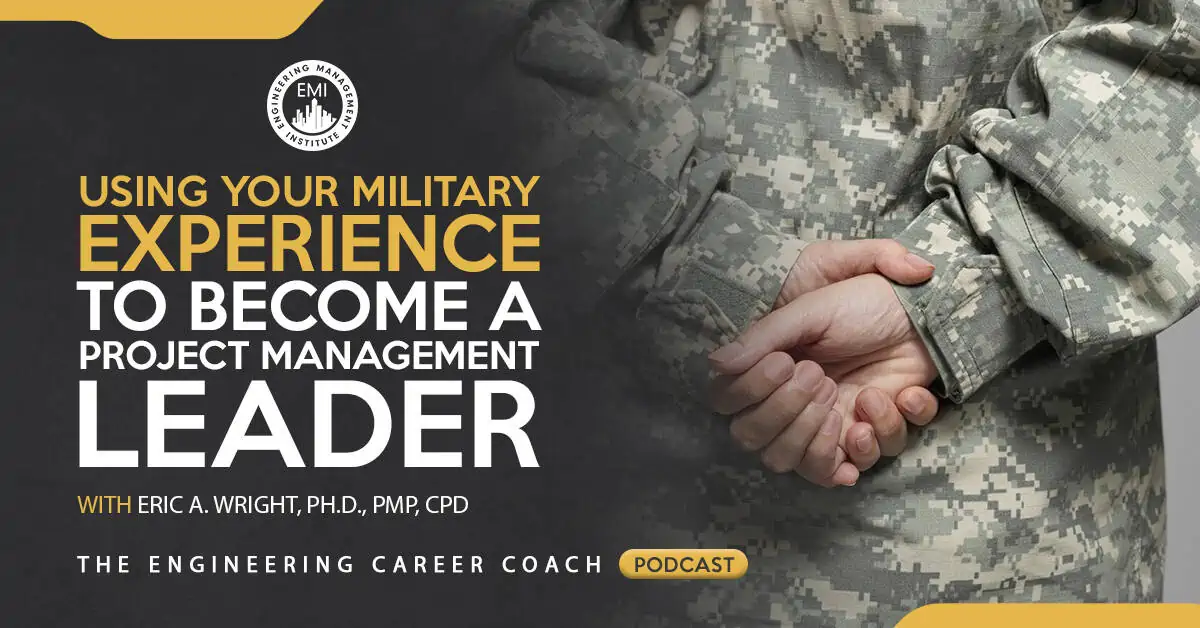 In this episode, I talk with Eric Wright, Ph.D., PMP, CPD about the benefits of earning the project management professional certification (PMP) for military members transitioning out of the service looking to become a project management leader. Eric gives some great tips on planning, leading, organizing, control, actions impact, and also explains the importance of soft skills and creating future value not only for yourself, but for clients as well.
Engineering Quotes:


Here are some of the key points discussed in today's episode on becoming a project management leader:
I knew what the industry needed to look like, sound like and act like. So, I started a development and placement company to train them, prepare them, and place them.
All managers are supposed to perform four functions:
Plan;
Organize;
Lead;
Control.
If you are planning on getting your PMP certification, keep track of the different projects you are involved with and the different work that you do and segment that down into what you did to plan, organize, lead and control.
One of the most important aspects to document in your resume is to describe the kind of value you can bring to the company using the resources they provide you to steward.
Having a PMP certification legitimizes the experience that the hiring manager is seeing on a resume.
Regardless of what we're "building" or producing, the way we do it is always the same. We still use project management fundamentals and our professional skills to deliver the gift.
During an interview, think about the question being asked and the reason behind the question, before you answer.
Effective project managers are like a entrepreneurs, and the successful ones accept the ultimate responsibility for the success, or failure, of the endeavor!
An effective project management leader needs to be at least functionally competent in what they are doing. Knowing how to communicate, how to listen, when it's time to push back, and when it's time to take notes, and doing what you say you will do is extremely important for an engineering project manager.
More in this episode…
In the Take Action Today segment of the show, Eric shares some more insights on project management and your life in society.
About Eric A. Wright, Ph.D., PMP, CPD

Eric is a decorated two-Service, two-Era United States Military Veteran; Founder and CEO of Vets2PM, LLC and Vet Stone, LLC; an experienced, credentialed project manager and PMI-Chapter recognized mentor; and an entertaining instructor/public speaker on project management, deep learning and the military transition, PMI's PMP® and Certified Associate in Project Management (CAPM®) exams, and on project manager development in general.  In short, he helps Military Veterans change their lives profoundly through project management through inspiration, translation, training, and placement. Check out the show notes for web links to Eric's resources.
Effective leadership is putting first things first. Effective management is discipline, carrying it out. – Stephen Covey
Resources and links mentioned in this session include:
Engineering Management Accelerator Workshop (Online) | 5 PDHs
Vets2PM, LLC
Vet Stone
Eric's LinkedIn Account
ProjectManagement.com
One Way To Get Off The 'No Experience, No Job' Hamster Wheel
Anecdata That Project Management And Entrepreneur Are The Same Role!
This episode is brought to you by PPI, the leader of FE, PE, or SE exam preparations. Use promo code T-E-C-C-8 for a 20% discount at PPI2Pass.com
How can you use your military experience to become a project management leader?
We would love to hear any questions you might have or stories you might share on becoming a project management leader.
Please leave your comments, feedback or questions in the section below.
To your success,
Christian Knutson, PE, PgMP, PMP
Engineering Management Institute