Podcast: Play in new window | Download | Embed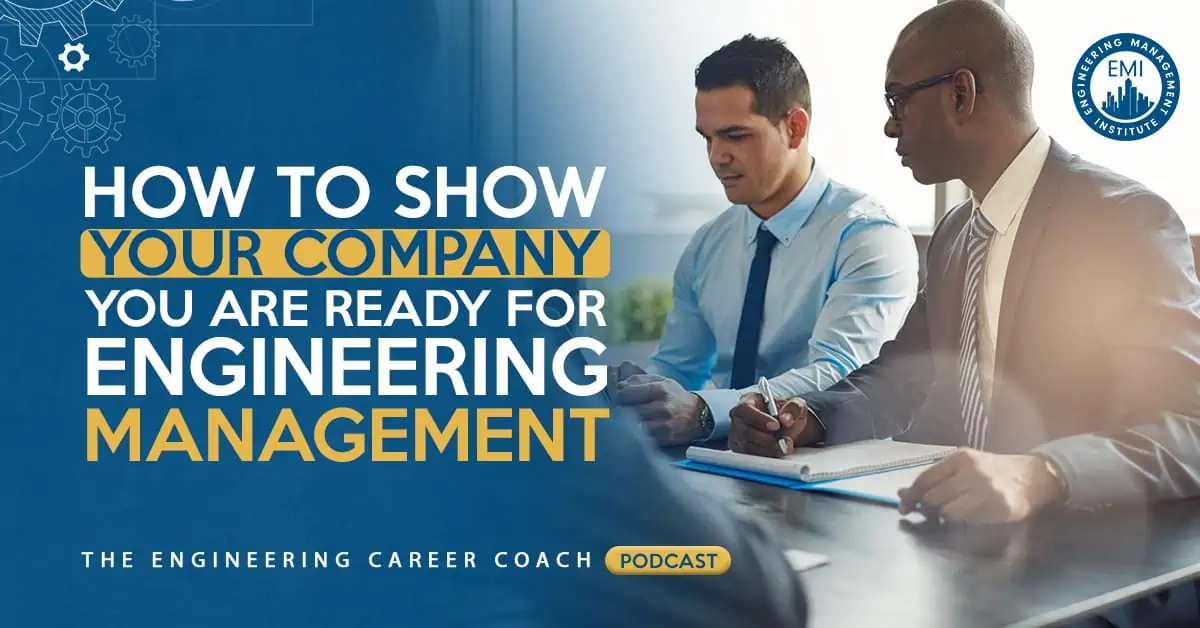 In episode 204 of The Engineering Career Coach, I will be answering some questions that we received from our listeners about career development and goal setting, specifically on leveraging accomplishments and about how to show your company that you are ready for an engineering management position.
Engineering Quotes:


Here Are the Questions and Related Answers Discussed in This Episode:
Question:
How would you leverage two big accomplishments during the same year as an engineering professional? Correspondingly,  Wolud such accomplishments being obtaining your engineering license and obtaining a Master's degree? What goals would one have for the immediate year thereafter?
Answer:
Discuss your accomplishments with your company in your review or just a set a special meeting. Discuss them in a way that highlights how these accomplishments will benefit the firm.
You may not want to immediately ask for a raise, instead see if the firm decides to extend one to you first.
If they don't talk to you about a raise or promotion, one of the things you could then do to get the conversation going in that direction is to ask if your firm offers standard raises or bonuses for any of those accomplishments?
In terms of the goals you want to set for the following year, they should directly depend and related to the conversation you have with your supervisors.
A good idea will also be to set your goals with your supervisors, based on how they think you can leverage your new accomplishments to benefit the firm.
Question:
Is it time to leave the company you work for when your performance goals from the past year were never achieved during the year?
Answer:
DEFINITELY NOT. I recommend assessing why your goals weren't achieved and then decide if it is still worth pursuing the same goals the next year. If you decide to try again, then you should create a detailed plan on how you will do it.
When you determine why you didn't achieve these goals, try to understand what the challenges or barriers were. Was it something you fell short on or was it your company's fault (i.e. lack of support)?
Anytime you set and/or achieve a goal, it is always important to think back through the WHY. Why is that career goal important? What would your career and or life look like if you achieve that goal?
If you continuously fall short, you need to dig deeper on WHY.
Question:
What would be your recommendation when the scale used to evaluate employees is based on people that work 80 hours a week?
Answer:
Any engineering company that expects people to work 80 hours a week on a regular basis is not a company that I recommend being associated with.
More and more of engineering companies that are considered as best places to work at, are companies that care a lot about work-life balance. They help staff and employees to pursue their own personal goals.
You cannot be productive for 80 hours a week in the engineering industry, it is simply impossible.
You were designed for accomplishment, engineered for success, and endowed with the seeds of greatness. – Zig Ziglar
More in this episode…
In the Take Action Today segment of the show, I am going to talk about how to show your company that you are ready for engineering management.
Resources and Links Mentioned in This Session Include:
Goal Setting & Decision Making Course
Engineering Management Accelerator Workshop (Online) | 5 PDHs
Engineering Management Institute Professional Membership
This episode is brought to you by PPI, the leader of FE, SE or PE exam preparations. Not only does PPI offer books and digital subscriptions to help you prepare, it also offers some of the best prep courses in the market today. If you prefer self-study over a course, you can save 15% on PPI's print books and digital subscriptions when you use code EMI15 at checkout. Please note that the code is not valid on courses or bundles of products as these already have a 15-30% discount built in.  Visit ppi2pass.com and get started with your studies today.
If you are interested in taking our FREE CMAP Diagnostic Case Study, please email Betty at >>

[email protected]
We would love to hear any questions you might have or stories you might share on goal setting or how you would approach your boss if you are ready for an engineering management position.
Please leave your comments, feedback or questions in the section below.
To your success,
Anthony Fasano, PE, LEED AP
The Engineering Management Institute
Author of Engineer Your Own Success