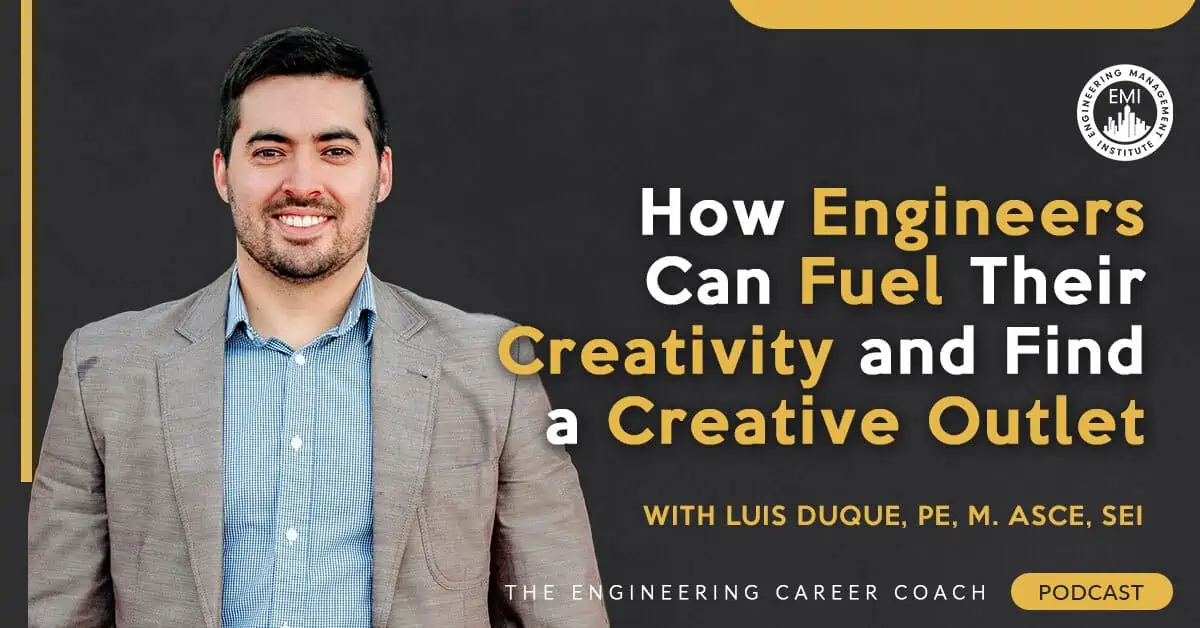 In this episode, I talk with Luis Duque, PE, M. ASCE, SEI, a Bridge Engineer at Foothills Bridge Co, and host of the podcast called Engineering Our Future, about the importance of establishing a creative outlet outside of engineering, and how entrepreneurship and volunteering can help you to advance in your career.

Here Are Some of the Key Points Discussed About How Engineers Can Find a Creative Outlet:
It is important to understand and determine what you are passionate about and to then find the systems that will support your passion project.
The more free time one has, the easier it is to fill it with unnecessary things, therefore it is important to set aside time that you can work on your passion project.
As engineers, we need to be good at math and understand the technical aspects of all things we do, however, there is always a phase in most projects where we need to brainstorm and come up with creative solutions to problems. Combining a creative mindset with an engineering mindset will ensure you provide your clients with the best possible service.
Younger engineers starting out in their careers, typically use an engineering and scientific mindset to solve problems. However, it is important to remember that curiosity, having an open mind, skepticism and humility needs to be present in everything you do.
Volunteering while in college was one of the best things I could've done because it helped me to practice some of the things that I wasn't taught in class.
Networking and reaching out to engineers with more experience than you, learning from their mistakes and experiences, and applying it to your job is something that you can't do with just sitting in an office. Building these supporting skills will ultimately help you as you grow in your engineering career.
As engineers, we play an important role in society in terms of helping others live an easier life, as well as looking out for the future, and vouching for the welfare of society.
More in This Episode…
In the Take Action Today segment of the show, Luis provides some actionable advice that you can use to pursue a creative outlet in your career.
About Luis Duque, PE, M. ASCE, SEI
Luis is currently working as a Bridge Engineer at Foothills Bridge Co. Foothills provides engineered solutions for the erection, retrofitting, and dismantling of bridges. He also hosts a podcast, the Engineering our Future Podcast, where he shares his experience as a young engineer in the industry to help other young professionals and students succeed in their careers. During his graduate studies, he worked on a project entitled "Evaluation of UAV as a Bridge Inspection Tool". His research was conducted to promote and develop new and innovative techniques to inspect bridges to decrease costs and risks involved with current inspection practices. Luis is currently involved with ASCE, SEI, EWB, and SHPE in a variety of volunteering opportunities as well as being a mentor for a South Dakota State University capstone team for the past 2 years. You can connect with Luis here.
Resources and Links Mentioned in This Session Include:
Engineering Our Future Website
Engineering Our Future Podcast
Connect with Luis Duque on LinkedIn
Connect with Luis Duque on Twitter
Engineers Without Borders
American Society of Civil Engineers
This Episode Is Brought to You By:

Washington State University

Washington State University's Engineering and Technology Management master's degree program is a perfect balance of technical and managerial education that helps prepare practicing engineers for managing projects, people, and organizational systems. As one former student noted, "The knowledge that I gained from the ETM Program helped me become a more competent, confident engineer and manager. The program greatly impacted my career and has been a key element in my continued success." Learn more about the Engineering Management profession at etm.wsu.edu or [email protected]. Take charge of your career and reach out today.
ASME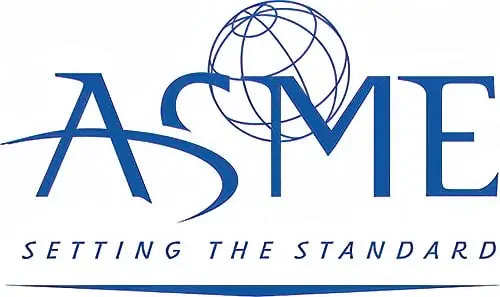 ASME — the American Society of Mechanical Engineers — serves a wide-ranging engineering community through quality learning, the development of codes and standards, certifications, research, conferences, publications, government relations, and other forms of outreach. Becoming a member and joining the ASME community is the most important connection a current or future Mechanical Engineer can make. Members can engage with various ASME Sections & Technical Divisions, led by ASME volunteers. ASME members get access to a variety of Career Resources to help you throughout your career, whether you're just out of school, or an already-seasoned professional. Search for rewarding engineering jobs at ASME's Career Center or focus on your professional development by participating in live webinars on key topics. Don't miss your chance to advance your career, enhance your professional network, and find your next ME opportunity, check out ASME on www.asme.org.
We would love to hear any questions you might have or stories you might share on the creative outlet you pursue in your engineering career.
Please leave your comments, feedback, or questions in the section below.
To your success,
Jeff Perry, MBA
Host of The Engineering Career Coach Podcast