Podcast: Play in new window | Download | Embed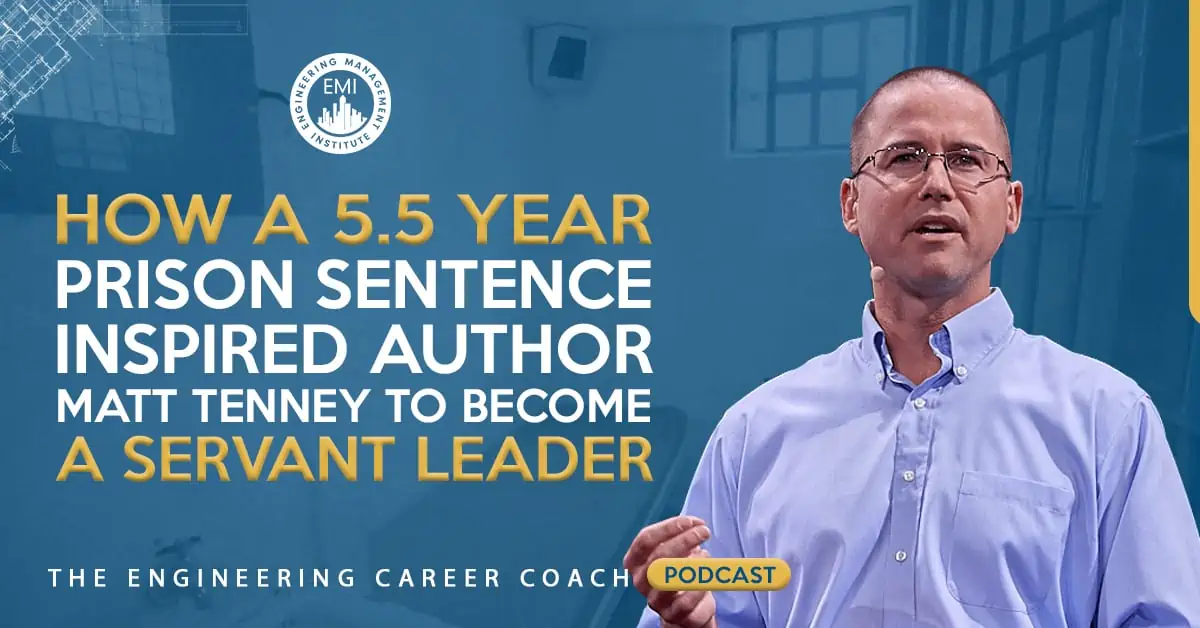 In this session of The Engineering Career Coach Podcast, I interview Matt Tenney and learn how he has used his five and a half years in a military prison to transform his life and career to where he is today.
The Take Action Today segment of the show will give you a simple tip on how to implement mindfulness amidst a very busy schedule as an engineer.
"Everything is created twice, first in the mind and then in reality." – Robin S. Sharma, The Monk Who Sold His Ferrari: A Fable About Fulfilling Your Dreams & Reaching Your Destiny
Matt Tenney is a social entrepreneur and the author of Serve to Be Great: Leadership Lessons from a Prison, a Monastery, and a Boardroom (click to download first chapter). He is also an international keynote speaker, a trainer, and a consultant with the prestigious Perth Leadership Institute, whose clients include numerous Fortune 500 companies. He works with companies, associations, universities, and non-profits to develop highly effective leaders who achieve lasting success by focusing on serving and inspiring greatness in the people around them. Matt envisions a world where the vast majority of people realize that effectively serving others is the key to true greatness.
The following items are discussed in detail in this episode:
Most of the time, we define success as having a lot of money. We get too focused and obsessed with goals but end up burning bridges and neglecting relationships. In this episode, you can learn how you can be happy and transform the absolute worst situation in your engineering career and life into a powerful tool for success.
When you are faced with a challenging situation, always ask yourself these questions:
What's the good in this situation?
What can I learn from these things that are happening?
How can I be of service to others?
What can I do to make the biggest impact to others?
Here are some strategies on how to achieve success and happiness as an engineering leader that are discussed in detail in this episode:
Make serving others a top priority. As a leader, you will be able to connect more to people.
Be open and honest to others even with your faults and failures. If you are transparent and vulnerable, people appreciate that and can connect with you easily.
Build relationships instead of focusing solely on achieving your goals. Shift more focus and energy onto pursuing your goals instead of solely achieving them.
Practice mindfulness. Train your mind to be aware of what the body is doing and try to sustain that without being distracted.
Know what is important to you and align your productivity to it. Productivity is not just checking off your to-do-list but prioritizing and doing the task that is the most important to you.
Resources and links mentioned in this session include:
Engineering Career Success Summit
Episode 32 – A Challenge to Work Four Hours a Day in Your Engineering Career
Episode 30 – How to Build Willpower and Create Positive Habits that Move You Closer to Your Engineering Goals with Leo Gura
Matt Tenney's website
Next Jump 
Books Mentioned on the Show:
The One Thing: The Surprisingly Simple Truth Behind Extraordinary Results, by Gary Keller (affiliate link)
Serve to Be Great: Leadership Lessons from a Prison, a Monastery, and a Boardroom, by Matt Tenney (affiliate link)
Search Inside Yourself: The Unexpected Path to Achieving Success, Happiness (and World Peace), by Chade-Meng Tan et al. (affiliate link)
What changes have you done today in your career that made you happier and more fulfilled as a person?
I would love to hear any questions you might have or stories you might share on how the strategies mentioned in this episode have helped you achieve happiness in your life and career.
Please leave your comments or questions in the section below.
To your success,
Anthony Fasano, PE, LEED AP
Engineering Management Institute
Author of Engineer Your Own Success