Podcast: Play in new window | Download | Embed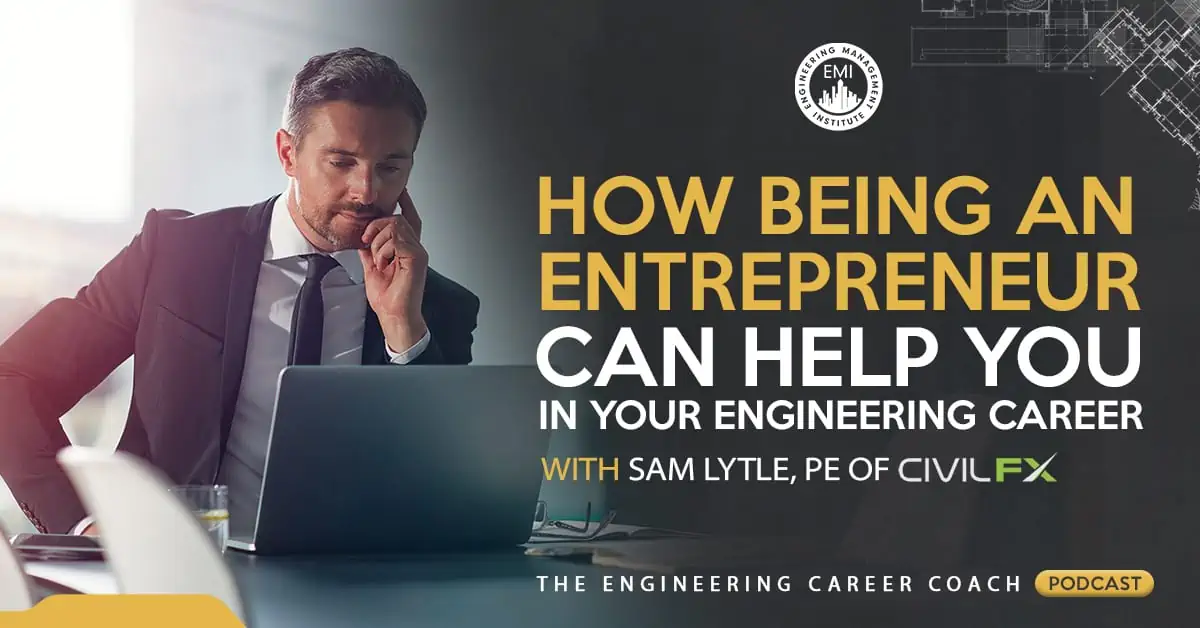 In this session of The Engineering Career Coach Podcast, I interview Sam Lytle who is an engineer turned entrepreneur. Lytle discusses the benefits of how being an entrepreneur can help you as an engineer, whether you're a business owner or a recent graduate.
The Take Action Today segment of this episode provides tools that you can use to discover what your personal tendencies are so you can really focus on developing your strengths to move your engineering career forward.
Sam Lytle is a licensed civil engineer and the owner of CivilFX, which provides premium 3D visualization and animation services involving civil engineering projects. His interest in modeling and rendering engineering data has inspired him to share this passion through CivilFX.
Lytle explains, in this episode, how his entrepreneurial mindset helped him in his engineering career both working for a public agency and private engineering firm, and also in creating and building his own company, CivilFX.
Before Lytle discusses the benefits of being an entrepreneur, we define what an entrepreneur is: An entrepreneur is someone who takes risks, they are usually very motivated and take initiative. Entrepreneurs also identify and solve problems that people or businesses have.
Lytle details the following benefits of an entrepreneurial mindset:
You are able to identify the needs of your company or other people.
You know your value.
You know your passion.
You take initiative.
Whether you're a recent graduate or you own a business, having an entrepreneurial mindset will definitely help you succeed in your engineering career or business.
Resources and links mentioned in this session include:
Engineer Your Own Success – Updated and Expanded Edition (listen to beginning of podcast for coupon code)
Sam Lytle's company CivilFX
DISC Personality Profile Test
Myers-Briggs Type Indicator
StrengthFinder Assessment
How has an entrepreneurial mindset helped you in your engineering career?
I would love to hear any questions you might have or stories you might share about being an engineer with an entrepreneurial mindset.
Please leave your comments or questions in the section below.
To your success,
Anthony Fasano, PE, LEED AP
Engineering Management Institute
Author of Engineer Your Own Success