Podcast: Play in new window | Download | Embed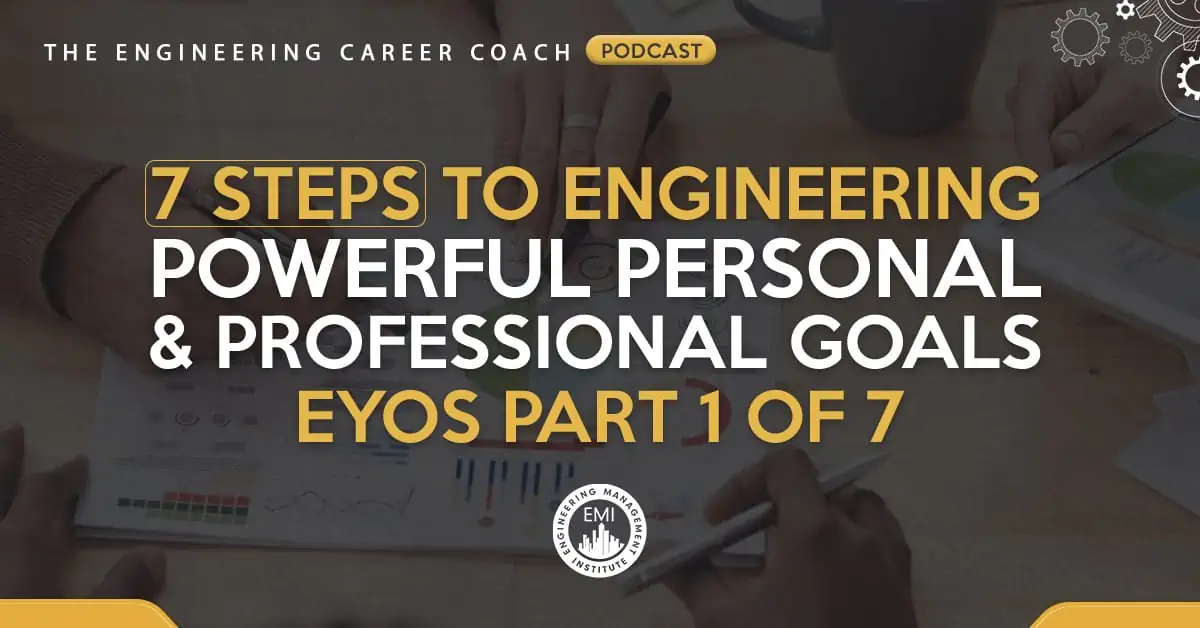 In this session of The Engineering Career Coach Podcast, I provide seven steps that you can use to set powerful personal and professional goals or revisit existing goals for the upcoming year.
This episode is the first in a series of seven where I am going to walk through the seven key elements to creating an extraordinary engineering career based on my newly published book, Engineer Your Own Success – Updated and Expanded Edition. In this episode, we will focus on goal setting, which is such an important component of your career and life.
"The future you see is the future you get." – Robert Allen
Goals act as destinations in your career and your life. Unless your goals are aligned with your true desires and what you really want, then your career and life will most likely not be very exciting or fun.
In this episode, I will break down in detail, the following seven steps that you can use to set clear and powerful goals for your life and your engineering career.
7 Steps to Setting Clear Engineering Career Goals: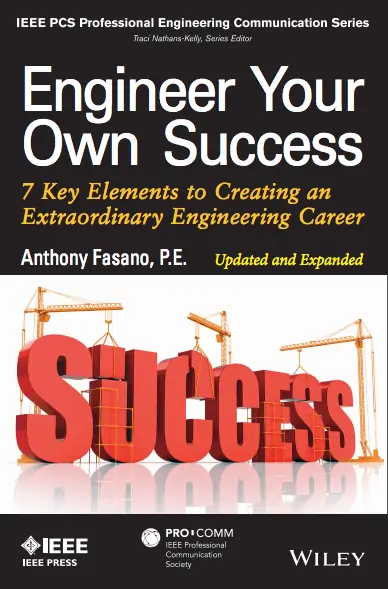 Step 1: Define what success means to you. If you don't define what success means to you, then what are you chasing? One sample definition of success might be to be able to spend a certain amount of time with your family each day, which in turn would diminish the amount of money you can earn each day. I list my definition of success in section 3.9 of my book.
Step 2: Identify your values. What are the principles, standards or qualities that are important to you? Some samples of values as listed in section 3.3 of my book include family, friends, happiness, honesty, integrity, freedom of something, faith, respect, responsibility, excellence and more.
Step 3: Set your goals. Now that you have the definition of success and understand what your values are, you are ready to set your goals. Set 3 to 5 personal goals and 3 to 5 professional goals for a total of 6 to 10 goals, no more, no less. To get started with the actual goal setting process, ask yourself questions that start with where, why, what, who and how. I have reviewed the questions in detail in this podcast episode and they are listed in section 3.4 of my book.
Step 4: Think BIG. Most people settle for less than their ideal and I don't want you to do that. Review your goals and use the word 'ideally' before each goal to make them as BIG or as lofty as possible.
Step 5: Finalize and Prioritize Your Goals. Once you have gone through the process, finalize and write down your goals. Prioritize and put your goals in order, usually by the date you wish to achieve them, like short-term goals and long-term goals.
Step 6: Make your goals SMART. The SMART process will help to make your BIG goals actionable. SMART stands for: S-Specific M-Measurable A-Achievable R-Relevant T-Time Bound. I give an example of this in this podcast episode and discuss the SMART process in detail in section 3.8 of my book.
Step 7: Stay in tune with your success definition. Make sure that as you pursue these goals, they are headed towards your definition of success.
Resources and links mentioned in this session include:
Engineer Your Goals Webinar
Engineer Your Own Success – Updated and Expanded Edition
Do you have any challenges or questions about goal setting?
I would love to hear any questions that you might have or stories you might share on goal setting in your engineering career.
Please leave your comments or questions in the section below.
To your success,
Anthony Fasano, PE, LEED AP
Engineering Management Institute
Author of Engineer Your Own Success