Podcast: Play in new window | Download | Embed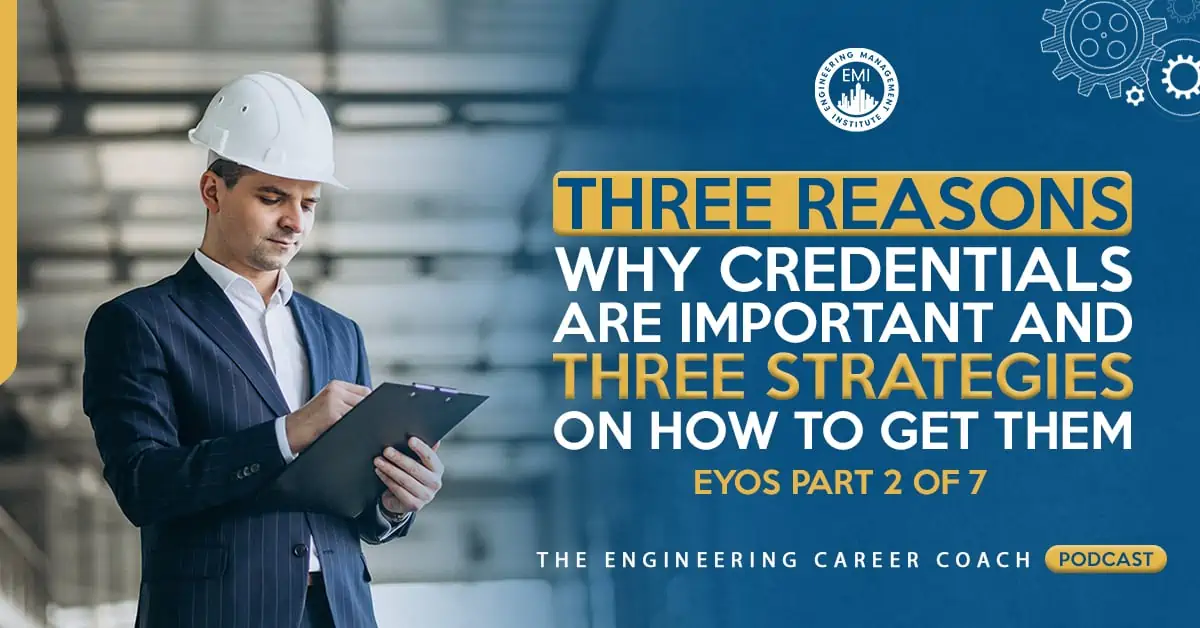 In this session of The Engineering Career Coach Podcast, I talk about why credentials are so important in your engineering career and give you some tips on how you can obtain the right ones.
I will also share with you my public pledge on one of my 2015 goals at the end of the podcast.
This episode is the second of the seven part Engineer Your Own Success podcast series which I am creating to celebrate one of my biggest goal of 2014 which was rewriting my updated and expanded edition of Engineer Your Own Success.
In our Take Action Today segment at the end of the show, I will give you a challenge that will definitely drive you in your engineering career.
"You don't win the U.S. Open by being lucky, throw it up there and hope. He's got credentials." – Hale Erwin
Credentials are critical to advancement as an engineer. You should definitely consider obtaining some credentials in your engineering career that are aligned with your goals. When I say credentials, it could mean licenses, certifications, publications, or awards that you have received. In this episode, I will discuss three reasons why credentials are important and three strategies for how you can obtain them.
Importance of credentials:
Credentials bring you credibility. If you have something after your name, that's a recognized credential, people will look at you differently, especially in the engineering field.
Credentials set you apart from other engineers in your field. Credentials will make you stand out in the crowd.
Credentials are very helpful in charting your engineering career path and where you want to go. When you look ahead in your career, these credentials can drive which direction you are going.
Three tips on how to obtain credentials in your career
Do not procrastinate. This is really the one that hampers engineers from getting credentials because some of the credentials or certifications in the engineering world require a lengthy process with many steps like obtaining the PE license.
Become an expert in the exam taking process. Here are nine tips for succeeding during the exam taking process:

Start with the end in mind.
Start the application process as early as possible.
Submit the application as soon as possible.
Don't take the exam just to see what it contains.
Take a review course whether you want to or not.
Ask others what worked for them.
Make sure you know what you have to bring to the exam.
Understand the importance of the credential and if it's worth it for you BEFORE you prepare for the exam.
If you do not pass an exam, please sign up to re-take the exam ASAP.

Do not fail to take advantage of company benefits for these credential processes. Many of the companies offer benefits to get these credentials. Make sure to take advantage of them.
Resources and links mentioned in this session include:
Contact Purdue's Master of Engineering Management Program
Engineer Your Goals Course
Engineer Your Own Success – Updated and Expanded Edition
What is that ONE credential that you think will drive you towards your goals?
I would love to hear any questions you might have or stories you might share on how credentials have helped you in your career.
Please leave your comments or questions in the comments section below.
To your success,
Anthony Fasano, PE, LEED AP
Engineering Management Institute
Author of Engineer Your Own Success