Podcast: Play in new window | Download | Embed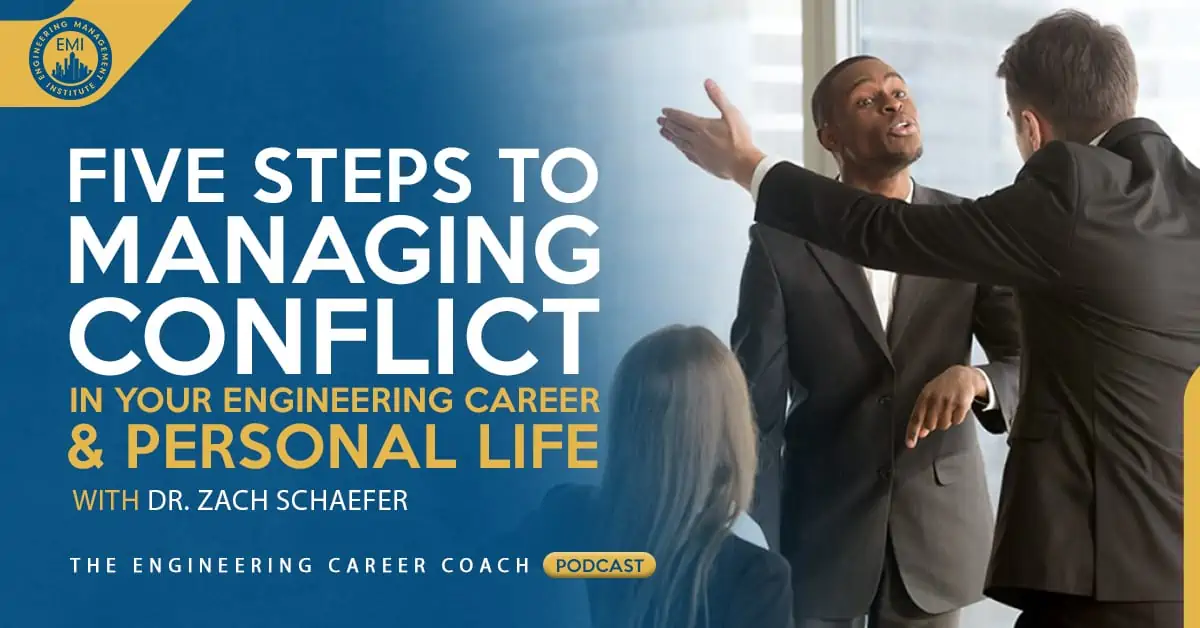 In this session of The Engineering Career Coach Podcast, I interview Dr. Zach Schaefer on the topic of conflict, which most of us struggle with.
"An eye for an eye will only make the whole world blind." – Mahatma Gandhi
Dr. Zach Schaefer (Dr. Z), the Founder and President of Spark The Discussion (sparkthediscussion.com), is a university professor, author, researcher, and consultant. In addition to starting his own consulting business, he is also an Assistant Professor of Applied Communication Studies at Southern Illinois University Edwardsville. Schaefer helps St. Louis companies and business professionals "talk with intent," enhance workplace performance, and create innovative workplace cultures. He is also the author of the book, "American Creativity: The Mind At Work."
Listen to this session and learn about Managing Conflict in Your Engineering Career and Personal Life:
Five steps on how you can manage conflict:
Know yourself. Know what your triggers are and what makes you uncomfortable in the workplace.
Shift from blame to contribution. Think about how you are contributing to that conversational obstacle.
Know your audience. Understand where the conflict is coming from by understanding the relationship between you and the person you're in conflict with.
Understand what your conversational goal is. Think about what you ultimately want to get from a conversation and how you can best achieve your goal.
Identify your primary conflict management style. There are five different ways that people deal with their conflict regardless of their industry:

Compromise
Competition
Collaboration
Avoidance
Accommodation
To have an effective communication with the person you're in conflict with, understand the underlying patterns of disagreement with that person. Utilize the conflict RADAR:
R-Reflect
A-Analyze
D-Describe
A-Apply
R-respond
Book mentioned in this session (affiliate links):
American Creativity: The Mind At Work
Resources and links mentioned in this session include:
Dr. Zach Schaefer's website
Free Webinars for Engineers
Engineering Career Success Summit
Is there someone you are in conflict with today?
I would love to hear any questions you might have or stories you might share on how these steps or your own strategies have helped you deal with conflict.
Please leave your comments or questions in the section below.
To your success,
Anthony Fasano, PE, LEED AP
Engineering Management Institute
Author of Engineer Your Own Success