Podcast: Play in new window | Download | Embed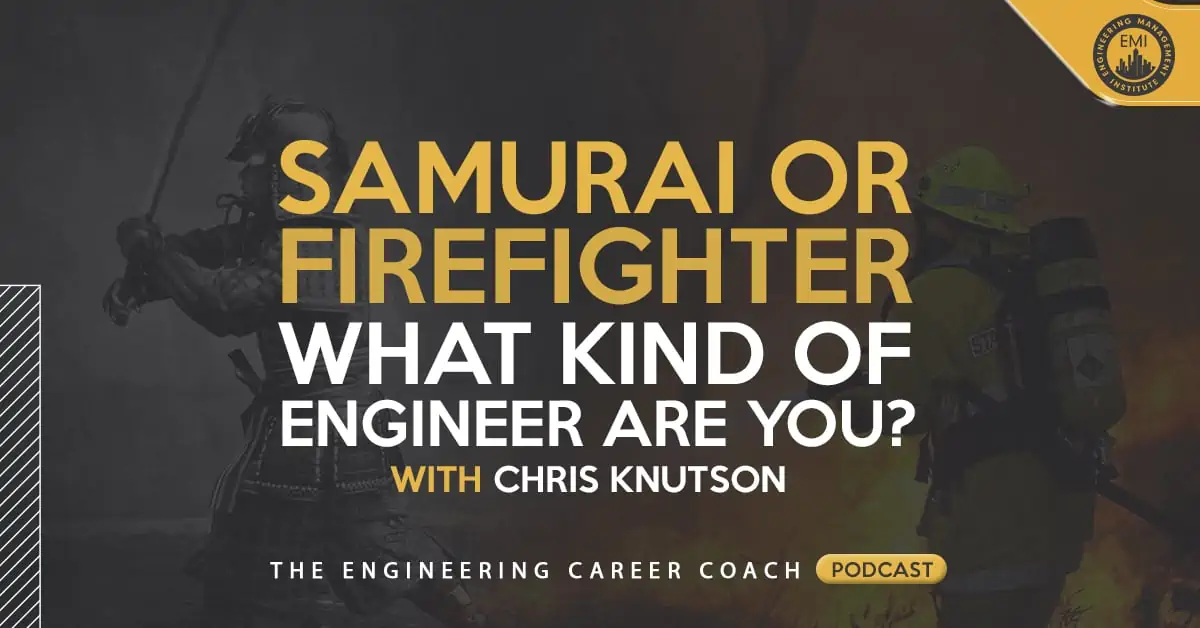 In this session of The Engineering Career Coach Podcast, my co-host Chris Knutson and I are going to discuss two different approaches to work as an engineer, the firefighter approach and the samurai approach. The basic difference being a reactive or proactive approach in the way you work.
"Productivity is never an accident. It is always the result of a commitment to excellence, intelligent planning, and focused effort." ~ Paul J. Meyer
In the Take Action Today segment of the show, we are going to give you some actionable tips that you can implement to become a better firefighter and samurai as an engineer.
Listen to this session and learn the different advantages and disadvantages of the two approaches:
Approaching your Engineering Career with a Firefighter Mentality
Benefits:
You are trained, poised, and ready to save the day (yours or someone else's!) when called upon.
You are knowledgeable and skilled because you put a lot of effort in understanding the tools of your craft.
You are mentally bulletproof because you understand how to control your mind and anxiety and develop courage in the face of fear.
You're a planner and risk assessor, not just for yourself, but also for others and your team.
Disadvantages:
You have a lot of "off" time and periodic episodes of chaos because you are always waiting or anticipating the next crisis to come up.
You are always thinking, planning, and assessing the dangers that lie all around, which may prevent you from being able to see the positives and opportunities that are out there.
Approaching your Engineering Career with a Samurai Mentality
Benefits:
You are calm and you don't easily get riled up.
You work on your schedule without distraction (may not always be realistic) and focus on one thing.
You are proactive and you prepare for what's coming in the future.
You are creative and innovative since you schedule your tasks with ample time before the deadline giving you opportunity to be creative and make your engineering work stand out.
Disadvantages:
You don't always respond well to pressure or think on your toes.
You are too calm or not aggressive enough.
You can miss opportunities if you are too laid back.
Ideally, as an engineer, you want to possess characteristics of both a samurai and a firefighter. You should be able to handle adversity and at the same time, you must be able to create the space to be creative and productive. You should strive to be able to do both of those things and balance them in an effort to be a successful engineer, which I would define as an engineer who achieves his or her goals.
Sponsor for this session:
PPI2Pass Review Courses for FE and PE Exams
Books mentioned in this session include:
Resources and links mentioned in this session include:
What are the challenges you feel you'll have while developing the skills and habits of a samurai and/or firefighter in your engineering career?
Please leave your comments or questions in the section below.
To your success,
Anthony Fasano, PE, LEED AP
Engineering Management Institute
Author of Engineer Your Own Success