Podcast: Play in new window | Download | Embed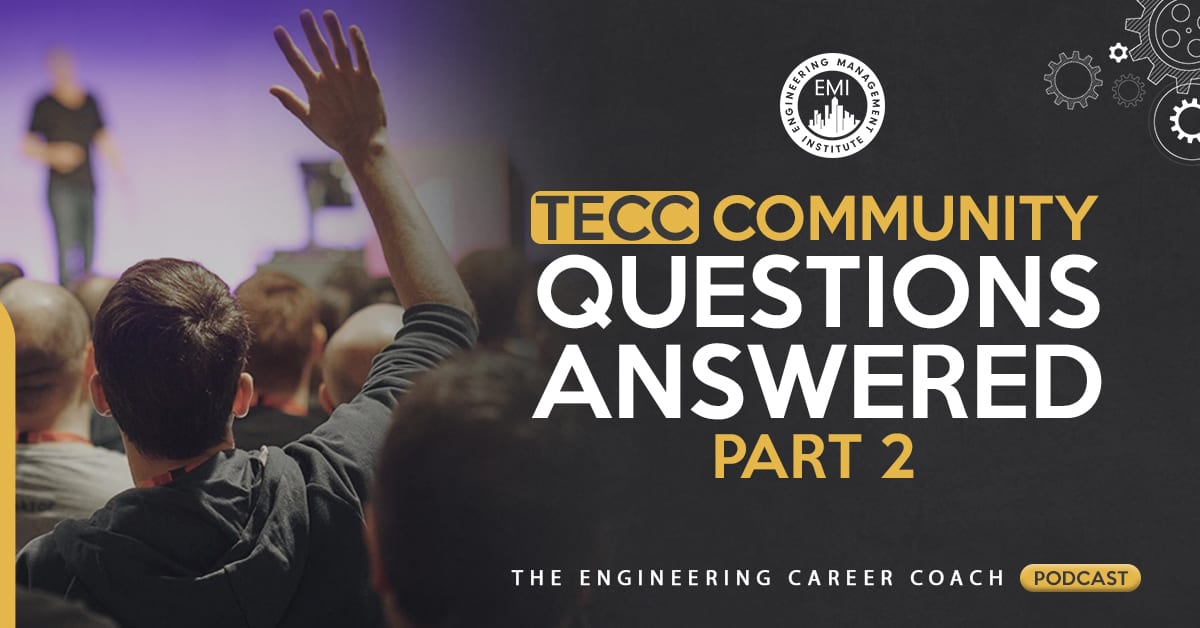 In this session of The Engineering Career Coach Podcast, Chris Knutson and I are going to answer questions from our listeners asking for career advice.
"Ideally, since 80 percent of your life is spent working, you should start your business around something that is a passion of yours. If you're into kite surfing and you want to become an entrepreneur, do it with kite surfing. Look, if you can indulge in your passion, life will be far more interesting than if you're just working. You'll work harder at it, and you'll know more about it. But first you must go out and educate yourself on whatever it is that you've decided to do–know more about kite surfing than anyone else. That's where the work comes in. But if you're doing things you're passionate about, that will come naturally." – Richard Branson
In the Take Action Today segment of the show, we give you some tips on how you can stand out as an engineer.
Here is the summary of the questions and answers we've discussed in this session:
Question:
I have had my own small engineering business for a while now. I have been able to make it through the recession but how do I know when I can (or should) hire another engineer? What is the best way to perform engineering business development and the best ways to balance marketing/business development and perform design services? – Robert from Illinois
Answer:
If you have to do something more than once, delegate or sub it out – create standard operating procedures (SOPs)
Designate a certain time each day for engineering business development
Hire out your business development tasks or find a consultant
Cut your cost and invest in your staff and build your asset
Question:
What kind of skills would serve as technical skills for engineers and engineering leaders? – Terrance from Lake Charles, LA
Answer:
Join technical associations in whatever discipline you're in
Ask engineering alumni and find an engineering mentor to know what kind of technical skills you need to be an expert in your specific engineering field
Learn leadership/management skills because these fundamentals are essentially evergreen
Question:
How do you learn from an engineering project or class failure or shortcoming without sending your work/mindset into a stalemate? – Rafael from Charleston
Answer:
Ask yourself 2 questions: Where is the opportunity in this situation? and Where can I learn and grow from this situation?
Use the failure to propel yourself and avoid future mistakes
Keep your eye on the end goal
Question:
I am a chemical engineering student and I was wondering if you think taking the FE exam would be worthwhile? – Marlene from New York
Answer:
Yes, yes and yes!
PE license is a huge asset; it creates more opportunities for you
You never know when in your career, you might need your PE license
Question:
What has changed in engineering careers over the last 30 years? – Ricardo from Honduras
Answer:
Soft skills are needed much more in engineering today
Engineers need to be more well rounded
Incorporation of technology at every level
Competitive pressures from expat engineers
Question:
What is the best way to stay vigilant and focused on improving myself as a professional, and finding opportunities in a shrinking job market? – Tim from Ontario, Canada
Answer:
Know how to stand out by:

Joining a Toastmasters club in your school or developing your speaking skills through other avenues
Obtaining internships, even if they are volunteer work
Tapping into your engineering alumni association

Do some market analysis: what type of engineering, where are the jobs at, and what niches are available
Resources and links mentioned in this session include:
engineeringmanagementinstitute.org/jobs
Engineering Career Summit
Sponsor for this session:
PPI2Pass Review Courses for FE, PE, and SE Exams
What should you do to stand out from other engineers?
We would love to hear any questions you might have or stories you might share on how you have been able to advance or stand out in your engineering career.
Please leave your comments, feedback or questions in the section below.
To your success,
Anthony Fasano, PE, LEED AP
Engineering Management Institute
Author of Engineer Your Own Success