Podcast: Play in new window | Download | Embed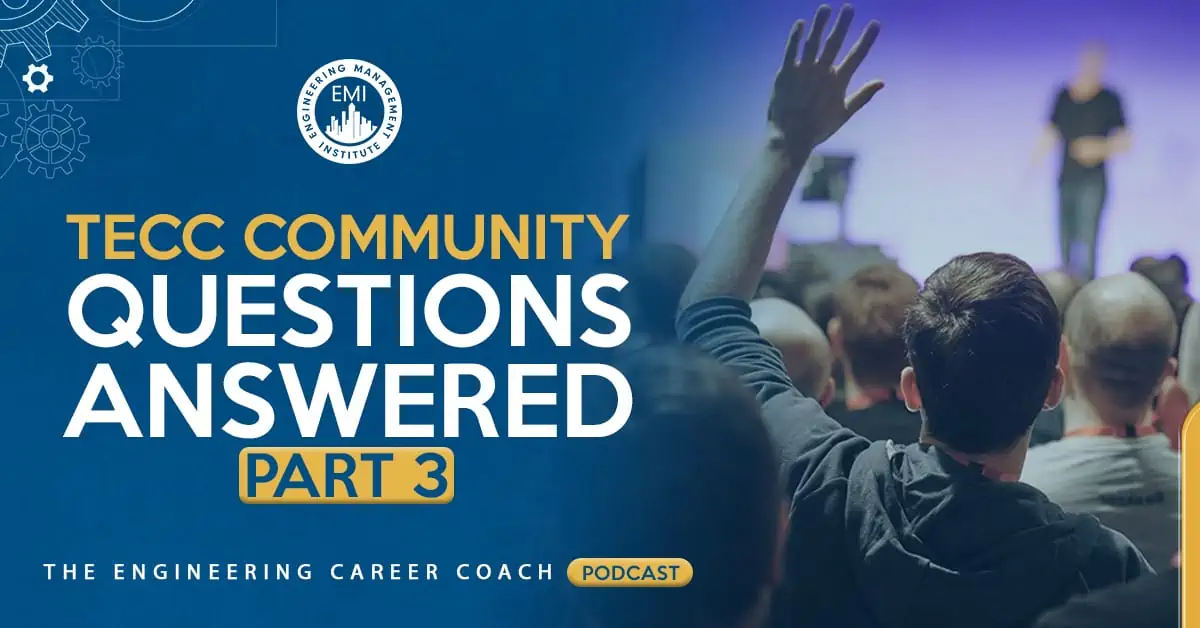 In this session of The Engineering Career Coach Podcast, Chris Knutson and I are going to answer more questions from our listeners asking for career advice.
"If you want to be successful in a particular field of endeavor, I think perseverance is one of the key qualities. It's very important that you find something that you care about, that you have a deep passion for, because you're going to have to devote a lot of your life to it." – George Lucas
In the Take Action Today segment of the show, we give you one piece of advice on how to move forward in your engineering career.
Here are the summary of the questions and answers we've discussed in this episode about your engineering career:
Question:
I am curious what advice you have for someone who wants to enter the engineering work force with 5-6 years of military leadership experience, but very limited engineering experience outside of the academic world. – Stephen from San Antonio, Texas
Answer:
Check out the section of Air Force Civil Engineering community that does pavement evaluation of airfields
Build your network, ask people for help when you need it
Question:
I'm looking for business courses to take online to supplement my engineering education. What courses specifically would you recommend taking that would be helpful for the future? – Eric from Delaware
Answer:
Join the Engineering Career Community
Depending on your ultimate goal, courses may include

MBA programs (online or in-person)
Engineering Management from Purdue
Master of Science in Executive Management from Northwestern University

Read Rich Dad Poor Dad and other self improvement books
Question:
I have a question regarding my spouse who's coming to USA within few months. He has completed his bachelors in electrical engineering and pursuing his masters. Should he finish his studies back home or continue here? What is the right path for him? – Deepika from New York
Answer:
Visit NY State Department of Education website for rules, it may be case by case review basis
 Question:
I would say that one challenge I am facing involves one of my coworkers. I sit next to a guy in his 60's who has been a professor at various community colleges and likes to teach me or show me things occasionally. – Anthony
Answer:
Try to relocate somewhere in the office
Be courteous and kind
Be upfront, find a way to tap into his knowledge and expertise, schedule a time to have that conversation with him
Question:
I need help finding a mentor, or at least a place where I can talk or meet someone that can become a friend and an example to me. Can you possibly assist me with this? – Cassie from South Africa
Answer:
Get on LinkedIn and refine your search to find people who are doing what you want to do
Join professional associations
Get in touch with your college engineering alumni
Check out the podcast on how to find a mentor
Reach out to your network and ask help to find a mentor
Question:
I want to travel and work in the USA, so first I need knowing the names and location of Engineering companies there. – Mustafa from Jordan
Answer:
Find people who have come to USA and seek guidance
Check out our blog posts on engineering companies
Book mentioned in this session includes:
Resources and links mentioned in this session include:
Engineering Career Community
TECC 65: Personal Finance for Engineers
Master of Science in Executive Management
TECC 45: How to Find or Become a Mentor in Your Engineering Career
Sponsor for this session:
PPI2Pass Review Courses for FE, PE, and SE Exams 
What is your goal and how do you intend to pursue it?
We would love to hear any questions you might have about your engineering career that we can answer on future episodes.
Please leave your comments, feedback or questions in the section below.
To your success,
Anthony Fasano, PE, LEED AP
Engineering Management Institute
Author of Engineer Your Own Success