Podcast: Play in new window | Download | Embed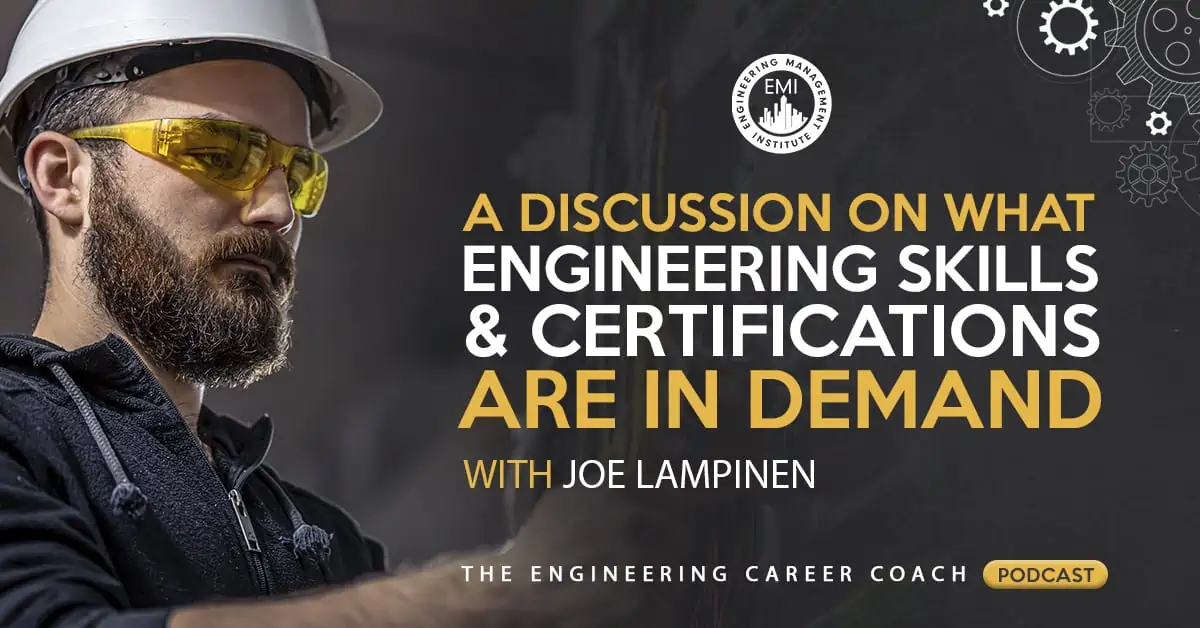 In today's episode, Joe Lampinen of Kelly Services talks about the trends in the industry and what employers are looking for in the engineering industry in the way of engineering skills and certifications.
Here are some key points:
Trends in hiring:
Hollywood model/talent supply chain management – hiring just for the life of the project or particular purpose.
Open innovation – bringing in minds outside the organization who can contribute or share technical insight or vision on how an engineering problem may be solved.
Recent graduates should expect to change jobs 10x times over the course of their career.
The idea of a permanent job is going away, but contract positions and engagement for the life of the projects will be there.
Examples of certifications employers are looking for:
Quality engineering role – CQE (Certified Quality Engineer) certification
Project management role – PMP (Project Management Professional) credential
3D, CAD software platforms – solid work certification or NX Designer certification
If you have that credentials and you don't have the body of work or you're entering the field, the credentials can help you land that first position or that first project.
When transitioning to project management/operational management/team leader, you should:
Be a leader even before advancing to the leadership position
Set examples for other engineers
Show initiative or show interest in advancing by being a self starter/self motivated engineer
Be technically competent, excellent in what you do, proficient in your area of engineering expertise


Qualities that could stunt your career:
Being an engineering prima donna – you have to be a good employee and a team player
Engineers not willing to learn – employers expect an engineer to keep up with current technologies that evolve through their career
Poor communication skills – don't neglect the need to be able to communicate at every level of your engineering organization
Things a company needs to be doing to reduce turnovers and retain high quality engineers:
Employee Value Proposition
Set a realistic expectation
Give feedback to your employees
Why many engineers are dissatisfied with their jobs/things companies do that disengage their engineers:
Change – change in leadership/merger, etc.
Not giving feedback – not sharing the expectations and the employee's contributions to the organization
The ones that are most at risk for flight could be the engineers that you dearly wanted to keep within the organization.


More details on these in the episode…
In the Take Action Today segment of the show, Joe gives some advice on the skills you should focus on improving.
The biggest mistake that you can make is to believe that you are working for somebody else. Job security is gone. The driving force of a career must come from the individual. Remember: Jobs are owned by the company, you own your career! – Earl Nightingale 
About our guest Joe Lampinen
Joseph Lampinen is director of the Engineering Center of Excellence for Kelly Services, a world leader in providing workforce solutions, headquartered in Troy, Michigan. He is an engineering workforce strategist and solutionist, responsible for leading the strategic development and growth of engineering staffing, search and project services in Midwestern and eastern North America, with special interest in manufacturing engineering, plant/facilities engineering, quality engineering and sustainability. He consults with industrial clients to solve challenges in attraction, engagement and retention of their engineering workforce.
Resources and links mentioned in this session include:
Engineering Career Summit
Joe Lampinen's LinkedIn Profile
Kelly Services

What are the skills you feel you should improve upon to increase your chances of engineering career success?
We would love to hear any questions you might have or stories you might share on how this episode has provided you insights on which skills and certifications are in demand right now.
Please leave your comments, feedback or questions in the section below.
To your success,
Anthony Fasano, PE, LEED AP
Engineering Management Institute
Author of Engineer Your Own Success