Podcast: Play in new window | Download | Embed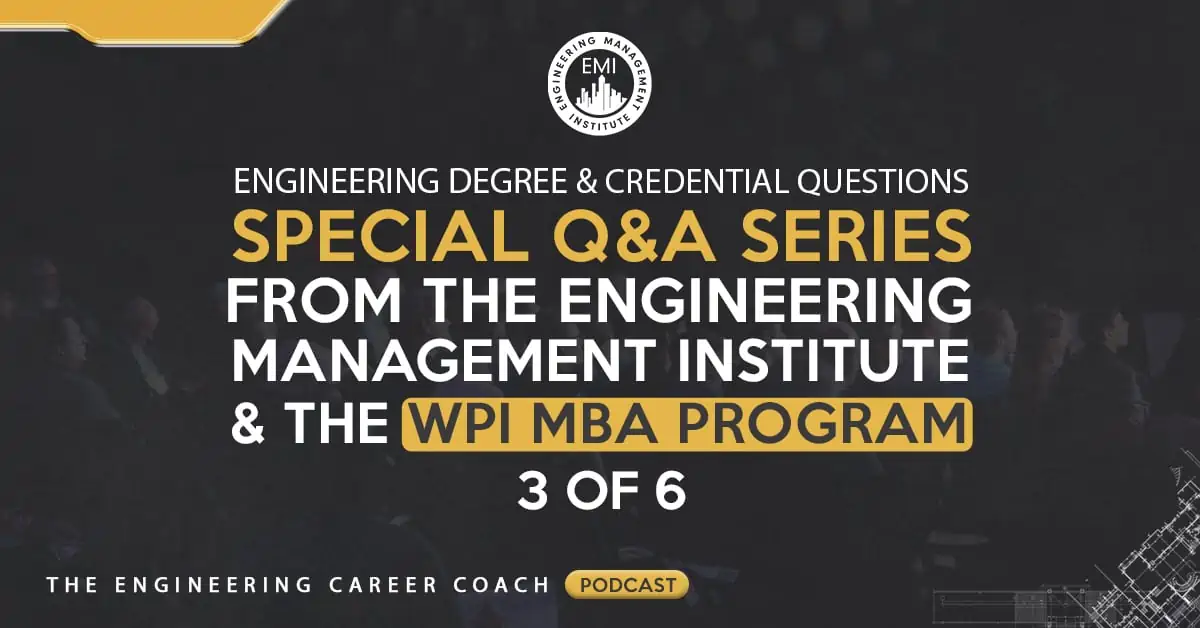 This podcast is the third of six special Q&A Series which air every first Friday of the month in addition to our regular episodes through May 2016. I answer more questions from our listeners asking for career advice. In today's episode we will have Q&A on engineering degree and credential questions:

 Here is the summary of the questions and answers I've discussed in this session:
Questions:
How can I rise quickly to the top and how can I distinguish myself? What milestones must I achieve? – Ama from Ghana
Would it be useful to get a master's degree in chemical engineering or should I focus on my soft skills and professional development courses that is more related to what I want to do instead of studying general courses in the master program? – Walker from Canada
Answer:
1 – Become a technical expert first in your field
2 – Only get the graduate degree if it will help (relevant and important in your field) and someone will pay for it.
3 – Develop a presentation on an interesting engineering topic in your industry and give it at conferences (elevate your status, make you a visible expert).
4 – Write articles on the subject matter in your engineering field (journals, LinkedIn, online).
5 – Work on personal skills (develop your interpersonal skills, soft skills).
Question:
My first challenge is a financial problem (capital). My goal is to have or possess my own engineering company or consulting firm. What steps should I take? – Emmanuel Temu 
Answer:
1 – Create your business plan.
2 – Find an engineering job and make money right now. Try to save enough money to start up your engineering company.
3 – Build your engineering experience and develop your expertise.
4 – Build your engineering company around your vision of benefiting the society.
If you do not develop yourself as an expert, then no one is going to hire you as a company.
In the Take Action Today segment of the show, I give you a tip that can help you professionally and personally.
"In order to carry a positive action we must develop here a positive vision." – Dalai Lama
Resources and links mentioned in this session include:
This Q & A Series is brought to you by WPI's Foisie School of Business which is ranked #1 part-time MBA degree in the Northeast according to Business week since 2007. For more information visit business.wpi.edu or call 508-831-4665. 
Have you taken the steps to become an expert in your field?
We would love to hear any questions you might have or stories you might share on how this episode have helped you stand out in your engineering career.
Please leave your comments, feedback or questions in the section below.
To your success,
Anthony Fasano, PE, LEED AP
Engineering Management Institute
Author of Engineer Your Own Success