Podcast: Play in new window | Download | Embed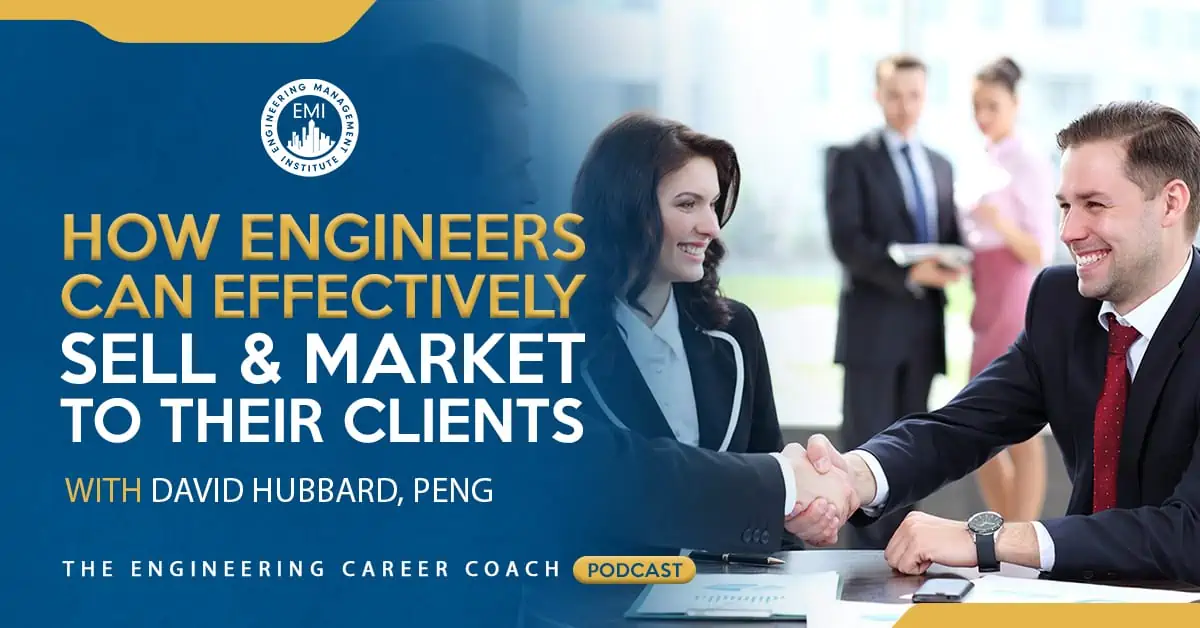 In this episode, I interview David Hubbard, PEng, who started his career as an electrical engineer in the power industry but is now a Revenue Growth Expert and the person behind the Marketing Outfield on how engineers can build the skills to effectively sell and market to their clients.  Even if small talk and cold calls repel you!
Engineering Success quotes:


Here are the key points:
Have a very structured, rational approach to problem solving.
Process skills are the underlying foundation for sales & marketing and Engineers definitely have these skills.
Focus on helping a client solve their problem instead on the sale.
Figure out the soft skills of the buyer. You are not a salesman, you're a consultant working to help the customer determine what they need to solve their problem.
Understand all of the problems that need to be solved in parallel. You have to know things like:

What do they want to achieve for the business?
What are they trying to achieve for their career?
What are they trying to achieve for themselves?

It's all about the customer. Understand what the buyer is trying to accomplish and then adjust to the buyers.
Do not overload your clients with information. Rather focus and ask them what they need and how you can help them understand the best way to solve their problem.
Do not push them, rather guide them.
There are different concerns in a company and if you know all those concerns you can tell them how good you are in that area.
Everything is a learned skill.  Understand that you need the skill, learn the skill and then practice it.
It is important to get a mindset shift: you're a consultant, you provide value through consultation, not selling design service.
Certain products require a combination of engineer's skills and sales skills.
Small talk: You don't need to do it. You're an engineer so stick to what you know how to do. Realise that people can add value to you and be kind when dealing with other people.
Cold calls –Approach them in a different way by opening their eyes to the opportunity. Overcome how bad sales people have spoiled the environment. You have the expertise and you want to share this with others in a way that helps them and not shaking them down for a sale.
In the Take Action Today segment of the show, David will give you some actionable advice on this sales and marketing and how to grow your ability to sell effectively to your clients as an engineer.
"Today it's important to be present, be relevant and add value." – Nick Besbeas
 About David Hubbard
David Hubbard is a Revenue Growth Expert, a pragmatic Marketing and Sales Consultant, a proven business leader and the CEO of Marketing Outfield.   His work is focused on properly aligning a company's functional efforts from Product, Sales and marketing to the target market buyers, he routinely helps his clients grow by 25-50% per year.
Learn more about David in LinkedIn or his Company Site.
 Book mentioned in this session include:


Win More Work: How to Write Winning AEC Proposals


Resources and links mentioned in this session include:
Engineering Career Summit
David's website  
David's Twitter
Rory Vaden – Servant Selling
TCEP Episode 14:  Write Winning A/E/C Proposals with Jim Rogers – The Civil Engineering Podcast
TECC 87: Reinventing Yourself So You Can Stand Out in Your Engineering Career
This episode is brought to you by PPI, the leader of FE, PE, or SE exam preparations. Use promo code COACH for 20% discount at PPI2Pass.com/coach. 
How can you guide your client instead of just getting that sale?
We would love to hear any questions you might have or stories you might share about your own organizational culture.
Please leave your comments, feedback or questions in the section below.
To your success,
Christian Knutson, PE, PMP, ENV SP, CHS III
Engineering Management Institute