Podcast: Play in new window | Download | Embed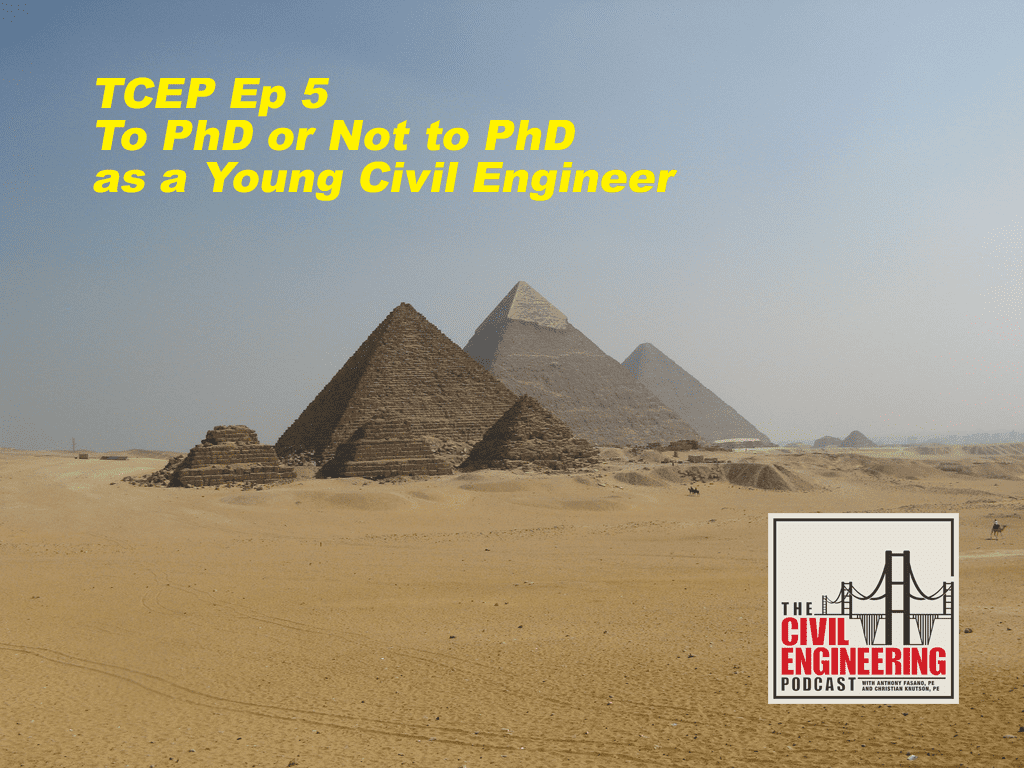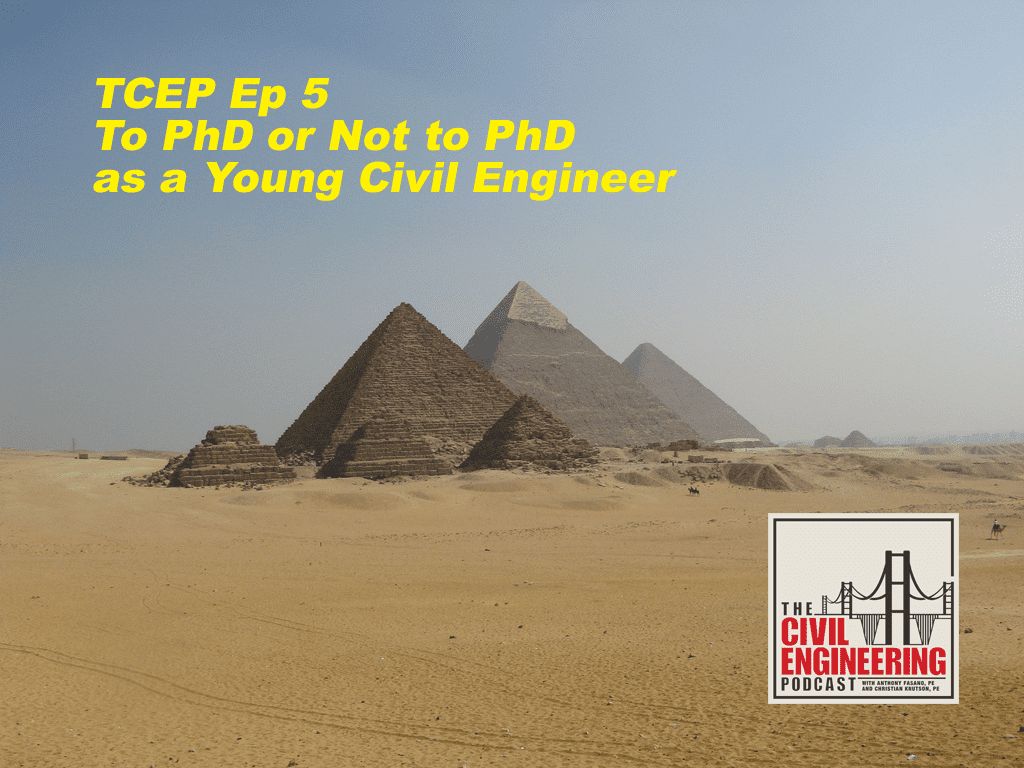 In this episode of The Civil Engineering Podcast, I talk to a young environmental engineer, and we discuss and tackle some of the big decisions that she's looking to make in her career. Also in this episode, for our Civil Engineering Project of the Week Segment, we take a closer look at The Great Pyramid in Giza, Egypt.
In this episode, you'll learn:  
What you need to understand before you decide to make a change and branch out at any stage of your current civil engineering career
How to identify career civil engineering opportunities, both with or without a PhD
The PROs and CONs of pursuing a PhD as a civil engineer
Tweetables 
"Whenever you want to make a change… understand why you're seeking that change." Tune in to #TCEP ep. 5!
How much does a PhD really matter to you & your career? Tune in to the Civil Engineering Podcast ep. 5! #TCEP
In this week's #TCEP, we feature one of history's marvels of Engineering: the Great Pyramid of Giza. Tune in!
Project Overview:
The largest of the three pyramids at Giza, known as the Great Pyramid, is truly an astonishing work of engineering. It was built over a twenty year period. It is estimated that one hundred thousand people worked on this great structure for three months out of each year, during the Nile's annual flood when it was not possible to farm the land and most of Egypt's population was unemployed. It is believed that the Great Pyramid was built as a tomb for Egyptian Pharaoh Khufu. According to many sources, the pharaoh provided good food and clothing for his workers, and was kindly remembered in folk tales for many centuries. The pyramid sides are oriented to the four cardinal points of the compass and the length of each side at the base is 755 feet (230.4 m). The faces rise at an angle of 51º 52' and their original height was 481 feet (147 m). (They currently rise 451 feet [138 m].) It was constructed using around 2,300,000 limestone blocks, each weighing an average of 2.5 tons. Some blocks weigh as much as 16 tons.
Project Budget (Construction):
The true cost of the project is unknown since it was built a long time ago, but to reconstruct the pyramid today, using trucks, cranes and helicopters, the project would still require approximately 2,000 laborers and cost about $5 billion, according to Jean-Pierre Houdin, a French architect who has helped create a virtual model of the ancient construction system. It would take approximately five years to complete.
Project Completion (Month/Year or Expected Completion Date):
Based on a mark in an interior chamber naming the work gang and a reference to fourth dynasty Egyptian Pharaoh Khufu, Egyptologists believe that the pyramid was built as a tomb over a 10 to 20-year period concluding around 2560 BC.
Special Design Features and/or Challenges:
The size of the Great Pyramid poses a challenge for any who would attempt to explain how it could have been constructed. It is estimated to comprise some 2.3 million limestone blocks averaging 2.5 tons (2.27 metric tons) each, plus additional blocks weighing considerably more lying deep within the pyramid where they serve special functions. Its height when new, 480.9 feet (146 m), would have been within 74 feet (21.3 m) of the top, 555 feet (169.7 m), of the Washington Monument in Washington, DC, which was built 4,444 years later. The average weight of the blocks used in the pyramid and the monument is roughly the same, but the Great Pyramid comprises roughly 65 times as many blocks as the Washington Monument.
For obvious reasons, written records of Egyptian engineering methods are scarce, and therefore debate about how they built the Great Pyramid has continued for many centuries. Many alternative, often contradictory, theories have been proposed regarding the pyramid's construction techniques. There is disagreement on whether the blocks were dragged, lifted, or even rolled into place. There are also many questions concerning the methods by which they were placed in position.
Benefits to Society:
Millions of people continue to visit the Great Pyramid each year, drawn by their towering grandeur and the enduring allure of Egypt's rich and glorious past.
Please leave your comments or questions in the section below about what credentials you are pursuing in your civil engineering career.
To your success,
Anthony Fasano, PE, LEED AP
Engineering Management Institute
Author of Engineer Your Own Success
Sources/References:
http://www.newworldencyclopedia.org/entry/Great_Pyramid_of_Giza
http://www.nationalgeographic.com/pyramids/khufu.html
http://www.gizapyramid.com/overview.htm
Photo of Pyramids by Filip Maljkovic