Podcast: Play in new window | Download | Embed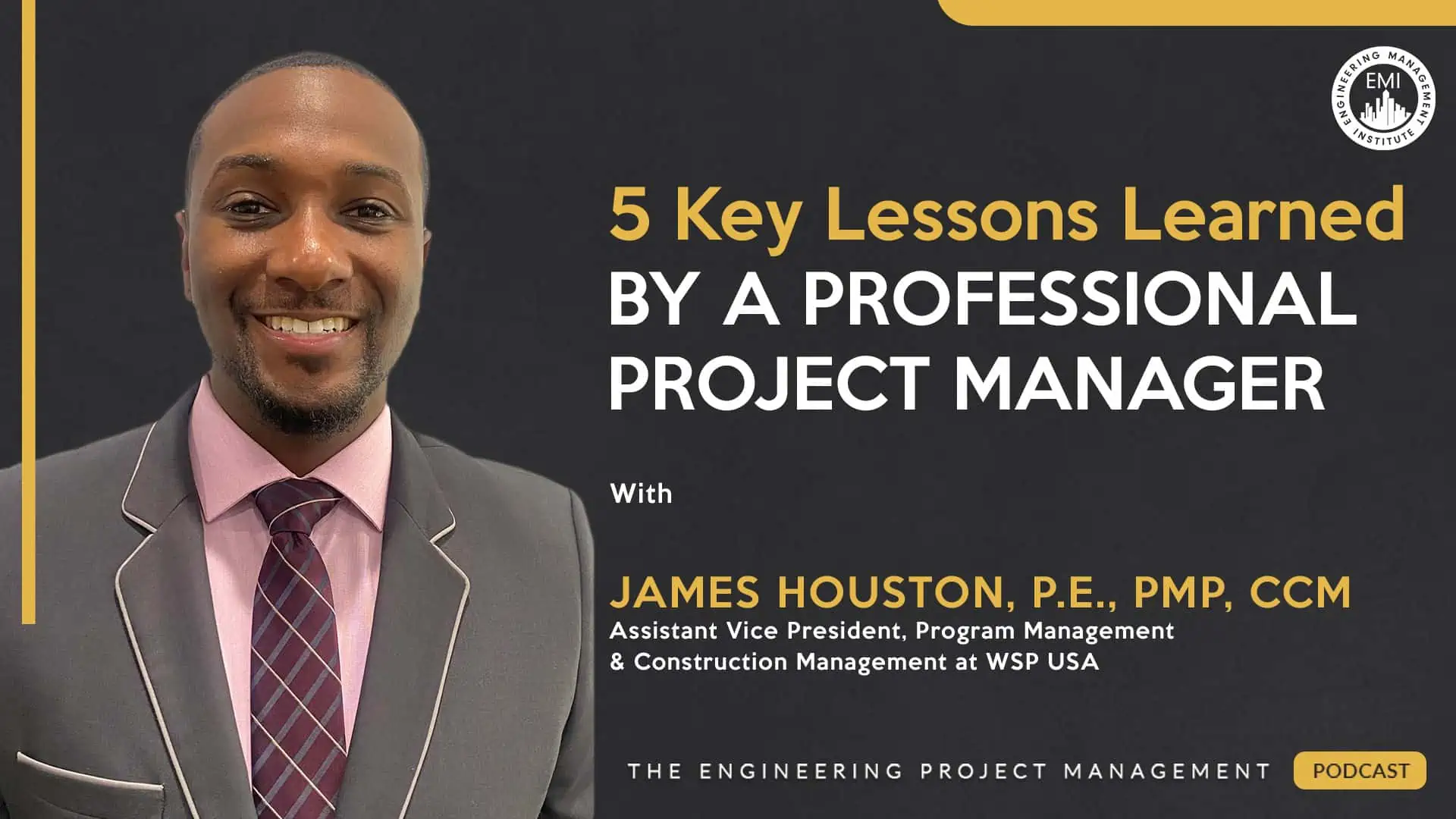 In this episode, I talk to James Houston, P.E., PMP, CCM, Assistant Vice President at WSP USA, about five key lessons he learned as a professional project manager. He also touches on CCM, P.E., and PMP certification.
***You can view the video version of this episode here.***
Engineering Quotes:


Here Are Some of the Questions I Ask James:
What key lesson did you learn as a professional project manager about communication?
How can getting to know your team help you as a project manager?
Why is it important to understand your stakeholders?
Why is it important to adapt to change in the workplace?
Why do you believe that to be a good project manager, you need to know what you don't know?
How have your P.E., PMP, and CCM licenses helped you to grow in your engineering career?
Are there any other points that you would like to make about project management in the civil engineering industry?
Here Are Some Key Points Discussed in This Episode About the 5 Key Lessons Learned by a Professional Project Manager:
Communication is essential; it's 90% of what engineers do. All civil engineers communicate with the stakeholders, the team, the contractors, the vendors, or the community throughout the project's lifecycle. Communicating effectively is the key to a successful project.
As a project manager, people are our greatest asset. The business or the facet of civil engineering doesn't matter — people are the most valuable asset. As a project manager, the goal should be how you can create a high-performing team within your environment, company, business, or your organization.
A high-performing team is a group of highly skilled people who work together in a cross-functional setting to achieve an objective. The objective in project management, as far as the construction management industry goes, is delivering product infrastructure projects for clients. Since people are the most valuable asset and come from different backgrounds, it's how you get everybody involved on the same page to work together effectively to deliver the objectives and their goals for the client. One imperative quality in that process is sharing the vision.
Understanding your stakeholders is essential for any project. You can look at it in two ways. From an organizational standpoint, you must understand what is important to your stakeholder. For example, what their goal is, purpose, and objectives for creating a new high-rise or interception. It will be easier for you to create a roadmap, understand the challenges that go along with it, and how you, as a team or organization, fit those needs by managing the expectations along the way. From a people standpoint, it's more a personal, but vital perspective. Taking time to get to know your client, what their hobbies are, and learning more about their company can help you to manage their project better. The more you learn about your client and know them on a personal level, not just the professional level, enables you to manage their project better.
As a project manager, you must be willing to adapt and manage change. You must understand that there will always be changes in project management, and you must know how to get ahead of the change. Dealing with change always goes back to having good communication in place across the board.
Nobody knows everything, and your clients expect you to deliver a high-quality project for them. As a project manager, it's crucial to understand what you don't know and what your strengths and weaknesses are. It is the reason why you must have a team with diverse subject matter expertise. It will ensure you always have someone to reach out to it if you don't know something. Always ask for help if you need it. Pick up the phone and set up a meeting to discuss the areas you are having problems with or need clarification on. Always be transparent and honest with the project owner or client. It is the best way to create trust.
More Details in This Episode…

About James Houston, P.E., PMP, CCM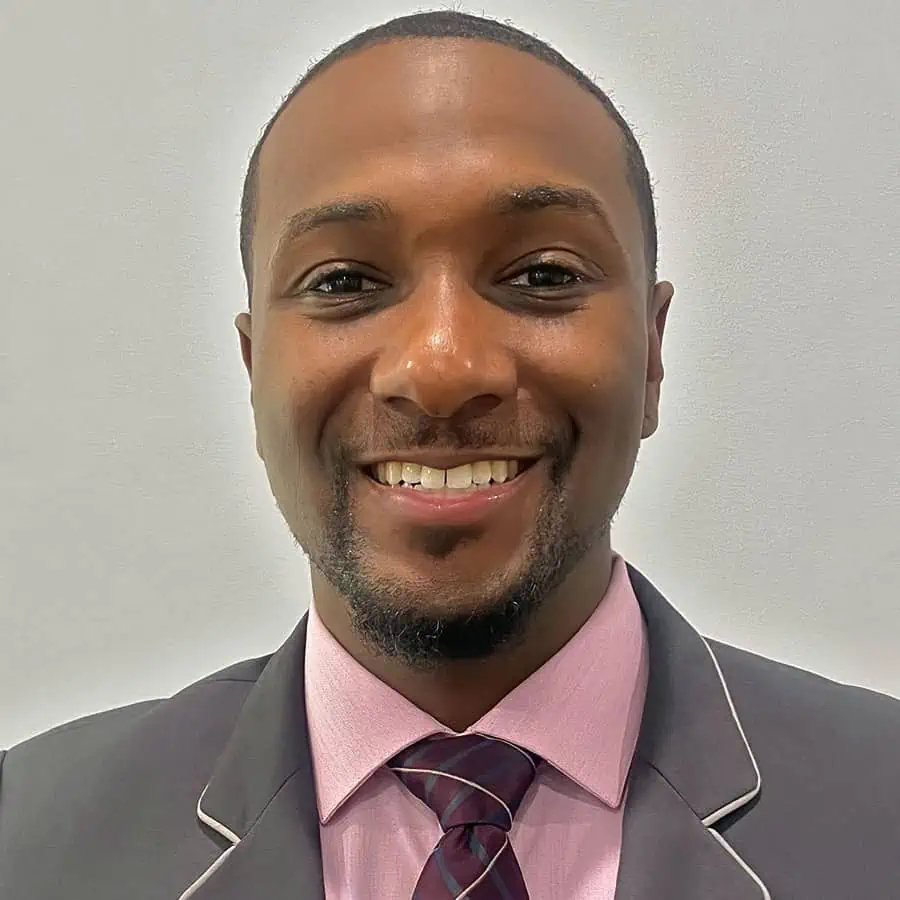 James is a multi-licensed civil engineering professional and assistant vice president with more than a decade of specialized experience in construction management for horizontal construction projects within the public and private sectors. He successfully managed the completion of a multitude of capital improvement projects. These projects include program management, resident engineering, utility and permit coordination, material compliance, contractor/subcontractor scheduling, and overall project delivery. James implements senior-level knowledge of applicable engineering standards, government regulations, construction management best practices, and project management principles in all his projects.  
Sources/References:
WSP USA
Connect with James Houston, P.E., PMP, CCM, on LinkedIn
We would love to hear any questions you might have or stories you can share on the key lessons you have learned about project management.
Please leave your comments, feedback, or questions in the section below.
To your success,
Anthony Fasano, P.E., LEED AP
Engineering Management Institute
Author of Engineer Your Own Success