Podcast: Play in new window | Download | Embed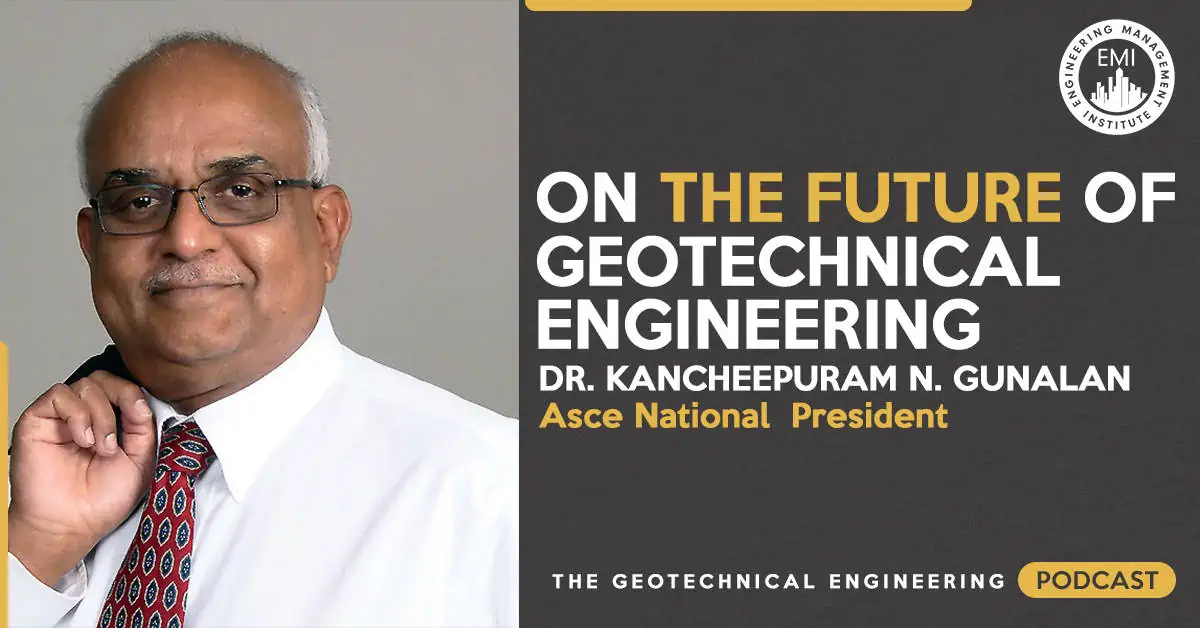 In this episode of The Geotechnical Engineering Podcast, we talk to Dr. Kancheepuram N. Gunalan (Guna), the American Society of Civil Engineers (ASCE) 2020 National President and Senior Vice President at AECOM about his career in the geotechnical field, his time as ASCE president, and why he thinks geotechnical engineering is critical to the future of the built world.
Engineering Quotes:
Here Are Some of the Questions We Ask Dr. Kancheepuram N. Gunalan, Ph.D., P.E., D.GE, F.ASCE in This Episode:
Can you tell us more about yourself and what you do at AECOM and ASCE?
Do you have a secret on how to get 26 hours in your day?
Can you tell us more about your first love, geotechnical engineering?
You have had many opportunities in your career. Can you tell us about some of them and how you approached them?
Are getting field experience and moving to different locations critical for a geotechnical engineer's success?
Can you tell us about your goal of reaching out to younger generations of geotechnical engineers and what your vision of the future looks like?
How can outreach and mentoring benefit geotechnical engineering?
What did you do to achieve the ASCE Professional Practice Ethics and Leadership award in 2016?
What excites you about geotechnical engineering today and in the future?
Here Are Some of the Key Points Discussed With Dr. Kancheepuram N. Gunalan, Ph.D., P.E., D.GE, F.ASCE:
Guna was born and raised in Southeast India. He got his undergraduate and master's degrees there before he decided to pursue his Ph.D. at Texas Tech University. He graduated with his Ph.D. with an emphasis in geotechnical and structural engineering in 1986.
Guna decided to keep his Ph.D. program in mostly technical fields. His major was in geotechnical structures; his first minor was in geosciences and the second minor was in soil sciences.
Guna started his career at a small geotechnical material firm 11 years before moving to the Pacific Northwest to broaden his technical skills in earthquake engineering. He then worked at Maxim technologies, working his way up to the position of area manager. Following that, he worked at Parsons Brinckerhoff for 17 years in the alternate delivery field, after which he moved to AECOM, where he is currently the senior vice president of the alternate engineering and transportation line (and still works in the geotechnical engineering line on occasion). He was also elected president of the volunteering side of the business.
Having a lot of support from your team makes it possible to keep the projects and tasks that you have running smoothly and on schedule.
Never turn down an opportunity as you might not get an opportunity like it again. You need to take opportunities as challenges that you can learn from, especially when you make a mistake. Every experience teaches you something.
Getting field experience and moving to different locations will help you to understand different aspects of geotechnical engineering as other parts of the world experience them.
When you look back on your career, without the help of many other people in your profession, you would not be where you are today. You need to look at what you can give back to the profession and the younger generations of engineers to make a better future for all.
If you think you are too busy to be a mentor, you need to take the time to be one. You need to know that when you leave, you are leaving everything in capable hands.
A former president of the ASCE, Bill Hendry, had a group called The Global Principals of Professional Conduct. This group's goal was to reduce the loss of money caused by corruption, bribery, and fraud. The group produced a training video called Ethicana, which talks about corruption, bribery, and fraud. Guna chaired the group for many years and it morphed into a comity on ethical practice. Guna had the opportunity to work with the World Bank Integrity Division and the World Federation of Engineering Organizations Anti-Corruption comity. He then served as the national vice president for North America for them. He also gave many training sessions at the ASCE. For everything he had done, the ASCE awarded him the ASCE Professional Practice Ethics and Leadership Award in 2016.
The larger a project is, the greater the risk it has, and the risk is largely part of the unknown. There is still a lot of room for growth and innovation in the geotechnical engineering profession.
You need to make sure that you are using your engineering knowledge to provide a sustainable and resilient infrastructure that is going to serve the next generation for the foreseeable future.
More Details in This Episode…
About Dr. Kancheepuram N. Gunalan, Ph.D., P.E., D.GE, F.ASCE
Kancheepuram N. Gunalan (Guna) is proud to be a civil engineer and is passionate about enhancing the quality of life for communities around the world through this profession and continuously advancing the careers of his fellow civil engineers.
Guna is an open book and speaks from his heart. He enjoys learning about and connecting with people from all walks of life and age groups. He has a clear vision for reaching out to younger generations of engineers and is driven to increase the impact of engineering on everyday life. Guna balances efficiently achieving results with an inclusive and democratic leadership style. He strongly believes that an educated society is an enlightened society and that research and lifelong learning are required to progress. Guna is committed to ethics and ethical behavior in all aspects of life, and was awarded the 2016 ASCE Professional Practice Ethics and Leadership award for his dedication to this topic. He learned more about how to encourage ethical behavior in others by serving as a member of the National Institute of Engineering Ethics.
A U.S. citizen now, Guna was born and raised in Chennai, India. After getting his undergraduate degree in civil engineering from the oldest engineering school in India, he received his master's in engineering by specializing in Soil Mechanics and Foundation Engineering. In preparation for Guna's journey to the U.S. for his Ph.D., Guna taught at the university for a year. More importantly, he married his longtime love, Duru. It was not a traditional or typical Indian courtship, as Duru and Guna are from different ethnic backgrounds within India, meaning their families spoke different languages – leaving English to become their love language!
Guna graduated from Texas Tech University with a Ph.D. in Civil Engineering (Major: Geotechnical/Structures, Minor: Geosciences/Soil Science). During this time, Guna and Duru welcomed their first child, a son named Kabilar. Guna started his consulting career in Lubbock, Texas, with Terra Testing, Inc., and for the next 12 years developed his technical and management skills while also becoming actively engaged with ASCE. He eventually served as the President of the High Plains Branch of the Texas Section. In Lubbock, Guna and Duru completed their family with a daughter named Pallavi.
The Gunalan family moved to Salt Lake City in 1993, where Guna expanded his technical skill set and explored a new landscape. He took the opportunity to serve as the Chair of the Geotechnical Group of the Utah Section and was fortunate enough to get involved in some major projects. Guna served as the Technical Support Manager on the $1.529 billion I-15 Reconstruction Project that received an ASCE OPAL award.  He served as Utah Section President during the 150th anniversary of ASCE and volunteered for the 2002 Winter Olympics. Guna rose to serve ASCE at both the regional and national levels, and chaired the 2014 Global Engineering Conference in Panama City, Panama, during the 100th anniversary of the opening of the Panama Canal that was held in conjunction with the Engineers Without Borders Conference. He has worked on major engineering projects all over the world – experiences that provided him with a unique global perspective on the engineering industry and the challenges faced by civil engineers.
Guna believes that outreach and mentoring are keys to sustaining any profession, and would love to hear your thoughts about civil engineering and where ASCE is heading. Feel free to contact him to start a discussion or check the Conferences page to see if he will be attending any near you. Help make ASCE stronger by working together to plan for our future!
Sources/References:
ASCE
AECOM
Connect with Dr. Kancheepuram N. Gunalan, Ph.D., P.E., D.GE, F.ASCE
Send Dr. Kancheepuram N. Gunalan, Ph.D., P.E., D.GE, F.ASCE an email
Please leave your comments or questions in the section below for Dr. Kancheepuram N. Gunalan, Ph.D., P.E., D.GE, F.ASCE
To your success,
Jared M. Green, PE, D.GE
Host of The Geotechnical Engineering Podcast