Podcast: Play in new window | Download | Embed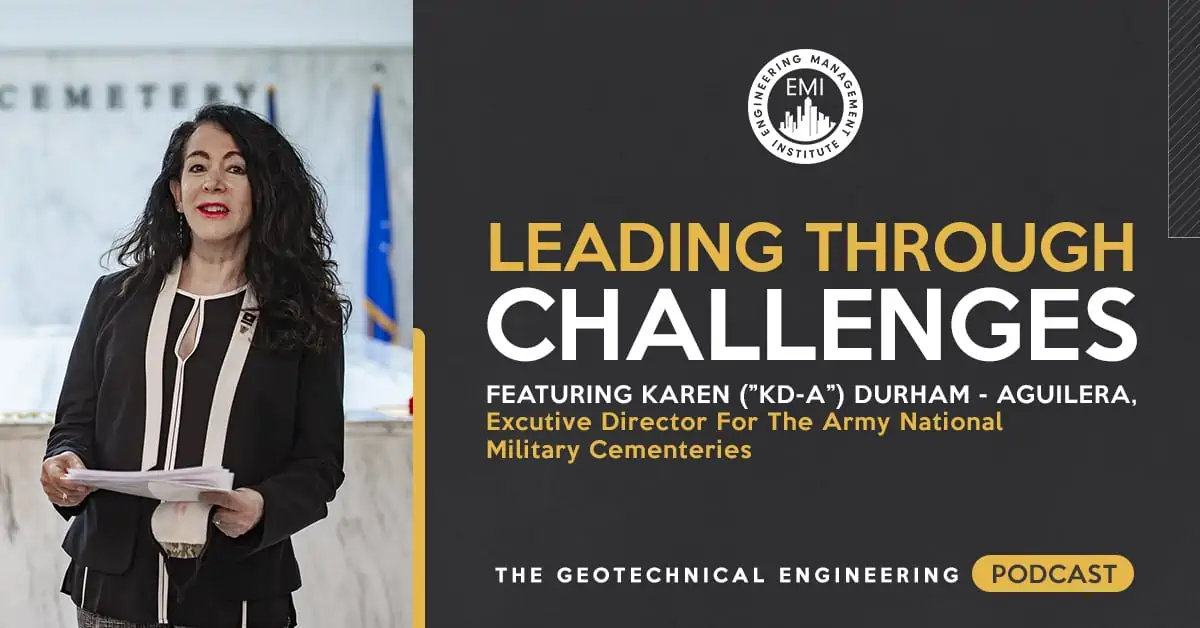 Photo Credit: Elizabeth Fraser, Arlington National Cemetery
In this episode of The Geotechnical Engineering Podcast, we talk to Karen Durham-Aguilera, more commonly known as KD-A, who is the Executive Director at the Army National Military Cemeteries. We talk about her career and her role at the Army National Military cemeteries. KD-A also talks about effective leadership and how you can break it down into the four C's of leadership.
Engineering Quotes:


Here Are Some of the Questions We Ask KD-A in This Episode:
Can you talk about the journey you have had in your career and what you do on a daily basis?
Do you believe that your career path has equipped you to be who you are now?
With the amount of responsibilities that you have, how do you manage work-life balance?
How have you been able to overcome hardships over the years?
What is one of the biggest myths about your profession that you would like to debunk?
Can you talk about the 4 C's in becoming an effective leader?
What advice would you give to someone who is new to a leadership role?
What qualities and characteristics come to mind when you think of a good engineering leader?
Here Are Some of the Key Points Discussed About KD-A's Career and Work She Is Doing at the Army National Military Cemeteries:
How KD-A's Career Journey Started:
KD-A completed both her bachelor's and master's degrees in Louisville, Kentucky, at the B. Speed School of Engineering. She worked a co-op year to get her master's degree at an AE firm, which was her introduction to working in the field. KD-A also worked at the Tennessee Valley Authority during this time.
She then joined an AE firm in Alabama, where she designed the foundation for a water tank. A year later, she joined a geotechnical engineering firm in New Orleans, Louisiana, where she worked mainly offshore on projects like jack-up barges and drill rigs. After a few years, the U.S. Army Corps of Engineers was looking for engineers who had deep foundation experience, and they hired KD-A due to her experience in this field.
Joining the U.S. Army Corps of Engineers:

This led to a 34-year career in the U.S. Army Corps of Engineers. She worked on many national and international projects during this time as project engineer, resident engineer, and area engineer.
KD-A worked as the area engineer in Anniston, Alabama, where she worked on chemical demilitarization facilities that were built to dispose of mustard gas and nerve gas agents that had been stored in bunkers since the early days of the cold war. This project caused civilian unrest, which led her to take courses to successfully communicate with the public.
She spent several months at the Army Corps of Engineers Headquarters, where she learned how government works in terms of what it takes to get a project through, the different wickets of appropriations, the various federal agencies that are involved, and the network.
She then became the Chief of Construction Operations in Sacramento, California, where she operated across several states for a variety of missions like civil works and flood-control She also got involved with flood fighting and responding to other disasters during this time.
KD-A completed another detail with the Army Corps of Engineers Headquarters as an acting senior executive, which had never been done before by someone from the field. She gave them ground truth of the impact of the policies that they were trying to propagate. In turn, she learned what a senior executive could do and that she was capable of doing the job. She then became the full-time senior executive and has held that position for the past 17 years.
A Journey to Iraq:

The United States has been deploying engineers to the battlefields for many years. KD-A was deployed to Iraq as the Director of Reconstruction for the army. This entailed reconstruction of hospitals, clinics, schools, police stations, and utilities such as oil refiners, water, and sewerage systems.
After her work in Iraq, KD-A was asked to lead the development and execution of the post-Katrina repair and restoration program in Louisiana, which she accepted.
Becoming the Executive Director at the Army National Military Cemeteries:
KD-A was then based back at the Army Corps of Engineers headquarters as the Director of Contingency Operations, leading the Federal Engineer Disaster Response across a host of disasters.
She had a passion to serve veterans and their families beyond the military programs that she had already been involved in. She became part of the Patriot Guard Riders, a motorcycle group that shielded families that were grieving their loved ones who had fallen in battle, from a group that was protesting soldiers.
The army then recruited KD-A as their executive director, a position that has a rank equivalent to a three-star general, and this is the position she has held for the past three years. She also serves as the Executive Director at the Army National Military Cemeteries.
Advice from KD-A to Geotechnical Engineers:
KD-A believes that her career journey and past experiences have equipped her to fill the role as Executive Director. She says it is about being the right person at the right time, having the right team, and being able to collaborate with people beyond your team to be successful.
When it comes to work-life balance, everyone needs to decompress, and you need a passion – or you are not going to be able to have a clear mind. KD-A and her husband ride motorcycles over the weekends, and they work out and practice to be mentally and physically fit.
Being able to figure out what the hurdles are, working through them, and convincing others to overcome them and take a new path is one of the biggest challenges that KD-A has faced.
One of the biggest myths is that engineers cannot talk. As a group, engineers are classified as introverts. Engineers must know how to clearly communicate both verbally and written, because if we do not tell our story, we are not going to be able to convince anyone.
To be a leader, you need to be able to listen to people, adopt their ideas, and be able to give clear direction and guidance. You need to watch for stress and burnout, and remember that stress to some is just another day to others.
Some qualities of being a good engineering leader are being a patient listener, being able to keep the end goal in mind, and having the ability to work as a team.
The 4 C's of Effective Leadership:
Competence: If you do not understand what your field is about, you cannot give direction and help people learn.
Commitment: Also called passion, if you are not deeply committed, regardless of where you are working or what you are doing, you are not going to be happy, and everyone around you will know it.
Courage: This involves taking personal risk; it is also being able to see another way or a new idea that makes sense, and then being able to convince others of it.
Caring: If you do not care about the people you are trying to lead, they will know.
More Details in This Episode…
About Ms. Karen Durham-Aguilera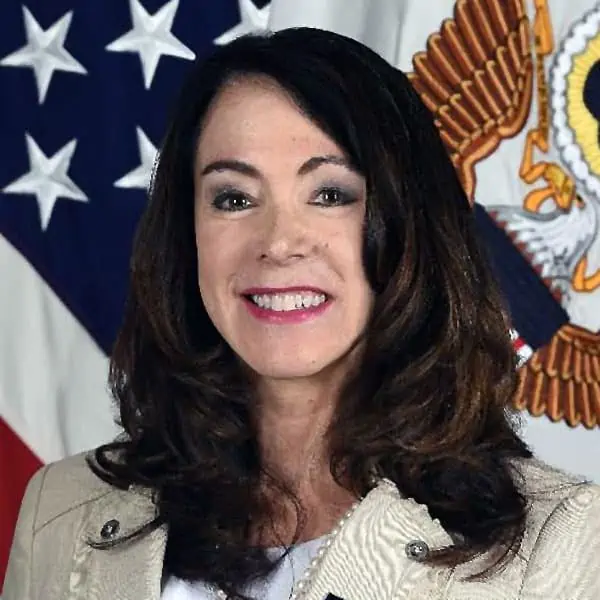 Ms. Karen Durham-Aguilera (KD-A) is the Executive Director of Army National Military Cemeteries and Arlington National Cemetery, serving as the Principal Advisor to the Secretary of the Army on all matters related to Army cemeteries. KD-A administers and oversees policies; doctrine, plans, and standards with all stakeholders, including Army staff, major commands, and other services. She establishes and sustains gravesite accountability; provides technical guidance, training, staff assistance, and inspections; and adjudicates burial exceptions, disinterment, expansion requests at nearly 40 Army cemeteries across the nation. As Executive Director, she oversees the nation's premier military cemetery: over
 6,500 burials, 4,000 ceremonies, and 3.5 million visitors each year; and manages a $70.8 million annual budget, $130 million in existing major constructions and expansions, and the planning for a new $350 million expansion.
Click Here to View Her Full Bio
Sources/References:
J.B. Speed School of Engineering
U.S. Army Corps of Engineers
Tennessee Valley Authority
Four Cs of leadership from Karen Durham-Aguilera: Competence, commitment, courage, caring
Gagen MacDonal
Connect with Karen Durham-Aguilera on LinkedIn
CEMENT
Please leave your comments or questions in the section below for Karen ("KD-A") Durham-Aguilera.
To your success,
Jared M. Green, P.E., D.GE
Host of The Geotechnical Engineering Podcast