Podcast: Play in new window | Download | Embed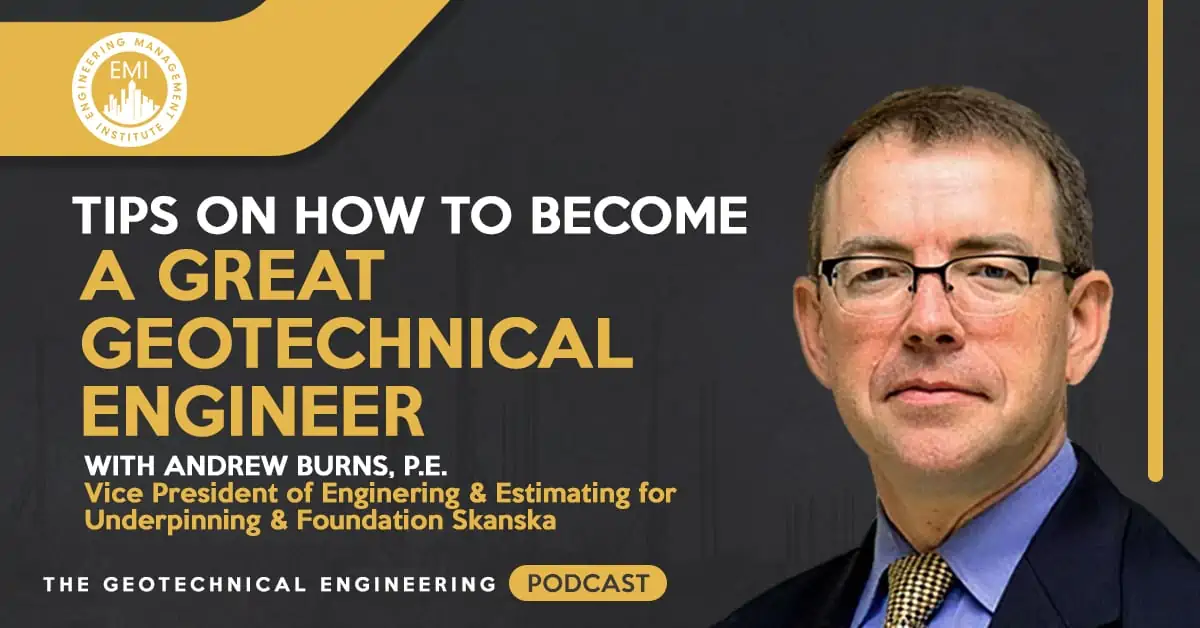 In this episode, we talk to Andrew Burns, P.E., who is the Vice President of Engineering & Estimating for Underpinning & Foundation Skanska. We talk about his career and how he worked his way up from office engineer to vice president and he also shares some very useful advice on how you can become a great geotechnical engineer.
Engineering Quotes:


Here Are Some of the Questions We Ask Andrew:
How did you become a geotechnical engineer?
What does being an engineer mean to you?
Is there a common thread that has helped you throughout your career?
You believe strongly that contractor design of deep foundation elements and SOE systems assures the greatest economy and the highest degree of quality control. Can you expand on this?
Is there a particular project that you worked on in your career that stands out to you?
What advice can you give engineers who would like to pursue a career like yours?
Here Are Some of the Key Points Discussed About Becoming a Great Geotechnical Engineer:
People will always need a place to live and work, a place to get from one to the other, and when they get there, they are going to want running water, electricity, and HVAC. This means that engineering jobs are safe for the future, no matter how much technology there is.
Is the factor of safety for a pile test 2, or 2.00? This describes in a way what the difference is between precision and accuracy. When it comes to uncertainties, you need to ask yourself what it is that you are uncertain about. Is it a question of accuracy or precision? The best way to figure it out and come up with a solution is to find out where the uncertainty is stemming from, and this will help you to know where you should apply precision or accuracy.
In problem solving, you first need to focus on understanding the problem before you can start working on a method to come up with a solution to the problem. When you start working on the solution, do not be afraid to step out of your comfort zone and try something different than the norm to solve the problem.
To be able to think more out of the box, you need to keep an open mind, seek help, ask people with more experience for their input, and do not be afraid of failure.
There are many bad designs and good geotechnical engineers that try to push the envelope and squeeze out the last 25% of optimal performance of the driving piles. The last 25% of performance should be left to the contractor design, because things like equipment, trade, talent, experience, and local geology knowledge are going to come into play to squeeze out the last 25% of performance.
Geotechnical engineering is exciting and different to other branches of structural engineering because you are literally playing in the dirt and have the rock in your hands and you are studying the geological processes of millions of years ago. There is also a lot of space for you to think out of the box and come up with solutions to the problems.
It is good for engineers to understand the general engineering personality. Engineers are generally happy doing math all day long, they are disciplined in work ethic, conscientious, and particular.
More Details in This Episode…
About Andrew Burns, P.E.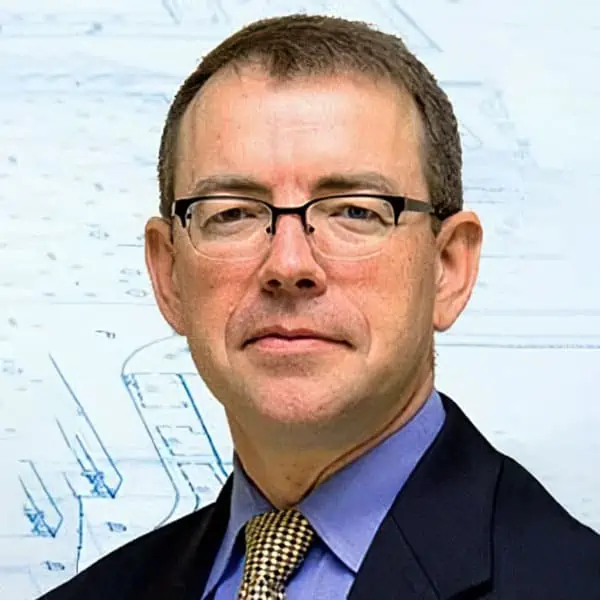 Andrew Burns, P.E. graduated from City College of New York in 1996 with a Bachelor of Engineering in Civil Engineering. In his final year there he met the late Stanley Merjan of Underpinning & Foundation. He went to work for Underpinning upon graduation. He spent 10 years there working his way up from Office Engineer for what is now the Hard Rock Café at Time Square through Superintendent on numerous driven pile jobs and on to Project Manager for the piles for the JFK AirTrain. Later, as was the trend in the NYC deep foundation construction market, Andrew became involved in mostly drilled foundations – including drilled shafts, caissons, and micropiles – and one of the first secant walls ever installed in NYC for the NYC Transit escalator from the Lexington Avenue IRT to the E-line at 53rd Street & Lexington Avenue. He has also worked as a Project Manager for Spearin, Preston, and Burrows, Chief Engineer and Chief Estimator for Intercoastal Foundations & Shoring, as well as Drilling Operations Manager and Chief Engineer for Posillico. He believes strongly that contractor design of deep foundation elements and SOE systems assures the greatest economy and the highest degree of quality control.
Andrew is a member of The Moles. He has previously presented for the ADSC, the DFI, and ASCE. He formerly served as the President of the ADSC Northeast Chapter and on the External Advisory Board of the Civil Engineering Program at SUNY Stony Brook.
Andrew has been happily married for 30 years and is the proud father of Maggie, 27, and Jack, 23 and is an amateur musician and avid sailor.
Sources/References:
Skanska
Connect with Andrew Burns on LinkedIn
Email Andrew Burns, P.E.
This Episode Is Brought to You by the Following Sponsors:
Menard Group USA

Do you have projects where you are faced with building on soft or loose ground? Does it seem like all of the good sites are taken and you are always building on poor soils that are a challenge for conventional foundation approaches? Menard may be able to help! As a specialty ground improvement contractor Menard works nationally and internationally providing design-build ground improvement solutions at sites with problematic soils. Menard's techniques include Controlled Modulus Columns, wick drains, earthquake drains, vibro stone columns, dynamic compaction, rapid impact compaction, and soil mixing. Typical projects include warehouses, buildings, material storage piles, processing areas, embankments, roadways, port facilities, storage tanks, containment structures, and platforms. In many cases, ground improvement is less costly than traditional approaches such as removal and replacement or piling systems. Menard works closely with civil, structural, and geotechnical engineers to minimize foundation costs for wide ranges of soil conditions, structure types, and loading conditions. To learn more about Menard Group USA, or for help on your next project, please visit www.menardgroupusa.com
Please leave your comments or questions in the section below on the things you do to be a great geotechnical engineer.
To your success,
Jared M. Green, PE, D.GE
Host of The Geotechnical Engineering Podcast