Podcast: Play in new window | Download | Embed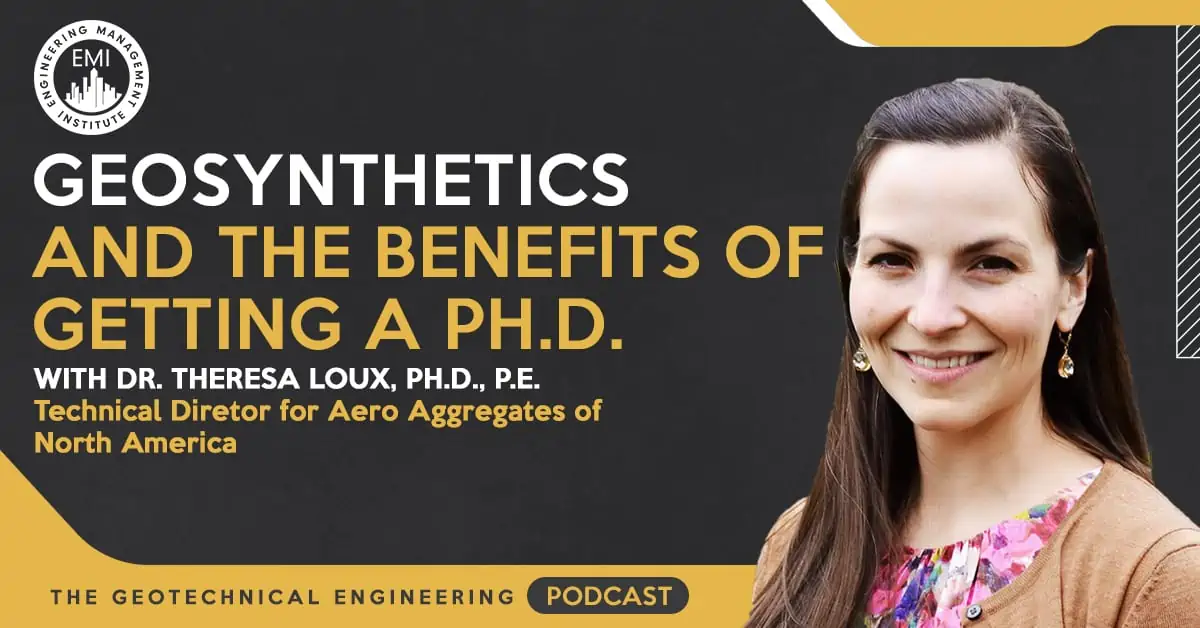 In this episode, we talk to Dr. Theresa Loux, Ph.D., P.E., the Technical Director for Aero Aggregates of North America, about her career path, getting a Ph.D., Geosynthetics, and how giving back increases the awareness of what Geotechnical Engineers do.
Engineering Quotes:


Here Are Some of the Questions We Ask Dr. Theresa Loux, Ph.D., P.E.:
What field is your Ph.D. in, and why did you pursue it?
Where does Geosynthetics fit into geotechnical engineering, and what does it consist of?
What is it like working for a startup company?
Can you talk about your professional association involvement and some of the key takeaways from your experiences?
Here Are Some of the Key Points Discussed About Geosynthetics and the Benefits of Getting a Ph.D.:
Getting a Geosynthetics Ph.D. will help you to keep your career options open in the future. It is incredibly challenging because it is not a well-understood topic. You find the problem and then develop the approaches you need to solve the problem while contributing more knowledge to the profession.
Geosynthetics is a sub-level study that falls under geotechnical engineering. They are synthetic materials, mostly plastic, used in combination with soils to improve one of the soil's properties. Increasing the strength of soil, for example, is one of the purposes of using geosynthetics.
There are many types of geosynthetics, such as geomembranes, geosynthetic clay liners, geotextiles, and geofoams.
Multi-axial tension testing is the analysis of geosynthetics, which consist mainly of rolled goods or planer materials, in uniaxial loading tests and applying the uniaxial properties in models. Some loading can be multi-axial or bi-axial, and need to be correlated back to uniaxial properties and conditions that we have in the field.
It is a risk to work for a startup company, but with risk comes reward. It is better to know the people who you will be working with within the startup. By doing this, you can determine if they can create success for the company in the long run. There are differences between working in a big firm and a startup. The startup usually consists of a few people, and you get to know each other very well. You also learn a lot by being exposed to many aspects of the company, including the business side. You soon realize that you have a share in the responsibilities of growing the company and can make decisions about what the company is going to do.
Getting involved with professional associations early on in your career, or while you are a student, will help you gain knowledge in many different topics and is the perfect opportunity to socialize and grow your network. Having a good network of people will benefit you later in your career with things like seeking advice or maybe even looking for work or a career change.
More Details in This Episode…
About Dr. Theresa Loux, Ph.D., P.E.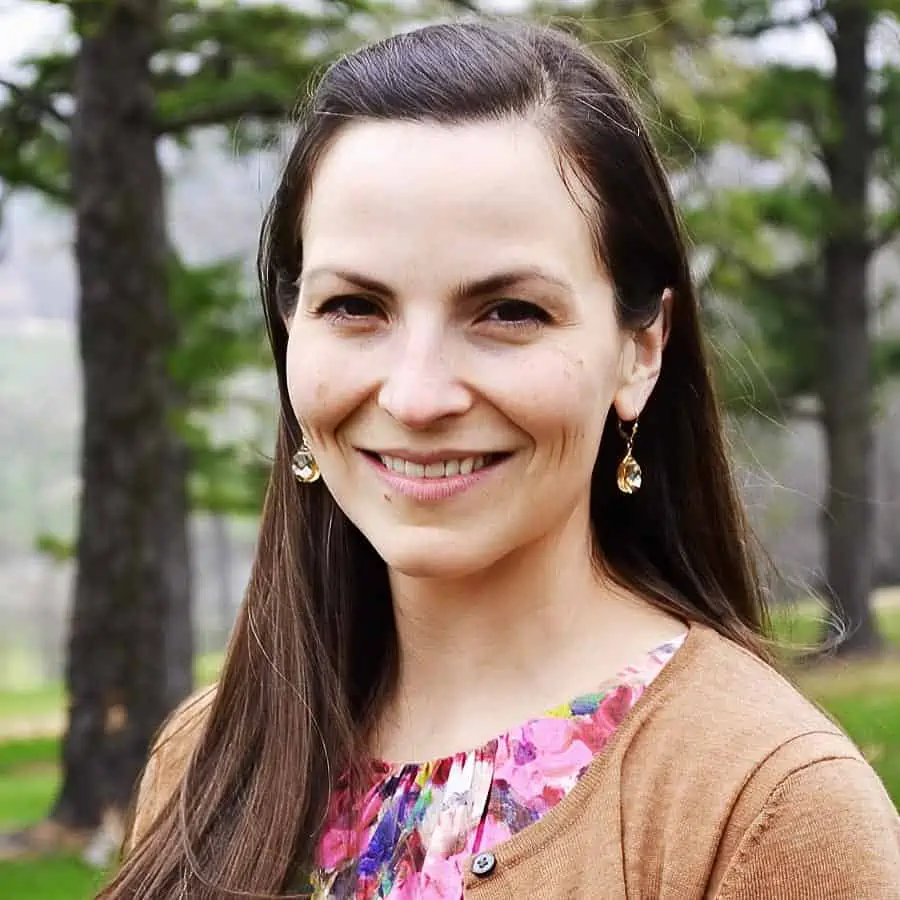 Theresa's primary responsibilities include overseeing Aero's research and development activities, technical documentation, engineering support, quality control program, and education and outreach efforts. Theresa brings to Aero over 10 years of combined industry and academic experience. In the past, she has been involved in and managed a variety of civil, geotechnical, and geo-environmental consulting and construction projects in the Mid-Atlantic United States. Additionally, Theresa has taught geotechnical and other civil engineering courses at Rowan, Drexel, Temple, and Bucknell Universities, and is the current vice-chair of the Geo-Institute's Delaware Valley Chapter.
Sources/References:
Aero Aggregates
Connect with Dr. Theresa Loux, Ph.D., P.E., on LinkedIn
GK-12 Program
ASCE
Delaware Valley Geo-Institute
Girls Exploring Tomorrow's Technology Expo
GeoWall Competition
Please leave your comments or questions in the section below on the benefits of getting a Ph.D.
To your success,
Jared M. Green, PE, D. GE, NOMA
Host of The Geotechnical Engineering Podcast