Podcast: Play in new window | Download | Embed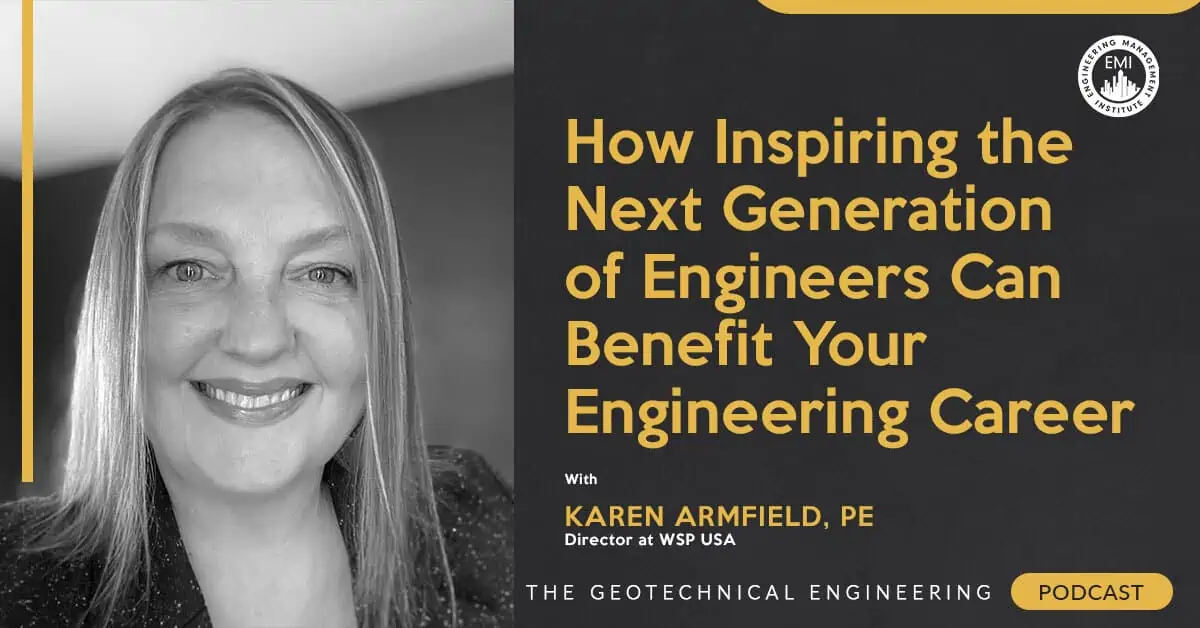 In this episode, we talk to Karen Armfield, P.E., a geotechnical engineer and project manager with WSP USA, about the importance of inspiring the next generation of engineers and how it can benefit your engineering career.
Engineering Quotes:


Here Are Some of the Questions We Ask Karen:
Why do you think it is important for engineers to inspire the next generation of engineers?
How are the ASCE MET Section middle school engineering mentoring program and Future City Competition program helping students and schools in underserved communities?
What does the intern program at AECOM entail and why do you think internships are so important for engineering students?
What are some of the training techniques you use when training junior staff?
How can being involved in ASCE or DFI help grow your engineering career?
What do you think the future holds for engineers?
What final advice would you like to give to our young engineers out there?
Here Are Some of the Key Points Discussed About Inspiring the Next Generation of Engineers: 
Inspiring the next generation of engineers can be a rewarding career. It is important to reach out to students at all levels and help them to see that engineering can be a diverse and fulfilling career opportunity for them. Helping to guide current engineering students and showing them the breadth of the engineering industry will help them to make more focused career choices according to where their passions are.
The ASCE MET Section middle school engineering mentoring program Future City Competition entails matching students up with volunteer mentors and working on designing a city of the future that incorporates engineering and technology. The opportunity for underserved students to work with a mentor helps give them a career model and enables them to see the many career opportunities that are available in engineering.
Many civil engineering students do not know what they want to specialize in. The intern program at AECOM provides the students with meaningful work and a lecture series featuring engineers from many different departments of civil engineering, where projects and career paths are discussed. It gives the students a well-rounded view of what career paths are available. The students are taken to a site where they can see the construction taking place to give them extra insight into where their future roles can be.
The most important part of a geotechnical engineer's career is the first few years when you spend most of your time in the field. Having the field engineer help write the report or help with the calculations will help them understand how everything is intertwined and interrelated between the design and the fieldwork to make the project a success. Let department managers work with the young field engineers and help them to plan their goals for the future of their careers.
Being involved in ASCE or DFI can help you grow your engineering career by networking with many different people, giving you a chance to practice your leadership and management skills. Technical committees allow you to do research and learn about new projects, and provide you with insight into new technologies being released that you can start using on your projects.
The future demand for engineers will continue to grow because there are always new challenges in society. There will always be problems that engineers need to solve. The future engineer will consistently need to learn about new technologies that become available.
Young engineers must constantly build on their reputation and personal brand. Always look for ways to build your technical and soft skills. Work toward becoming a better expert in every project you work on and a more valued member of the project team.
More Details in This Episode…

About the Guest: Karen Armfield, P.E.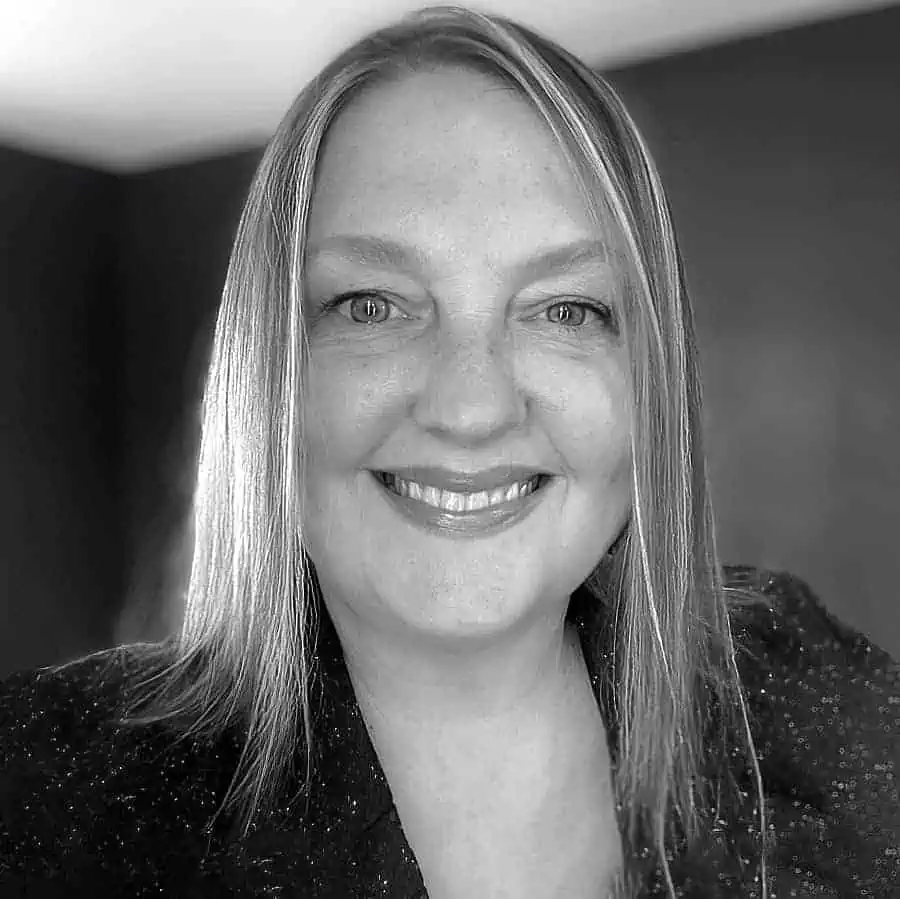 Ms. Armfield is a geotechnical engineer and project manager with WSP USA, possessing over 20 years of experience in the evaluation of foundation and ground improvement solutions. Her experience includes several aspects of infrastructure design, including the design of marine, rail, power, resiliency, and greenspace projects. She spent 15 years as an adjunct professor at CUNY NYCCT, where she taught the soil mechanics course and the temporary structures in a construction course. She also has authored several technical papers in the field of geotechnical engineering. Ms. Armfield has a long history of involvement in both the Deep Foundation Institute and the American Society of Civil Engineers, where she participated in several local and national committees, most notably running the Future City Competition middle school program in NYC for over 20 years.
About the Host: Jared M. Green, P.E., D.GE, F.ASCE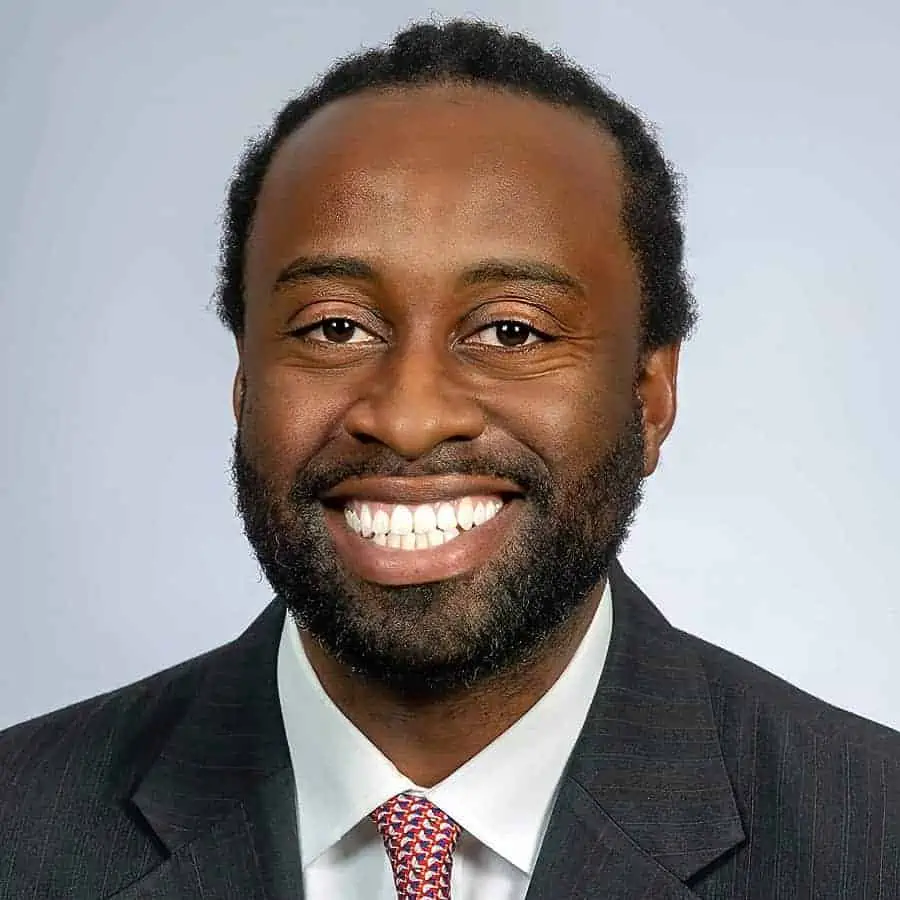 Jared, originally from southwest Philadelphia, Pennsylvania, graduated from Syracuse University's College of Engineering in 2001 with a B.S. in Civil Engineering. He later went on to attain his M.S. in Civil Engineering (Geotechnical Focus) from the University of Illinois, Urbana-Campaign, in 2002. In 2003, he began working in the New York City office of Langan. He has since become a Principal / Vice President and is one of the owners of this international land development engineering consulting firm. After 15 years at Langan, Jared moved to the Philadelphia office and is one of the geotechnical practice leaders in that office.
Jared is a consultant and team leader who also enjoys mentoring young engineers and first-generation college students. He has been instrumental in increasing the number of pre-college students who are interested in STEAM majors and fields. He strives to make complex engineering topics relatable and understandable to people new to the field and to people who are completely unfamiliar with engineering. Jared and his family currently reside in Flemington, New Jersey. He and his wife have three energetic, inquisitive, and awesome children. You can connect with Jared here.
Sources/References:
WSP USA
ASCE MET Section
AECOM
ASCE
DFI
Connect with Karen Armfield, P.E., on LinkedIn
This Episode Is Brought to You by Tensar

With Tensar, you can design and build with confidence because we empower you to achieve cost-effective, engineered site solutions. Our industry-leading geogrid technology and other innovative products solve the toughest soil stabilization, earth reinforcement, and site development challenges. Through these innovations, you can create a more resilient future because our technology is backed by decades of research and proven performance. From project start to project completion, we're not afraid to get our boots dirty. No matter where you are, you can depend on the international Tensar team and our network of distribution partners to provide support and advice. Whether you're building roadways, retaining walls, railways, or foundations, we are the partner you can depend on. To learn more about Tensar, visit www.tensarcorp.com.
Please leave your comments or questions in the section below on how inspiring the next generation of engineers has benefit your engineering career.
To your success,
Jared M. Green, P.E., D.GE, F.ASCE
Host of The Geotechnical Engineering Podcast