Podcast: Play in new window | Download | Embed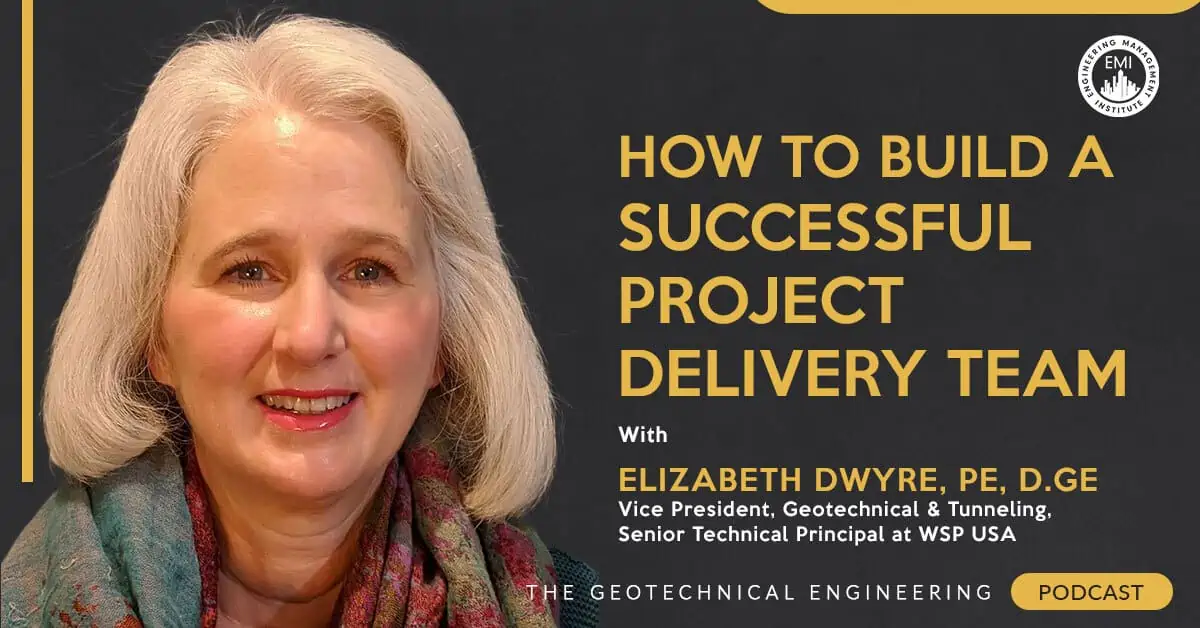 In this episode, we talk to Elizabeth Dwyre, PE, D.GE, a Senior Technical Principal with WSP USA, who shares her recipe for success for building a successful project delivery team.
Engineering Quotes:


Here Are Some of the Questions We Ask Elizabeth:
Can you explain what a project delivery team does?
Why do you think it is important to work collaboratively with other disciplines?
What are key skills that an early-career geotechnical engineer should acquire to be a strong technical team member on multidisciplinary projects?
How important is technical expertise in geotechnical engineering to work effectively within the delivery environment?
When hiring and selecting new project delivery team members, how do you ensure you choose the right candidate for the job?
How does timely geotechnical involvement support overall project schedules?
How important is culture when building an engineering team, and what are some of the things WSP has done to improve the culture within the organization?
What final piece of advice would you like to give to geotechnical engineers out there?
Here Are Some of the Key Points Discussed About Building a Successful Project Delivery Team:
An engineering project delivery team follows the process of taking a project from setting the scope to closeout. In a design-bid-build project, a multidisciplinary design engineering team can include planners, environmental specialists, architects, and multiple engineering disciplines. In other types of project delivery, such as design-build projects, the contractor is also a fully engaged team member right from inception.
As projects and project tools become more complex, you need a host of specialties that will each have a lot to contribute to the project's success. All the specialties must work together, understand each other, and communicate effectively to deliver the project on time, on budget, and to expectations.
Project delivery team members must have a strong grounding in their discipline and have the knowledge to share to be effective members of the team. It starts with solid technical and academic preparation, like graduate studies in geotechnical engineering. It is essential to have field experience in sub-surface exploration and construction field experience.
Although many engineers get a variety of solid skills through a bachelor's degree with a geotechnical focus combined with many years of experience, as well as good guidance and development along the way, graduate study is essential if you aspire to be able to practice at a higher level in geotechnical consulting. Higher level academic preparation from graduate study gives you a broad base of technical knowledge which helps develop engineering judgment and helps foster your ability to appropriately assess and think about geotechnical problems.
When selecting new project delivery team members, solid fundamental preparation is essential to ensure they will have a strong career path going forward in the organization. Having experience in certain things can only go so far, but understanding why things were done in certain ways shows that a person has the potential for continued technical growth and contribution throughout their career. You need a mixed variety of talents to balance your team's skill sets.
Geotechnical engineers need to have a seat at the table early in the project process. In large projects, geotechnical engineers must collect data on the project site and discuss their findings with the project team to ensure everyone knows what ground conditions to expect going forward. It will help ensure that the major structure foundations are positioned correctly and where things like detention ponds should be placed. It is where geotechnical engineers can improve constructability, reduce risks, and help the owner to manage the project costs.
Culture exists in a firm at multiple levels, from the corporate level and downward, and again from the team level and upward. It is important to build the culture you want to be a part of from both directions. It is done by having a lot of in-house development and communities that people can be a part of. The firm must have a strong emphasis on sustaining a company culture of excellence. Sustaining a company culture of excellence comes from the foundation of the company's history and heritage, and must be promoted in publications and participation in professional societies.
Seek opportunities for lifetime learning and stay up to date with new developments as they emerge. Being an engaged member of a project team means being on the platform that everyone is working on and being conversant with them.
More Details in This Episode…

About the Guest: Elizabeth Dwyre, PE, D.GE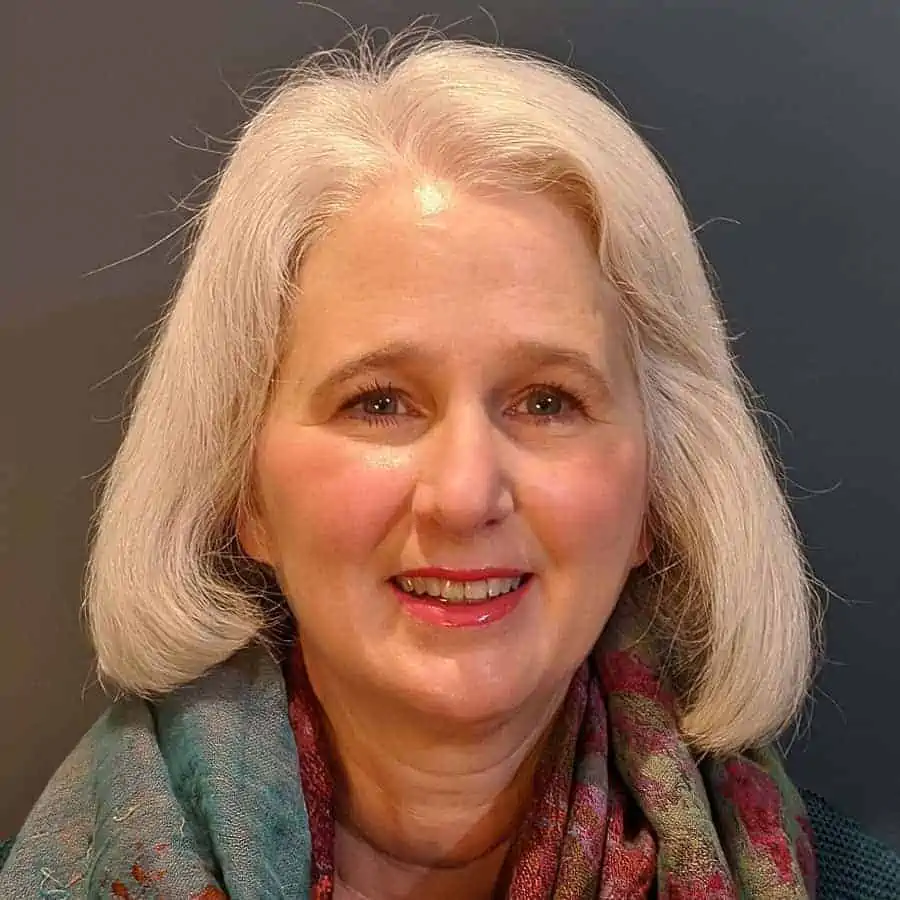 Elizabeth (Liza) Dwyre is a Senior Technical Principal with WSP and is based in Pittsburgh. She has over 40 years of experience in geotechnical engineering practice, primarily in tunneling and major infrastructure projects. She received both her bachelor's degree in Civil Engineering and her master's degree in Geotechnical Engineering at Cornell University and is a registered professional engineer in 10 states. Her professional society activities include active involvement in the ASCE Geo-Institute, where she previously led the Underground Engineering & Construction Technical Committee, and currently serves (along with incoming member Jared Green) on the Technical Coordination Council.
About the Host: Jared M. Green, P.E., D.GE, F.ASCE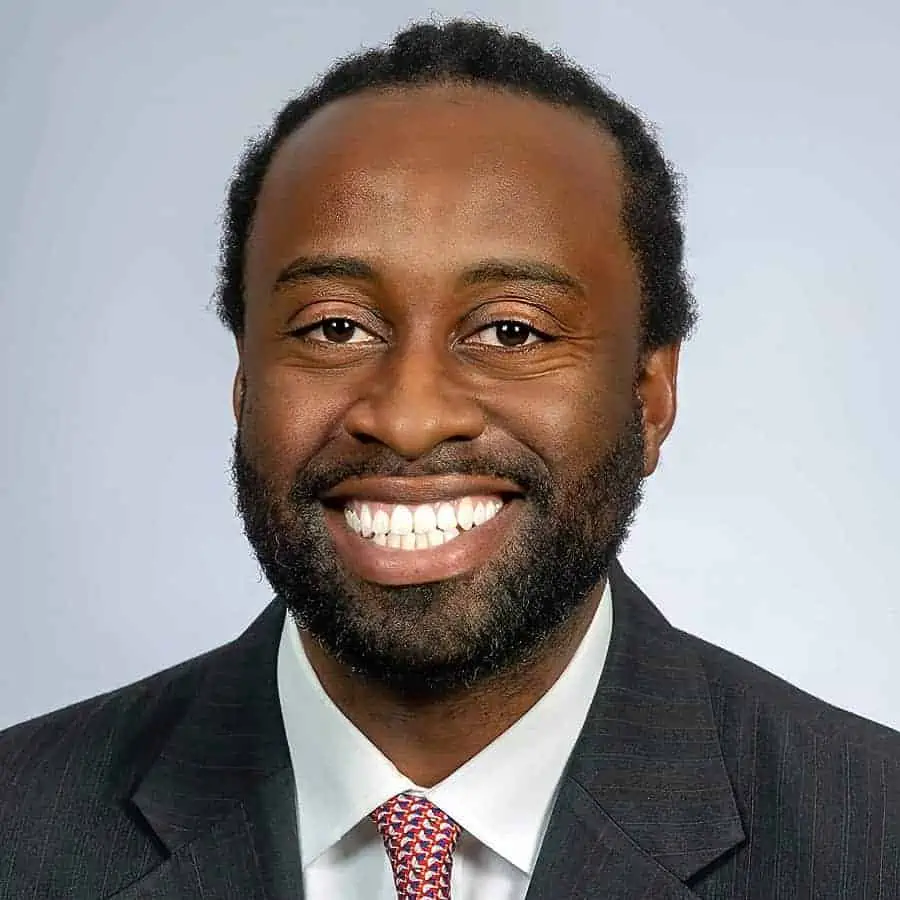 Jared, originally from southwest Philadelphia, Pennsylvania, graduated from Syracuse University's College of Engineering in 2001 with a B.S. in Civil Engineering. He later went on to attain his M.S. in Civil Engineering (Geotechnical Focus) from the University of Illinois, Urbana-Campaign, in 2002. In 2003, he began working in the New York City office of Langan. He has since become a Principal / Vice President and is one of the owners of this international land development engineering consulting firm. After 15 years at Langan, Jared moved to the Philadelphia office and is one of the geotechnical practice leaders in that office.
Jared is a consultant and team leader who also enjoys mentoring young engineers and first-generation college students. He has been instrumental in increasing the number of pre-college students who are interested in STEAM majors and fields. He strives to make complex engineering topics relatable and understandable to people new to the field and to people who are completely unfamiliar with engineering. Jared and his family currently reside in Flemington, New Jersey. He and his wife have three energetic, inquisitive, and awesome children. You can connect with Jared here.
Sources/References:
WSP USA
Geo-Institute Technical Coordination Council
Connect with Elizabeth Dwyre, PE, D.GE, on LinkedIn
Email Elizabeth Dwyre
This Episode Is Brought to You by Keller

Keller develops innovative, practical, and cost-effective solutions to geotechnical challenges, including deep foundations, ground improvement, groundwater control, liquefaction mitigation, releveling structures, slope stabilization, support of excavation, underpinning, and instrumentation and monitoring. Keller is the largest geotechnical specialty contractor in the world with over 60 offices throughout the U.S. and Canada. For more information, visit keller-na.com.
Please leave your comments or questions in the section below on the things you do to build a successful project delivery team.
To your success,
Jared M. Green, P.E., D.GE, F.ASCE
Host of The Geotechnical Engineering Podcast