Podcast: Play in new window | Download | Embed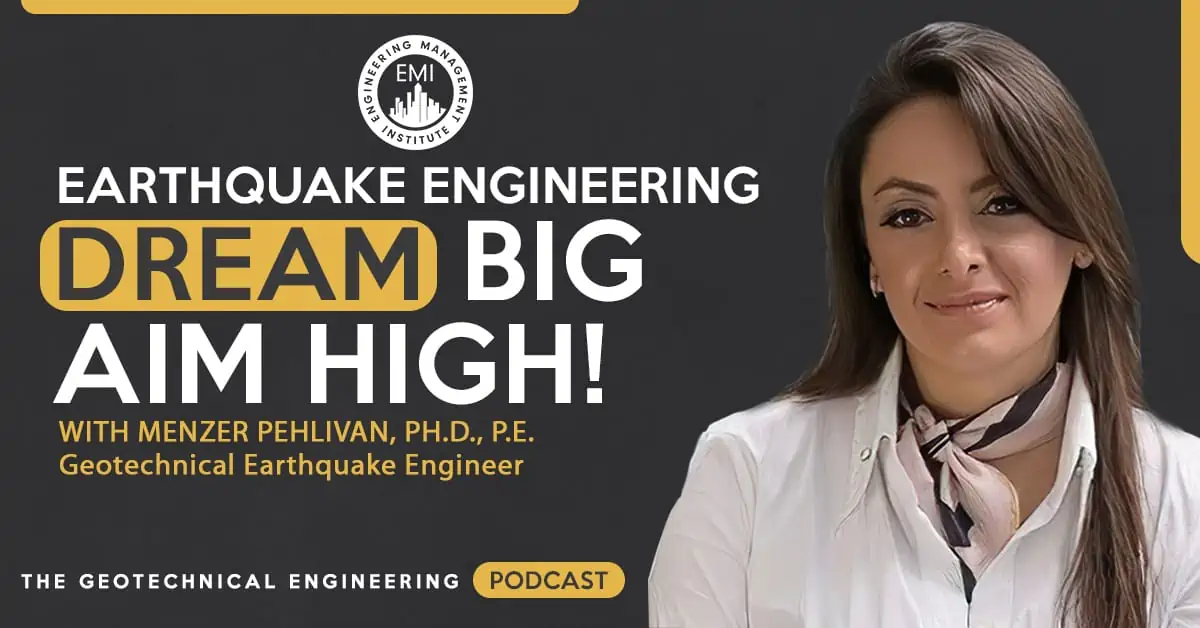 In episode 9 of The Geotechnical Engineering Podcast, we talk to Menzer Pehlivan, Ph.D., P.E. a geotechnical engineer with a specialization in seismic hazards and resiliency. Menzer knows four languages, has a Ph.D., spent two years working in New York, was featured in a movie, and is now working at Jacobs in Seattle. And in this episode, we have the privilege to talk to this successful engineer about earthquake engineering, and diversity and inclusion in the engineering world.
Engineering Quotes:


Here Are Some of the Questions We Ask Menzer in This Episode:
What sparked your interest in getting into geotechnical engineering?
In your opinion, what does the future of work for geotechnical engineers look like, and what can we expect to see changing soon?
What are the lessons learned from the current pandemic as we look at the future of work?
What is geotechnical earthquake engineering?
Can you share your involvement within the industry and company to advance equity, inclusion, and diversity in our profession?
What advice can you give young engineers aspiring to make a difference in the world and "dream big"?
Are there any specific methods that we can use to inspire the next generation of STEM?
Here Are Some of the Key Points Discussed About Earthquake Engineering:
Menzer Pehlivan grew up in Ankara, Turkey. In 1999, at age 13, she experienced a 7.6 magnitude earthquake that hit Turkey. Although the earthquake only lasted 45 seconds, about 40,000 people lost their lives, more than 125,000 people were injured, and more than 250,000 people were left homeless. This event motivated Menzer to become a geotechnical engineer, along with the fact that she wanted to make a change by being one of the major decision-makers in the industry.
Because the geotechnical industry is experience-driven, it has not been adapting to the advances in technology as much as other industries have. If geotechnical engineers and geotechnical engineering companies want to stay on top of things, they need to realize that they are not going to be doing things the same way they were done before.
The way new and upcoming engineers will get trained will be different! We need to train our engineers to excel in critical thinking and problem-solving skills, and to be ready to deal with the emotional intelligence side of things.
People are agile and flexible, and being flexible allows us to bring diversity into our industry. Through the current pandemic, technology has allowed engineers to grow and become involved in areas they could not before. If you could bring flexibility to people, why wouldn't you? Flexibility allows people to develop their mental health and improve their work-life balance, which will transform them into their best selves.
Earthquake engineering at its simplest is to design structures or infrastructures to resist the effects of earthquakes and/or grain shaking and ultimately provide life safety.
Although earthquakes keep happening, earthquake engineering is still an incredibly young field. What we knew in 1999 is significantly different from what we know now in 2020. Every single earthquake teaches us something different, and our predictions are only as good as what we know today.
Diversity is being asked to go to the party, inclusion is being asked to dance. People often say that we need to treat others like we would want to be treated, where in fact we need to treat others like they want to be treated.
Your culture and ethnic background have a tremendous influence on your daily perceptions. Whether you are working in a global company or not, we are working with people who are coming from different cultures that have different ways of doing things and different ways of forming trust. You need to understand that and not expect everyone to be the same, as this will result in a loss of opportunities for them, as well as your firm.
If you want to dream big, it is particularly important to stay true to yourself and to understand that there is a space for you in the industry. If you struggle to believe in yourself, get somebody else to believe in you, and aim high.
More Details in This Episode…
About Menzer Pehlivan, Ph.D., P.E.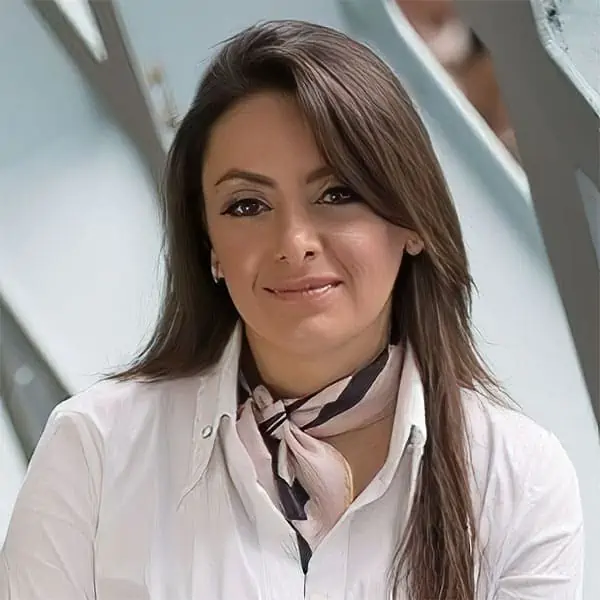 Menzer Pehlivan, Ph.D., P.E., is an aspiring and accomplished leader who has distinguished herself as one of the main influencers in the civil engineering industry. Her aptitude and dedication to the engineering profession have been recognized through the important leadership roles she has been appointed with despite her young age. As a leader, Menzer has been spearheading the change in the engineering industry by promoting the crucial role that engineers play in shaping the future and changing the world, and by exemplifying a strong and dynamic role model to inspire and empower the next generations – especially women – in engineering.
Menzer is a geotechnical engineer with a specialization in seismic hazards and resiliency. She has been actively involved in pioneering research projects that advance the state-of-art and state-of-practice of geotechnical earthquake engineering in collaboration with several research institutes. She is an author of several journals and conference publications, in addition to serving as a reviewer for several journals. Menzer is the facilitator of the Earthquake Engineering Community of Practice at Jacobs, and she is the deputy team leader of the Geotechnical Group in the Seattle office. As an internationally recognized engineer with an outstanding technical background, Menzer actively uses her expertise and engineering skills in delivering projects focusing on and maintaining high technical capability and quality.
She is actively involved within the industry and professional organizations, serving in several leadership positions. Her achievements and impact within the industry have been recognized by prestigious awards: 2016 ASCE New Faces of Civil Engineering, 2017 ASCE President's Medal, 2019 Middle East Technical University Recognition Award, and 2020 Engineering News-Record National Top 20 Under 40.
Sources/References:
Dream Big: Engineering Our World
Connect with Menzer on LinkedIn
Connect with Menzer on Instagram
Connect with Menzer on Twitter
This Episode Is Brought to You by the Following Sponsors:
Aero Aggregates of North America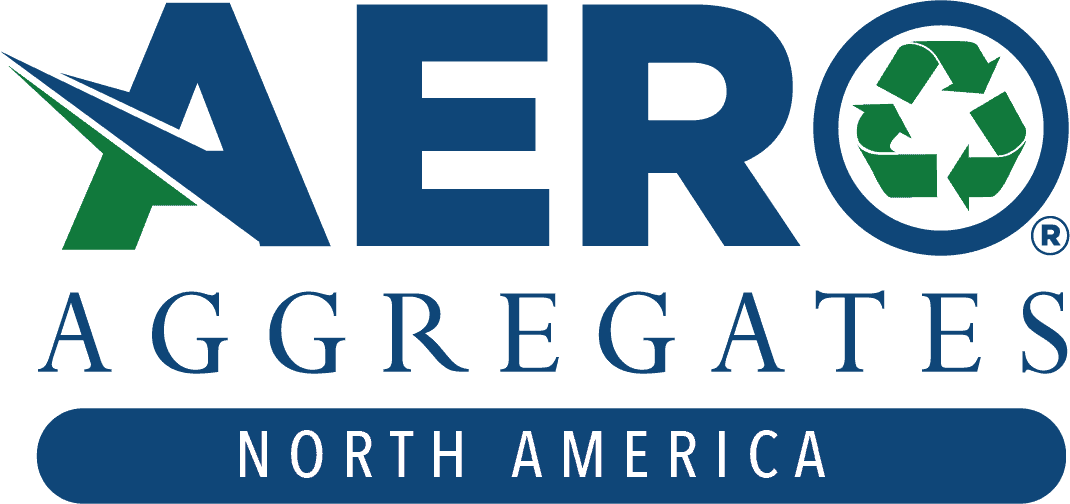 Aero Aggregates is the first vertically integrated manufacturer of ultra-lightweight foamed glass aggregate in North America. This sustainable aggregate has bulk densities that are 80% to 90% lower than traditional fill, are free-draining and non-reactive, can be used to reduce lateral loads on walls or weight on roof structures, and can also be used around building envelopes as an insulation material. Foamed glass aggregate can often accelerate construction, reduce project costs, and offer green credits for LEED and ENVISION programs. Visit www.AeroAggregates.com to learn about this unique construction material.
Menard Group USA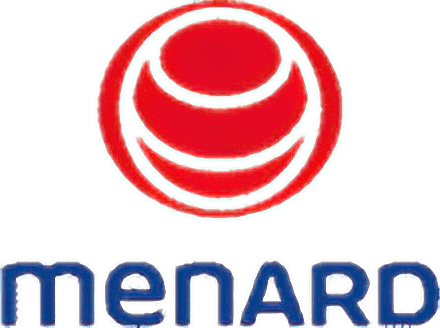 Do you have projects where you are faced with building on soft or loose ground? Does it seem like all of the good sites are taken and you are always building on poor soils that are a challenge for conventional foundation approaches? Menard may be able to help! As a specialty ground improvement contractor, Menard works nationally and internationally, providing design-build ground improvement solutions at sites with problematic soils. In many cases, ground improvement is less costly than traditional approaches such as removal and replacement or piling systems. Menard works closely with civil, structural, and geotechnical engineers to minimize foundation costs for wide ranges of soil conditions, structure types, and loading conditions. To learn more about Menard Group USA, or for help on your next project, please visit www.menardgroupusa.com
Please leave your comments or questions in the section below on earthquake engineering.
To your success,
Jared M. Green, PE, D.GE
Host of The Geotechnical Engineering Podcast