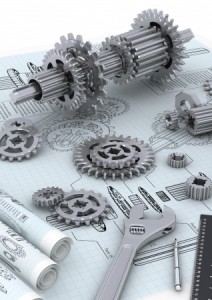 As we mentioned in a recent post, our members have been asking who the top mechanical engineering companies to work for are, so this post covers some of the top mechanical engineering companies to work for. We should mention that our analysis of the top mechanical engineering companies to work for focused mostly on the larger firms, for two reasons. Firstly, information on these companies and their compensation packages is more readily available, and secondly, many of our members requested information on the larger firms. We do want to make it clear, though, that there are probably a lot of great small mechanical engineering firms out there; we just focused on the larger firms based on specific requests and available information. We did not take applications for these rankings; they are simply based off our discussions with mechanical engineers and information we found on these companies.
Career determination entails familiarizing yourself with all the aspects of the profession or career you are looking to enter. This way, you adequately prepare, from the stage when you are studying for the profession to the time that you graduate and finally apply yourself to your career.
Learn How to Build a Winning Resume
Download our Resume Cheatsheet for Engineers
One crucial aspect of career determination is acquainting yourself with the manifold employers in your chosen field. This requires sufficiently researching which the top mechanical engineering companies are. Doing so will help you pinpoint the firms that are most liked in terms of crucial deciding factors such as workplace practices, employee benefits, and employee attrition rates. Knowing these companies makes your application process smoother when you are ready to become a part of the workforce. Here is a list to help you prepare.
1. National Aeronautics and Space Administration (NASA)
A job in the National Aeronautics and Space Administration (NASA) remains one of the most sought after by mechanical engineers from around the world. And this comes as no surprise, as being involved with NASA brings not just prestige but manifold opportunities to interact and even collaborate with top-notch scientists and engineers from the United States and other countries.
2. Google
Google, arguably the largest computational technology company in the world, requires some of the biggest and most advanced computer hardware systems. Because this is the case, Google doesn't purchase ready-made systems but makes their own instead. To do so, the company needs a strong employee base of mechanical engineers.
3. The Boeing Company
Another very popular employer for mechanical engineers is Boeing, the largest aerospace corporation in the world. As it is continually seeking to improve on its manufacturing of military aircraft and commercial jetliners, mechanical engineers who are lucky enough to land a job in the company are guaranteed to acquire new skills and grow their respective careers when they work for Boeing.
4. Apple
A leader in consumer computational technology, Apple is in constant need of the expertise and specialized skills of mechanical engineers. Work entails designing, developing, and testing consumer electronics and gadgets like next-generation displays. Apple is held in high regard within the engineering community, and so working for this company will surely bring prestige, career opportunities, and growth.
5. Lockheed Martin Corporation
Lockheed Martin is the United States' premier manufacturer of military equipment such as military and combat gear, radar systems, aircraft, and missiles. Needless to say, designing, developing, and testing all these products require the expertise of mechanical engineers.
6. Microsoft
Another big name in the computational technology field is Microsoft. Much like Google, Microsoft needs hardware systems that cannot be bought from run-of-the-mill computer hardware stores. Because this is the case, Microsoft hires mechanical engineers to create these specialized hardware systems.
7. GE Aviation
GE Aviation manufactures engines both for commercial and military aircraft. With such a wide clientele, continued research and development as well as testing of next-generation engines are then required, jobs which mechanical engineers are fully trained to do. General Electric dabbles in energy as well, and developing clean energy systems is something that may be of interest to up-and-coming mechanical engineers out there.
8. United States Department of Energy
Yet another government organization with which mechanical engineers can find work is the United States Department of Energy. Mechanical engineers in this line of work play a crucial role in identifying and developing safe, economically viable, and environmentally sustainable clean energy systems utilizing solar, wind, and wave power. Pinpointing advanced methods and creating respective systems for radioactive waste disposal are a possibility, too. Mechanical engineers who work for the United States Department of Energy play a crucial role, as their recommendations influence energy policies in the country.
Learn How to Build a Winning Resume
Download our Resume Cheatsheet for Engineers
9. Ford Motor Company
Ford continues to be a driving force in America's automobile manufacturing industry. Continually seeking to streamline its operations, Ford constantly requires the specialized skills of mechanical engineers to develop mechanical systems for its automobile assembly and testing processes.
10. Walt Disney Company
We are all used to thinking of mechanical engineers as working in the technology and information technology fields. But this is not always the case; other sectors also require the specialized skills of these professionals. Take for instance the entertainment industry, where top-notch firms like the Walt Disney Company dominate. Working for this firm allows mechanical engineers to think out of the box to create one-of-a-kind entertainment experiences.
Searching for top mechanical engineering companies to work for can be very tedious, and prudent job-seekers make use of all the available resources, such as those online. This expedites the search and makes navigating the job market easier.
For those of you mechanical engineers looking to work for a large company, those listed in this post are some of the best out there. Between their salary and benefit packages and the opportunities that they provide to work on large-scale, award-winning projects, you can see and do amazing things at these companies.
Learn How to Build a Winning Resume
Download our Resume Cheatsheet for Engineers
To your success,
Anthony Fasano, PE, LEED AP
Engineering Management Institute
Author of Engineer Your Own Success