Podcast: Play in new window | Download | Embed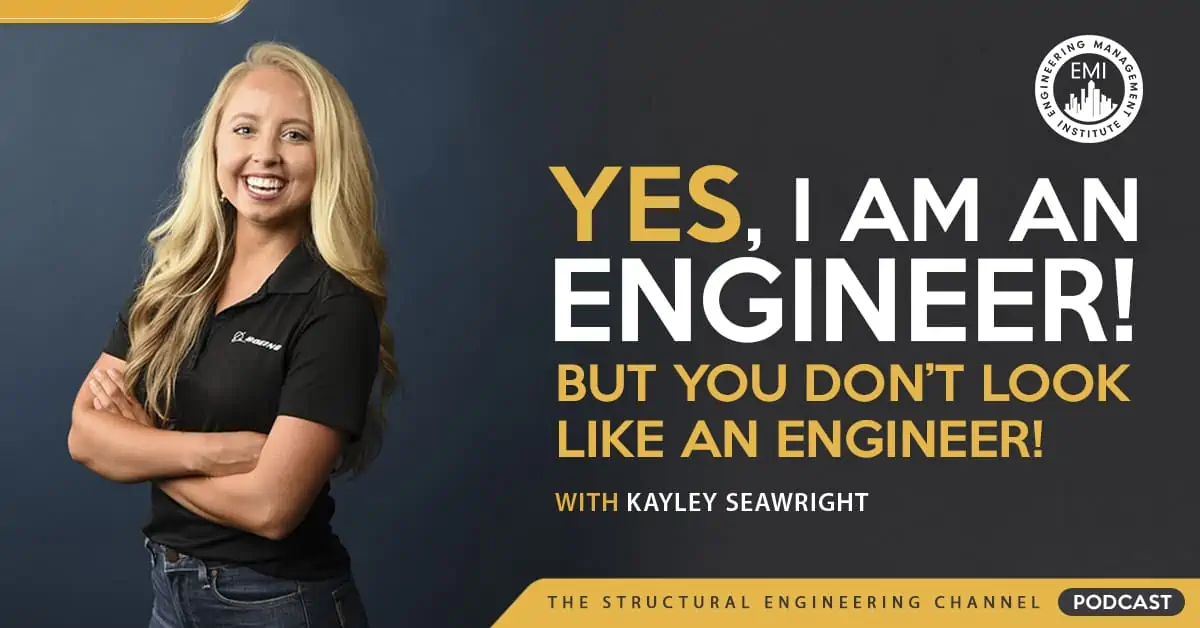 In episode 25 of The Structural Engineering Podcast, we talk to Kayley Seawright, an aeromechanics structural analyst. Kayley talks about her career journey and provides some great advice to our listeners on how they should never give up on their dreams no matter how people may perceive them — and especially when people tell them they don't look like an engineer.
Engineering Quotes:



Here Are Some of the Questions We Ask Kayley in This Episode:
You were the 2013 student body president at Clemson. You do not often hear of engineers holding that position. Tell us about how you obtained it.
EMI originally found you through an article on a website called Vision Balm that talked about how some (or many) people told you that you didn't look like an engineer. Can you talk about the effect this has had on you and your career?
How has saying "yes" to opportunities and finding a way to make opportunities work affected your career as an engineer?
COVID-19 has drastically changed our lives and our careers. How has it impacted you and how do you see it impacting your job or career long term?
Please tell us about your journey as a Disney Performer.
Our listeners are mostly engineers working on structural projects. Can you share any career advice with them that might be helpful in their career journey?
Here Are Some of the Key Points Discussed in This Episode:
I thought about running for a student body position, but it didn't cross my mind so much until people started coming up to me and saying: "When you run, can I be your vice president?" I did run and I did get elected and it was an incredible experience. My wide variety of interests was the biggest thing that led me to serve as student body president.
The biggest effect from people thinking that I didn't look like an engineer was the feeling of not belonging, and that you have to prove yourself. I had to learn that it is not that I did not belong — and that it was something I was putting on myself.
Every single new product must be validated by the person who is regulating it. It goes from testing the product and then moving it into production, where it might have several other tests done. The development and design process of airplanes takes exceptionally long. We do not make a new airplane every year — we make a new plane once a decade.
I learned to pursue opportunities that put me out of my comfort zone because those are the places that you grow and learn the most, and that are the most rewarding in your career.
There is nothing wrong with wanting to prove yourself, but if you do it for other people and not for yourself, that is where you go wrong. You should never change the way you express yourself just so that you can fit in. One of the ways that you can be more authentic when you feel that you do not belong is to remind yourself of what you wanted.
So much about being a good engineer is about creativity. If every person at the table is bringing the same type of personality, the same thoughts, and the same experience, then you are not going to have that creativity that you need in a really innovative technical engineering world.
I feel that being a Disney performer has helped me to get better at my verbal communication by learning to animate and tell stories without communication. Disney has so many people from over the world, speaking so many different languages. Sometimes you don't even understand what the people who are visiting you are saying, but you are still communicating with them anyhow.
There is so much out there to learn, so continue seeking training opportunities to learn and be driven by a sense of curiosity throughout your career.
More Details in This Episode…
About Kayley Seawright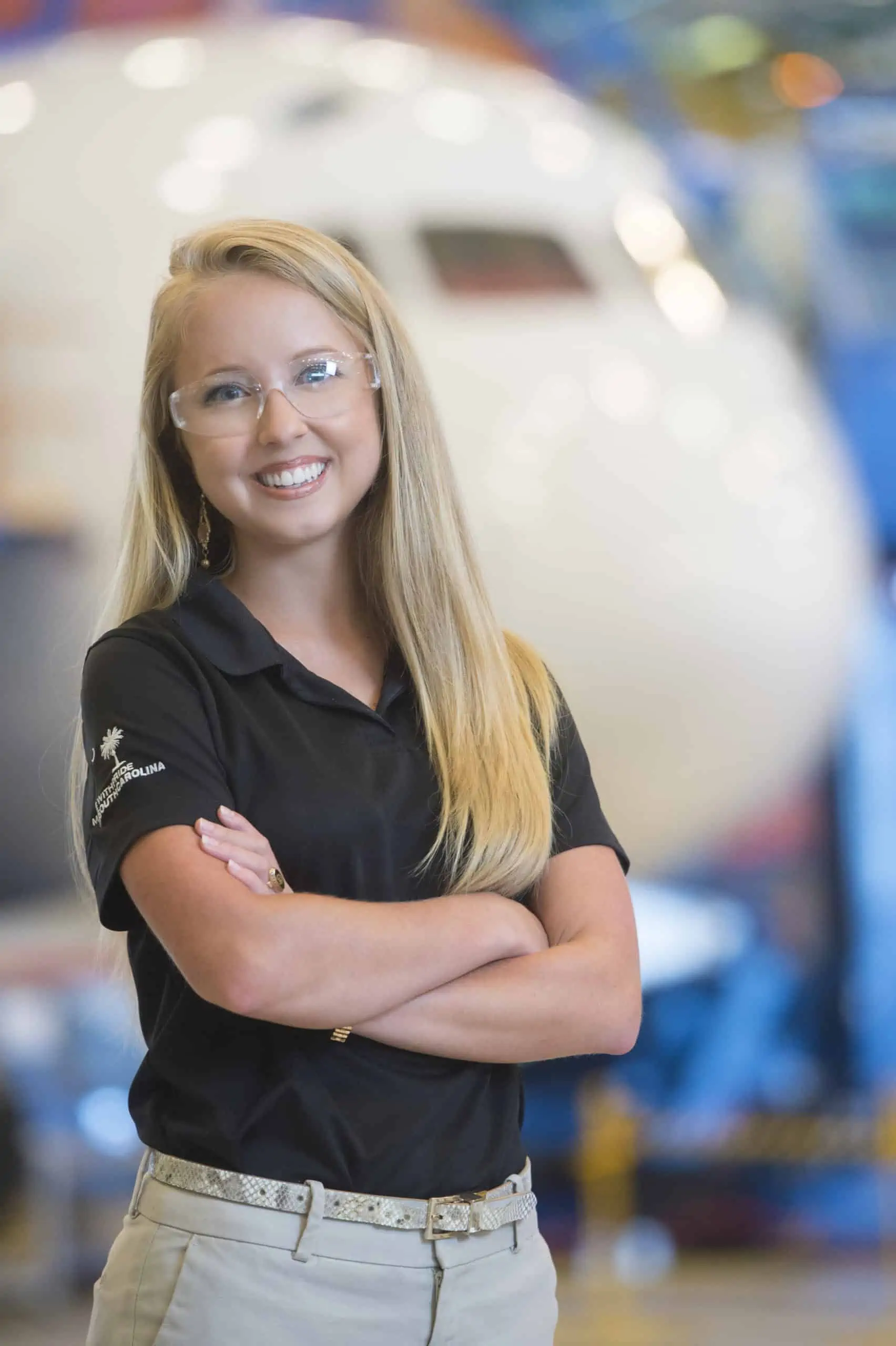 Kayley is a graduate of Clemson University, where she received her B.S. and M.S. in Mechanical Engineering and served as the 2013 Student Body President. After an adventure as a performer at Walt Disney World, she joined the Boeing Research and Technology team in Charleston, South Carolina, where she has been for over five years. Most of her time at Boeing has been supporting Boeing Defense, Space & Security and NASA on the structural development of the CST-100 Starliner, the Space Launch System, and the Navy's MQ-25 program. One of her favorite experiences was working on the 787 manufacturing floor as a midbody mechanic!
She has certifications from MIT in Systems Engineering Management and Additive Manufacturing, and has completed several Dale Carnegie and John Maxwell programs.
Her current mantra is: "It's OK not to know what's next, as long as you always know the woman you want to become."
Sources/References:
Connect with Kayley Seawright
Boeing
Vision Balm
Boeing 787 conducts fatigue testin
COVID-19 Coronavirus News and Information Related to Engineering
Please leave your comments or questions in the section below on the things you do when people tell you that you don't look like an engineer.
To your success,
Mathew Picardal, P.E., & Alexis Clark, P.E., M.ASCE
Hosts of The Structural Engineering Channel